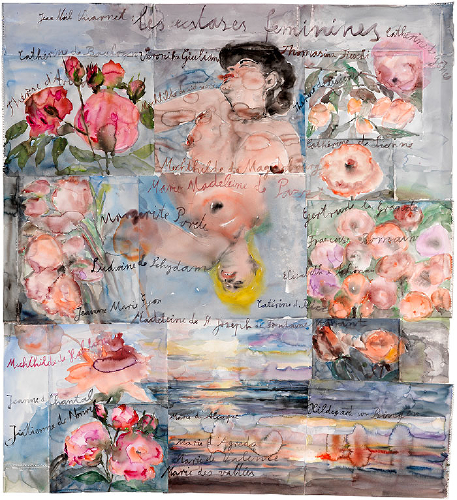 Anselm Kiefer: Transition From Warm to Cool 
Gagosian Gallery, NYC
Thru Septemer 1, 2017
An older creative man who finds energy in their work from having a new young love in his life can represent a wonderful coda. In 1857 when Dickens was 45 years old, he fell in love with the 18-year old actresses Ellen Ternan, a passion that lasted the rest of his life. In 1917 the composer Janacek met Kamila Stösslová, 38 years his junior, who inspired a host of new works. A young woman's sexual ecstasy is the central theme of a suite of new pieces by Anselm Kiefer at Gagosian on 21st Street in Chelsea, up until September 1st.
There are a lot of things in this show that he is famous for -- giant, stage-sized paintings and vitrines with large books in them. The paintings are as thick as condo walls with loopy written inscriptions on them. Recently we have become less willing to swot up on a history or read something because of what was written on a painting. Knowledge is always so much closer at hand than it was in the '80s. Although knowing an author's name is very satisfying, to be aroused enough to read their work one must be convinced of a material benefit at the end of it. As Lady Carbury says in Anthony Trollope's The Way we Live Now:
"I know no one to whom the world has been so good natured in this way as to Fitzgerald Barker but I have heard of no one who has extended the good nature to the length of reading his poetry."
I was never one for Kiefer's great work of the '80s, happier to see the sweep of German history in the hands of Sigmar Polke who showed "The Human Struggle" as a terrible, brightly colored joke. It's probably because of my Welsh fondness for cemetery humor. Without the perspective of some historical disaster, Kiefer's paintings look a little lost. He has always relied on scale -- as much in literal size and weight as in the breadth of his vision of German culture and history. But not on complex compositions, being famous, mostly for an image of a road through a field moving towards a slightly above eye level horizon. These paintings have similar, simple compositions. A two-thirds sky to one-third land mass, triad. Effects, like a centrally placed silver wave rising like skin off the surface of the painting. And "Objects" -- a metal snake, a cage -- all placed decorously on the surface.
The books in the vitrines seem equally self-resolved. They are made of hand-pressed, marbleized paper and depict female masturbating figures. Thanks to webcam porn, men now know what that actually looks like. For decades, porn was produced under the auspices of a man's needs -- the amount of foreplay, positions and number of orgasms (nearly always male). But when sisters started doing it to themselves on online sites, albeit for men's money, a number of things were revealed. First, it could take time, as long as half an hour or more, second, there maybe many ways to achieve the same goal. There could be more goals than FC Barcelona in a single match. A lot of different dildos and vibrators can be in play; and most shocking of all... A woman can stop, get up do the dishes, and come back to it later. And let's not forget masturbation is a messy business.
But not here. Ecstasy is a sigil, a marker of an activity that represents an idea. An exchange of desires: QED.
The masturbations may not be particularly "sexy" but they are intimate, the most intimate thing in the show. Kiever seems to come down from the Gods* to paint them, and, although its key component parts, an aroused light-skinned young woman, a sunset, some roses, a 747 and words, are familiarly put together, the effect is compelling. After years of doing something one gets very good at it. And these are light, delicious, precious objects. There's often a struggle in younger work that you don't find in older. As in Kokoshka or Titian's late work or Joan Mitchell's flower fields of the '80s.
An ease appears, a love of certain colors, the fluidity of flesh and how it merges into Nature. Closer in life to the point of release. Fresh soil inculcating new shoots in an old bed.
*The Gods refers to the highest areas of a theater such as the upper balconies. These are generally the cheapest seats. So called because the theaters have beautifully painted ceilings.