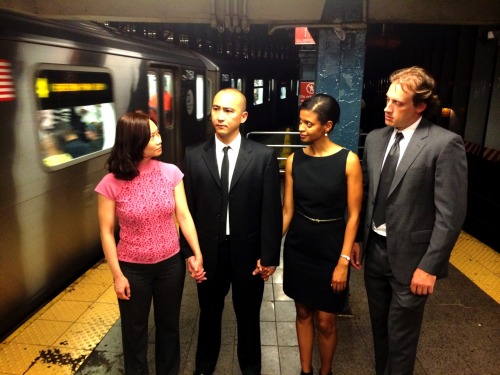 Turning the Glass Around
Presented by Work/Space Collective
Directed by Heidi
Grumelot
Teatro
Circulo
64 East 4th St., NYC
October 16-November 1, 2014
Pia Wilson's new play, Turning the Glass Around, interweaves the naturalistic and the theatrical, the rational and the seemingly irrational, and the everyday and the supernatural in order to interrogate other, contemporary American hybridities.The interracial marriage of Philip and Daina Lee (Don Castro and Carmen Gill) comprises the vehicle for Wilson's deconstruction of "America" and its "Dream" in the tradition of playwrights such as Suzan-Lori Parks and David Henry Hwang. The death of Philip's father, an immigrant restauranteur who loved all things stereotypically American, throws successful businessman Philip into a crisis of guilt and self-doubt. His colleagues have nicknamed Philip "The Asian Tiger" but mock his Korean background behind his back, and Philip's firing means that he and Daina, a wealthy, well-connected African-American, are soon finding out how the other half lives. Their crisis is not merely one of liverwurst replacing filet mignon, however. Parental, social, cultural, and even gender expectations weigh heavily on both partners. Philip, for example, does not want his wife to work despite their straitened circumstances, nor does he want his mother or his wife's family even to be aware of their situation. Thus, when he sees his father's shade in the "wallpaper," it is perhaps not inconceivable to read in that a variation on Charlotte Perkins Gilman's protagonist famously trapped in her own, yellow wallpaper, except that here, the trap consists of constructs of masculinity rather than of domesticity. The fact that the genuine and genuinely unnerving ghost is positioned in such a way that its head is effectively replaced by the mirror on the wall only reinforces such symbolic resonances.
The play's literary touchstone, however, is Shelley (Percy, not Mary) rather than Gilman, poetry rather than prose, and appropriately, Turning the Glass Around is at its best when it is suggesting rather than explaining. The death of Philip's father, the self-made man devoted to the Wonder Wheel and hot dogs, represents the death of the American Dream (if it were ever truly alive), but it is also always more than that. Such open-endedness manifests even more strongly in the shifting, slippery signification of the doppelgänger, which becomes a central motif, as well as in the encroaching shadows and fragmentation of the ending. The mostly short scenes keep the pace moving, on the whole, and Castro and Gill are both excellent. Together, they really nail the push and pull of their progressively-tested marriage. Gill does a great job bringing to life a many-layered character, and Castro manages to keep a sympathetic edge on Philip's increasing self-destruction. Kristen Hung as Kim-Bong Cha, Philip's mother, is equal parts funny and poignant, and Topher Mikels rounds out the cast as self-satisfied "old money" businessman William Eaton.
The production uses the entire space of the small Teatro Circulo, and it does so inventively, including making use of shadow and projections (one could imagine some of these effects as even more impactful in a larger space).
The title of the play refers to turning glassware around so that cracks don't face forward and are hidden from guests. Turning the Glass Around puts those cracks front and center, peers into them, pries at their edges. It uses the fractures both within and caused by identity, its construction and deconstruction, to create an often compelling whole. -- Leah Richards and John Ziegler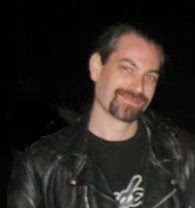 Dr. Richards is an English professor in NYC, and spends her free time raising three cats and smashing the patriarchy.
When not writing reviews, Dr. Ziegler spends a lot of his time being an Assistant Professor of English in NYC and playing guitar in a death metal band.