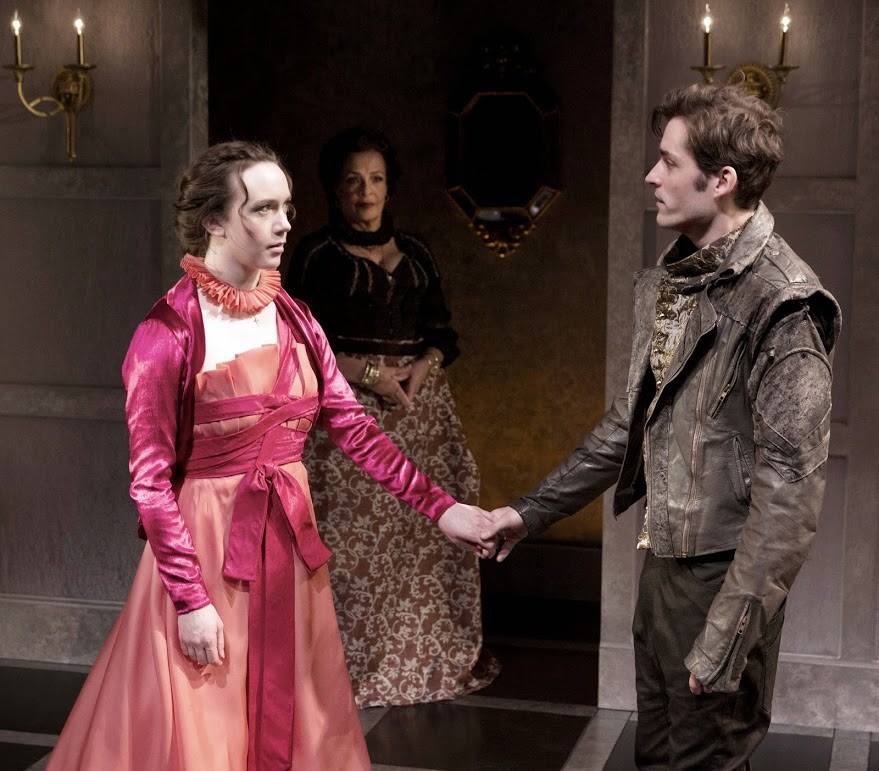 '

Tis

Pity She's a Whore
Written by John Ford
Directed by Jesse Berger
Red Bull Theater, The Duke, NYC
April 14-May 16, 2015
Red Bull Theater reliably mounts excellent productions, and its 'Tis Pity She's a Whore is no exception. John Ford's early 1630s revenge tragedy could be most simply summed up, as some of Red Bull promotional materials do, as Romeo and Juliet with incest. It includes an earthy nurse, a well-meaning but ultimately ineffective friar, and, of course, some extremely forbidden love.But, in addition to its Shakespearean echoes, it also features hallmarks of the later, Jacobean stage, such as a double-dealing servant, an inept gallant, and corrupt Catholic clergy, as well as spectacular, often darkly comedic onstage violence, and it is equally reminiscent of John Webster's The Duchess of Malfi and Thomas Middleton's The Revenger's Tragedy, both of which Red Bull has previously staged and the latter of which could be read as similarly parodying earlier plays such as Hamlet. Set in Italy, Jacobean playwrights' go-to location plots of murderous betrayal, Ford's twist-filled tragedy opens with the noble Giovanni (Matthew Amendt) confessing his romantic feelings for his sister, Annabella (Amelia Pedlow), to Friar Bonaventura (Christopher Innvar), which Giovanni justifies by the logic that, having shared one womb, they are bound by the links of nature to "be ever one." The eligible bachelorette Anabella, meanwhile, is being pursued by various suitors, including rivals Grimaldi (Tramell Tillman) and Soranzo (Clifton Duncan) -- who had previously promised to marry his adulterous lover Hippolita (Kelley Curran) -- and the above-mentioned foppish gallant, Bergetto (Ryan Garbayo). Luckily, or unluckily, for Giovanni, Annabella shares his feelings, so they decide to consummate their love, swearing their adoration on a dagger. To put it briefly, complications ensue.
Ford's parodic echoes are not just confined to plot points. 'Tis Pity pushes stereotypical romantic imagery to its limits, particularly metaphors of love-sickness and hearts, to the point of literalizing it in several instances. This approach figures prominently both in the play's comedy and in its final, tragic set-piece. Interestingly, Ford links Giovanni's taboo behavior several times to his bookishness (perhaps akin to Romeo's initial wallowing in the clichés of love poetry), and Giovanni uses logic of the kind that he probably learned from the Friar, his tutor, to defend his incestuous passion. These qualities are in turn associated in the end with his dying profession of atheism, and both Giovanni and Soranzo's servant Vasques (Derek Smith), who is responsible for two deaths and one mutilation, remain openly unrepentant in the final scene.
A significant component of what 'Tis Pity does as part of a by-then-established tradition of commercial theater is to play with genre conventions in an entertaining way that flirts with exaggeration yet retains some amount of pathos. The bloody denouement, for example, gives emotional weight to what could easily veer into farce. Much of this is due to fantastic work from the cast. Amelia Pedlow renders the changes in Annabella's character believable, even sympathetic; the change in Giovanni's character, while equally compelling, invites revulsion rather than compassion. Curran as the scorned, vengeful Hippolita; Franchelle Stewart Dorn as Annabella's tutoress, Putana; Everett Quinton as Bergetto's long-suffering uncle, Signior Donado; and Garbayo and Ryan Farley as Bergetto and his equally foolish servant Poggio are all hilarious. Marc Vietor as Richardetto, Hippolita's cuckolded husband, and Auden Thornton as Philotis, his niece and a participant in the simplest, most traditionally (yet still ironically) romantic relationship in the play, also give strong performances, and Rocco Sisto makes an impact in his short time onstage as the self-serving Cardinal. Derek Smith's wry Vasques can add scene-stealing to his list of crimes. The actors are framed by an elegant and economical set design on which very private and very public scenes are equally powerful, and subtle but effective changes in lighting and sparing use of music bring out undertones in the dialogue.
We attended the play with a group of college students, among whom the consensus was that this was possibly the greatest thing that they'd ever seen, and we echo their enthusiasm: Jesse Berger and Red Bull Theater have once again triumphed. This is one Whore that it would be a pity to pass on. - Leah Richards & John Ziegler