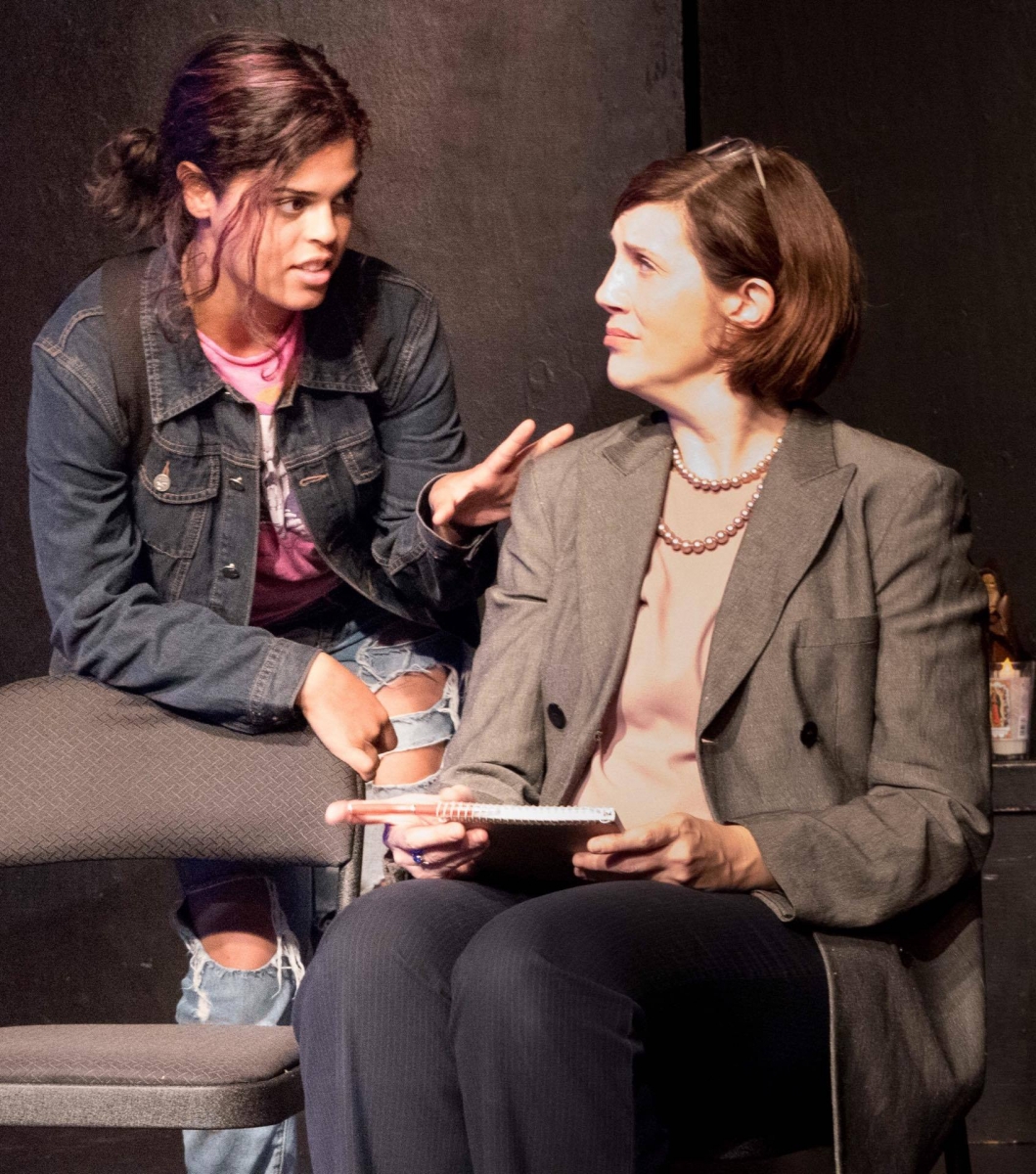 The Werewolf of Washington Heights
Written by Christie Perfetti Williams
Directed by Charmaine Broad
Presented by Carnival Girls Productions at The Kraine Theater, NYC
October 11-22, 2017
Many readers these days probably know the feeling of anxiety about what appallingly reactionary new story will leap out at them every time that they set eyes or ears on a news source. To take just the latest in an interminable series of examples, as this review is being written, the head of the U.S. government is threatening to end aid to Puerto Rico, whose American citizens are denied governmental representation, a mere three weeks after an incredibly devastating natural disaster. As it happens, the production of Christie Perfetti Williams' new play, The Werewolf of Washington Heights, will donate one dollar of every online ticket sale to The Boys and Girls Club of Puerto Rico. It also focuses on the political effects (keeping in mind that the political is always also the personal and vice-versa) of fear and anxiety, especially as and where they intersect with gender. Beyond its narrative concerns, Werewolf extends the political consideration of gender to the material conditions of its own production: it is presented by Carnival Girls, a sponsored project of the non-profit arts service organization Fractured Atlas that dedicates itself to "creating and producing art by and about women," and it boasts an all-female cast and crew, including director Charmaine Broad, who also helmed Cougars, winner of the Estrogenius Festival's award for best show.
The Werewolf of Washington Heights unfolds three years from now, over a single night (with some brief flashbacks) and within a single apartment. The apartment is home to three generations of women: the ethnically mixed family is comprised of emergency room nurse Izzy Tressider (Galit Sperling) and her wife Violet Corona (Stephanie Annette Johnson), Izzy's mother Imogene Tressider (Rosina Fernhoff), and Izzy's twin daughters, Maggie (Pilar Gonzalez) and Mary Tressider. The fact that four of these five women share same last name presents us with a female-centered lineage. Izzy herself is named for innovatively improvisational and naturalistic dancer Isadora Duncan, who resisted normative roles in her bisexuality, atheism, and communism (and whose admonition, quoted in the play, to the once wild not to be tamed perhaps provides a building block for the song "Wild Once" on singer-songwriter Laura Marling's female-centered 2017 album ). Meanwhile, the names of daughters Mary and Maggie evoke the Virgin Mary and Mary Magdalene, commonly and incorrectly represented as a prostitute -- in other words, the angel/whore binary through which women continue to be processed in Western culture. The family's Washington Heights too is described in terms of a binary, as riding the dividing line between wealth and poverty, between gentrification and history. Their New York City, however, along with the rest of the country, has taken a decisive and dystopian rightward turn.
Werewolf's near-future New York City has suffered a subway bombing and operates under a curfew, and all the cool high-school kids have concealed carry permits. The country has passed wide-reaching legislation called the Patriot Mandate Act, and libraries, theaters, and public broadcasting have been eliminated and partly replaced with government-approved substitutes, a sea change that would sound improbable were it not for the current and continued real-world governmental attacks on the press and expression, whose targets range from late-night comedians to, this week, NBC News. Casually peppering these sorts of references throughout the dialogue, the play constructs a picture of the kind of city and country that most of us hope not to have, but with the awareness that the current state of the U.S. was, until recently, unthinkable. Embedded in that portrayal, as in much speculative fiction, is an appeal to avoid the world that it portrays, to resist that progression; and perhaps the hope represented by the array of religious candles that burn as the most noticeable feature of the minimalist set is not solely for Mary's return. For, from the midst of this tense, regressive city, Mary has vanished. 
Journalist Delia Bumbah (Lori Funk) is producing a story about 17 year-old Mary's disappearance, and her conversations with the other characters in pursuit of the truth of what happened largely structure the play. Mary is the absent presence at the center of Werewolf, and the hole that she has left fills with the stories and struggles of women. Her aunt, Izzy's sister Trudy (Melanie Ryan), has overcome a drug-filled past that wasted her talent for singing, while Maggie's performatively confrontational demeanor is partly typical teenage behavior and partly a tough front put up by a scared adolescent on a variety of medications (Izzy's description to Delia of Mary as someone with a little girl's fears in a woman's body applies just as well to her twin). Imogene, seen by her family as having dementia, spends so much time in her closet-sized room that she wishes to escape to a nursing home, and her German-Jewish heritage points to how issues around gender are compounded by racial, ethnic, and national Othering. Imogene asks Delia's Iranian camerawoman Amira Kilo (Sheila Joon Ostadazim) the perennial question, "What are you?" Violet, an undocumented Dominican immigrant, is microchipped and her past criminal transgressions made visible on her body, but that presents only an exaggerated version of what many women like her already experience. The family's neighbor Junie Dorsey (Arlene A. McGruder) angrily points out the dehumanizing bias against sex workers, especially if they are women of color, and again, while it is slightly more advanced in the near-future world of this play, it is a demonstrably longstanding problem already.
Many of these characters reveal new layers over the course of the play, which is appropriate for a plays whose thematic touchstones include family, honesty, and secrets, all revolving around the secret everyone wants to know: what happened to Mary? This process of revelation includes characters such as Trudy and Imogene, who appear at first to be mainly comic relief, and the humor should be noted here: despite taking place in a combination surveillance/police state, Werewolf is a funny play throughout. Fernhoff's digressively outrageous Imogene got the biggest laughs from the audience, but Ostadazim's deadpan exasperation is equally hilarious. The entire cast gives strong performances. Ryan, for example, expertly balances the comedy and pathos of Trudy, and Gonzalez brings an impressive, energetic mix of aggression and empathy to Maggie, while McGruder and Sperling both powerfully embody imperfect, wounded, strong mothers. Imogene posits at one point that accepting such imperfection represents the advantage of age, that wisdom means coming to grips with the chaos and fragility of life. At another point, she repeats Margaret Atwood's well-known claim (which we ourselves have used here in another review) that men fear being laughed at by women while women fear being killed by men.  The Werewolf of Washington Heights examines the effects of such fear on the nation, but especially on the nation's women, who have additional reasons to fear, and thus more obstacles to overcome, yet, nevertheless, persist. - Leah Richards and John Ziegler