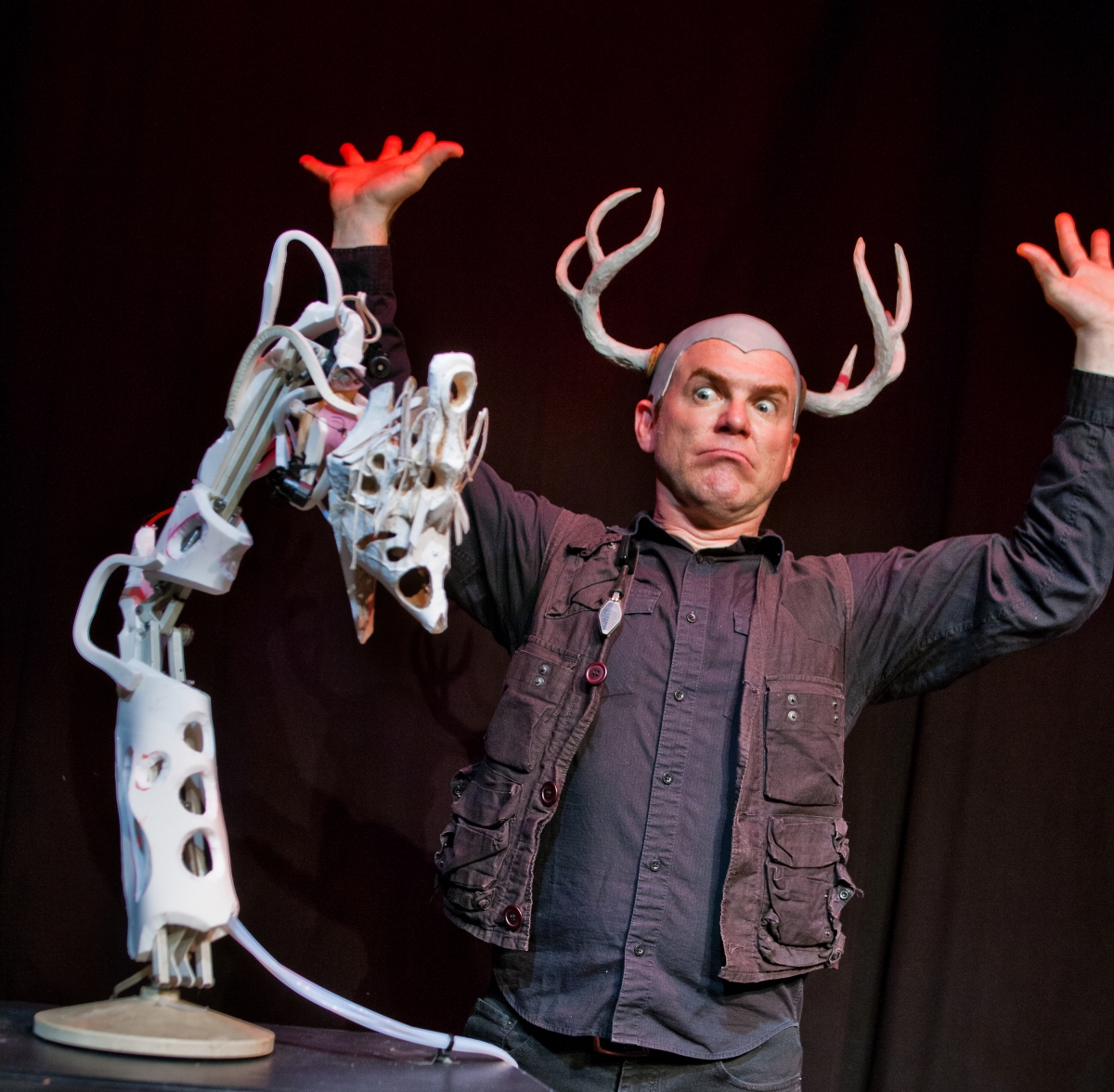 The Flatiron Hex
Created by James Godwin Directed and co-written by Tom Burnett
Dixon Place 161A Chrystie Street, NY, NY 10002
May 15-30, 2015
The best way to describe James Godwin's wildly inventive The Flatiron Hex is that it is like watching a big-budget summer sci-fi action-comedy performed by one man, with puppets and a couple of projectors. Making its world premier at Dixon Place, a space that grew out of salons held in Artistic Director Ellie Covan's living room and is primarily dedicated to helping artists create and develop new work, The Flatiron Hex brings to mind Neil Gaiman's American Gods and the works of William Gibson and Cory Doctorow, as well as films such as Night Watch and Hellboy, through a lens of 1940s and 50s hardboiled noir. Godwin, who made his own debut at Dixon Place in 1988, creates a future New York City, now known as NYORG, that exists as a self-contained realm walled off from other "tribes" such as New Jersey and operates on a mix of cyberpunk technology and shamanic magic.
Our protagonist is the aptly named Wylie Walker, sometimes played by Godwin himself and sometimes by a tabletop-sized puppet version or projected cutout. Wylie is a member of the Shaman's Guild of NYORG, and when he is tasked with extracting a virus from and rebooting SAM, NYORG's Sentient Algorithmic Mainframe, or "meat computer," in the face of an oncoming storm with the potential to wipe out the city, his mission goes awry, and he is fired and disgraced. In time, he begins to uncover a far-reaching conspiracy and must seek help from his sister and dead-but-with-her-maternal-consciousness-preserved-in-a-computerized-box mother and then journey into the underworld beneath the Flatiron Building to find a missing object and barter with the Rat Queen. The Flatiron Building is where his father died, but more importantly for NYORG, it is the arrangement -- open or closed -- of the building's upper windows that vibrationally influences storms such as the one currently bearing down on the city.
The Flatiron Hex smoothly accomplishes its world-building via reference rather than exposition, which gives it complex, lived-in feel, a suggestion that there is much more going on beyond the edges of the play's narrative. In Flatiron's colorful milieu, Toad God is a political office, the Rat Queen rules a pack of hooded minions deep in the sewers, and a conjoined mayor whose male half sounds like a beloved twentieth-century celebrity fights for reelection in a contest against a tongue monster who is too hideous to appear in his own campaign ads. And, again, all of these are brought to life by Godwin.
Dixon Place is a very intimate space and thus perfectly suited for seeing the details and craftsmanship of the creations that populate The Flatiron Hex and for allowing Godwin to play off of the audience. This is an intricate piece, with Godwin; puppets of all kinds, from marionettes to shadow puppets; video; and the noir voiceover all contributing to a story that is equally absurd and compelling. In the dystopian science-fiction tradition, the play takes some sociopolitical jabs: citizens are kept under control through deliberately-created fear, the government might indeed want to take advantage of the storm, evocative of Hurricane Sandy, to clear out certain neighborhoods, and public information is dominated by a single Buzzfeed-esque provider called Huggfeed. However, Flatiron never takes itself particularly seriously; like the many details of its futuristic setting, these critiques are flourishes surrounding the main narrative of Wylie's quest. It is a play that asks only that you enjoy some arts-supporting drinks in the attached non-profit bar and then sit back and watch a master of his craft tell you a rollicking story. - Leah Richards & John Ziegler