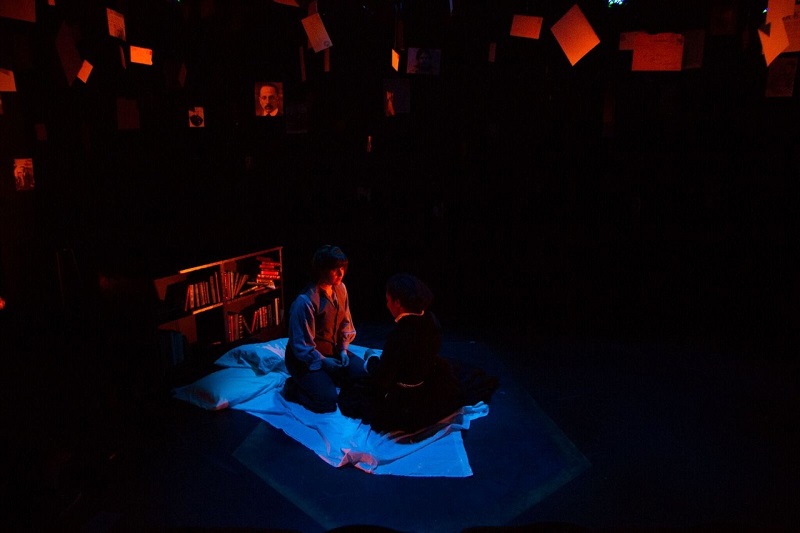 Lou
Written by Haley Rice
Directed by Kate Moore Heaney
Presented by Theatre 4the People at The Paradise Factory, NYC
May 19-June 3, 2017
Quickly: how many of you have heard of Sigmund Freud? Now, how many of you have heard of Lou Salomé? It might surprise many audience members to see Salomé using Freud's own psychoanalytic techniques on him late in Haley Rice's new play Lou, but that is part of the point. Directed with an all-female cast by Kate Moore Heaney, Lou operates, to a large degree, in the genre of feminist reclamation, bringing attention to significant women unfairly elided by history. Much like The Other Mozart, which stopped in New York last fall to shine its spotlight on Wolfgang's talented sister, Maria Anna, Rice's play focuses on an exceptional woman lost over time in the shadows of the famous men with whom she lived and worked.
The titular Lou was born as Luíza Salomé in 1861 in Russia, the only daughter among five sons on an army general, and, over the course of her 75 years, she authored an impressive number of novels, plays, essays, and analytic works, and became one of the first female psychoanalysts. Early in the play, under the array of photos, postcards, and documents suspended from the ceiling of the stage, Lou (Mieko Gavia) tells us the story of how she buried God when she was eight years old, and we then see her atheism become a roadblock in her quest to attend a university. Her disregard for the social norms of her time extends into other areas of her life as well, and when, at 21, she meets philosopher Paul Rée (Olivia Jampol) in Rome through the writer Countess Malwida von Meysenbug (Valeria A. Avina), the two end up living for the summer with Reé's friend Friedrich Nietzsche (Jenny Leona). Over time, the men find it difficult to remain merely friends or intellectual sparring partners, a complication that introduces one of the play's central conflicts, which Lou articulates as the incompatibility of happiness and greatness, connecting the former to sexual expression and privileging greatness at happiness' expense. Her romantically ascetic focus on intellectual ambition continues through her sexless-by-choice marriage with linguistics scholar Friedrich Andreas (also Olivia Jampol), to her eventual surrender to a love affair with poet Rainer Maria Rilke (Erika Phoebus), who brings some passionate chaos into her strictly ordered life. (It is Lou who suggests, that Rilke adopt Ranier in place of his given first name, René, much as she had assumed a name given by a mentor.)
Other, sometimes related themes emerge through Lou's discussions with the various male figures who populate the narrative: debates, for example, over whether men and women can be platonic friends, the need for faith or religion, definitions of feminism and gender, and, with Freud (Natasha Hakata), the Apollonian and Dionysian (basically, reason/order and emotion/disorder) and the role of desire in human psychology. Lou incorporates its philosophical elements and its biographical exposition with a consistently deft hand and always in the service of telling Salomé's personal story. And while it rightly recognizes her pathbreaking abilities and achievements, it avoids hagiography with a balanced portrayal that asks some tougher questions about Lou's choices in the second half of the production. Perhaps unexpectedly, Lou is also very funny, thanks in no small part to excellent performances by the cast. Olivia Jampol in particular has some great comic moments: she is scene-stealingly hilarious as Lou's husband, Andreas, and cuts a more subduedly humorous, occasionally swaggering figure as the sympathetically dissolute Paul Rée. Erika Phoebus has no problem convincing the audience that her charming, expressive Rilke could finally overcome Lou's resolve, lending additional pathos to his eventual heartbreak. Natasha Hakata projects masculine authority as both Lou's first tutor and her last, and Jenny Leona humanizes the almost mythically misanthropic Nietzsche. At the heart of the play, of course, is Mieko Gavia's Lou, impressively embodied in all the complexities of her poise, determination, pride, self-denial, and vulnerability.
Lou is a wonderfully entertaining production about a singular figure. It offers a well-crafted, engaging study of a woman who could captivate Nietzsche and call out Freud's repression. See this production, and add yourself to the long and storied list of Lou Salomé's admirers. - Leah Richards & John Ziegler