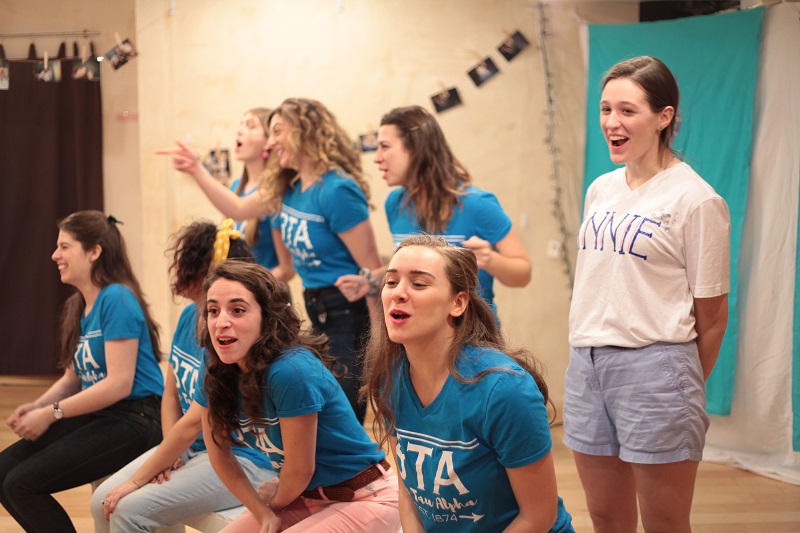 For Annie
December 9, 2016-January 15, 2017
Margaret Atwood famously wrote that men fear that women will laugh at them, while women fear that men will kill them. For Annie, the new play by Beth Hyland, is presented as a campus outreach event put on by members of the Beta Tau Alpha sorority at SUNY Onondaga in memory of their murdered sister, Annie Lambert, a victim of male-on-female domestic violence. Directed by Emma Miller, For Annie is the inaugural production of The Hearth, a company whose mission is to "nurture and celebrate female-identifying artists" and "develop plays that represent the complex and vast spectrum of womanhood." Annie's story ultimately concludes at an all-too-common point on that spectrum. 
However, as Leah (Julia Greer), the sister who plays Annie, says, Annie is more than what happened to her. We learn that Annie grew up in Rochester, daughter to police officer Bruce, played by Lauren (Leila Teitelman) and nurse Tammy, played by Rachel (Laura Winters), and older sister to Conor, played by Emily (Aliza Sotsky) and Casey, played by Chelsea (Andrea Negrete).  Annie develops a crush on Orlando Bloom during middle school, gets a job in a grocery store during high school, and ends up choosing SUNY Onondaga, a school or 4,000, for college. There, she plays soccer, joins Beta Tau Alpha, and becomes inseparable from sisters and eventual housemates Jessie (Sammi Katz), Nora (Shelby Green), and Kaela (Alex Najarian).  While working her job one day during her freshman year of college, Annie meets Nick, played by theater major Raf (Bartley Booz), a frat member, basketball player, and fellow SUNY Onondaga student.  
The signs that all not be as right with the relationship as it appears are downplayed, missed by friends and hidden by Annie. Nick is a hit with the Lambert family and considered a friend by Jessie. Over the 3 years of their relationship, Nick enacts the common abuser's strategy of increasingly isolating the abused, and the BTA sisters explain for the audience the stages of the domestic violence cycle. Annie inspiringly manages to break the cycle, but an errant photo posted to social media of her with senior student Max, played by Mitch (Ari Shapiro), precipitates the tragic outcome.  
Annie and Nick's story is typical in many ways, but its very typicality is what makes its telling important. The willingness of Annie and others to make excuses comments on the leeway that we as a society still afford abusers, how domestic violence is often regarded as a private matter between the couple. Nora, for instance, doesn't take any action even when she suspects and later knows that Annie's relationship is not what it seems.  Jessie, like Nora, expresses guilt over her wish to have done things differently, over her feeling that she simultaneously knew and didn't know. These kinds of unclear perceptions -- are Nick's actions protective or possessive, caring or controlling? Is it romantic or creepy that he says "I love you" on the first date? -- demonstrate how close, as a society, our representation of true love is to obsessive behavior.
The choice to present For Annie as as play-within-a-play lends it dimension, and it is very successful in creating the reality of its frame. The space, strung with lights and 3x5 pictures with the audience, given a program for the BTA play that includes numbers for intimate-partner abuse resources in the Syracuse area and seated in folding chairs around the performance area, increases that sense of verisimilitude, as do the fourth-wall-breaking addresses to the audience and the way that the "real" emotions of the students, even those merely watching in the background, break through or threaten to break through the performance. It isn't easy to realistically play non-professionals acting, but the cast pulls it off convincingly. The leads all give solid performances, with Greer's Annie a mix of sweetness and resolve and Katz's Jessie providing some emotional monologues. The play does some interesting things around our experience of authenticity as audience members (especially for those spectators who may not know that the framing device is a framing device). Even the conceit that there are audience members present who knew Annie adds a slight edge of discomfort. The staging of the climax in pitch darkness is very effective, and surprise late entrance of a second Annie (Liz Colwell), whose role we won't spoil here, raises new questions about authenticity and the experience and performance of grief, while also forcing the audience to reassess everything that it just watched. The story of For Annie is all too common, but that very commonality makes knowing it all the more necessary. - Leah Richard and John Ziegler
Photo Credit: Gracie Gardner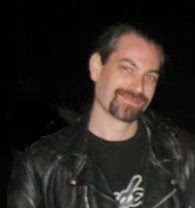 Dr. Richards is an English professor in NYC, and spends her free time raising three cats and smashing the patriarchy.
When not writing reviews, Dr. Ziegler spends a lot of his time being an Assistant Professor of English in NYC and playing guitar in a death metal band.