Drew Hodges is at a loss for words. Asked if he's surprised at the life he's leading -- did he imagine he'd grow up to fly around the world orchestrating scenes with great actors and artists for his own wildly influential agency -- he pauses three entire seconds. "I wish I had an answer for you," he says. "It's like, Come for the veal, stay for the floor show."
You might not know Drew Hodges' name, but if you've enjoyed some form of popular culture in the past decade, you're living in a world he helped create. "When I started, the idea of theater was still very much that 'fabulous invalid' thing," he says, "sort of dying, old, kind of nostalgic. I was lucky enough to work on a lot of stuff that started to chip away at that."
Twenty years ago, art-directing for his small design firm's music, film and cable clients, Hodges was offered his first theater project, a little show called Rent. The man for whom performance meant taking the train from Hyde Park, NY, as a high schooler to see Yes at Madison Square Garden harnessed the excitement he felt watching innovative theater and expanded his rock & roll take to advertising, moving the firm carved out of his Flower District apartment closer to Broadway, where it would grow into the entertainment powerhouse SpotCo.
Using modern techniques developed in their work with video, records and film, Hodges & Co. helped upstarts Rent, The Vagina Monologues and John Leguizamo's Freak catch fire, opening the door for more daring fare to be produced and thrive. "We worked on quite a few of the sort of things that were seen as marginalized, and brought them forward," he says, "a lot of pieces that would maybe have been left to a smaller audience." Such shows would lay the groundwork for "bringing back this idea that theater is a crossover art, a contemporary art, that really relates to our culture today."
SpotCo (acquired by England's First Artist Corporation in 2008) can lay claim to introducing audiences to a dizzying percentage of work that's tapped into the zeitgeist, as varied as August: Osage County, Kinky Boots, The Pillowman, Pippin, The Book of Mormon, The Scottsboro Boys, Once and last year's surprise Tony winner Fun Home. The firm's flair for framing how shows come into public consciousness has netted them eight Best Musical Tony winners in a row -- and this year's Hamilton should make it nine. It's a testament to Hodges' gift for recognizing art that speaks to the moment, and his team's talent for transforming unconventional fare into not merely buzz worthy destinations for hip young audiences but mainstream must-sees.
"Things that were unexpected have happened on Broadway over the last 20 years that have actually resulted in it feeling much more a part of the contemporary culture," says Hodges. "Avenue Q was seen as a thing that definitely did not need to go to Broadway. Now it feels incredibly mainstream. Some of the things that are happening with Hamilton may be specific to Hamilton, but they're also things that haven't happened since the '40s -- the fact that the album is charting. This stuff is as much in our world as a summer hit movie -- Ryan Reynolds is in that movie Deadpool wearing a Rent T-shirt!"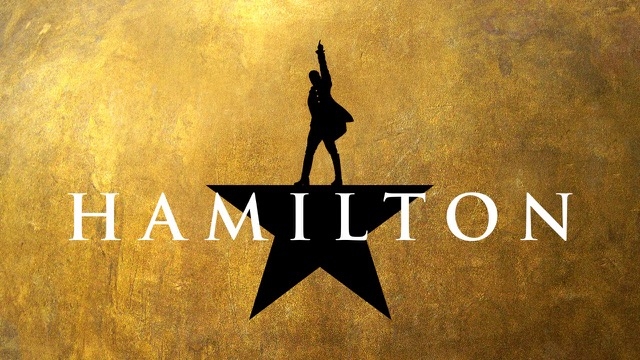 Today the tall, fast-talking, ebullient 53-year-old is celebrating the two-decade anniversary since that first theater project with On Broadway: From Rent to Revolution, a full-service extravaganza of a coffee-table book that reveals how Broadway has changed the cultural conversation. Brimming with insider dish from on- and offstage talent, On Broadway unveils a treasure trove of previously unseen posters and provocative promotional campaigns, a delightful what-if of alternate realities for now-iconic shows. Its behind-the-scenes anecdotes and strategies give fascinating insights into how the some of Broadway's most intriguing projects unfolded, and the twists and turns beloved and controversial shows took on their path to (mostly) success.
Hodges was working with producer Margo Lion when something she said about her show Catch Me if You Can stuck in his head — about not being able to put her finger on what she called the "event." He would obsess for years on identifying what that meant, how to capture the experience of going to a show, trying to brand that perfect component, "sort of the elevator pitch times word of mouth. I sometimes say it's the emotional promise: Promise me what's it gonna feel like to go. People don't really care that much what happens; they care Give me the tone of the evening." Recently looking back on shows that failed, Hodges discovered he couldn't figure out what each one's "event" was. "In the end, the best way a show sells is word of mouth, so people hand that on to each other. If I can't figure out the best way to tell you why you should go, probably other people can't either, so they don't know how to transfer the heat." What Hodges' crew does best is create a campaign that makes people think, "Oh, that looks like something I would like. Once they're in, they'll tell someone else. But in the beginning, when there is no show, and we're trying to get enough tickets sold, the job is to figure out that 'event,'" he says. It need not be more complicated than Hugh Jackman or Nicole Kidman takes her top off -- as long as it communicates something that inspires people to commit time and money to sitting in an audience.
If few things are more dispiriting than watching bad theater, nothing compares to discovering great work. Hodges was SpotCo's sole member to get an early glimpse of Hamilton: "I was lucky enough to see that show in a reading -- I sat next to Mike Nichols." His friend (Rent, Avenue Q and Hamilton producer) Jeffrey Seller asked what he thought. "That's the best show I have ever seen," Hodges told him. "It was very calm," he recalls. "I was not all jumping up and down." Debating marketing approaches over a long period of time, he determined to do the opposite of what was expected: the "downtown" feeling he'd worked to achieve with Rent, or the predictable path of going "super hip-hoppy" were too reductive for a play he believed had more classic appeal. "The most amazing thing about Hamilton is that your grandfather and your granddaughter, everybody, can find a place in that show, David McCullough next to hip-hop kids. That never happens."
One of the book's pleasures is discovering images that got away -- sometimes more daring than the ones chosen. "I once got into an argument with Edward Albee over a poster," says Hodges. "It was a glass with ice falling and in the ice it said Who's Afraid of Virginia Woolf?, kind of frozen in, it was really great, and he killed it." Asked why, the playwright said, "Because. My show. Is not. About drinking." Hodges laughs. "In that moment it doesn't matter what you say -- he wrote it. I always tell people, 'My job is to take your very layered and rich thing and reduce it to something faster and more simplified, because that's what I've got to do.' I'm not trying to give people your play, I'm trying to give them Come to this play and it will feel a little like this."
Of course, since his campaigns often start before a show is even in rehearsals, attempts to provide that "emotional litmus test" can go awry. With Dance of the Vampires, SpotCo created a campaign sending a letter from Michael Crawford — "basically the Phantom writing to you. It went out to all these women, this sort of implied romance of what was going to happen." Hodges saw the first preview and got a shock: the show was basically "a pie in the face. We had told all these people Michael Crawford's gonna give you Phantom 2, but instead he does Benny Hill. We told everybody the wrong thing to go for, and nothing fails faster."
How often does his team create innovative work producers don't understand? "Part of the art is getting it approved," he says. "If you think the art is just making some work of genius that no one touches, that's just not it. It's all about hearing from everybody and solving it and keeping going, and having it turn out well." The book testifies not only to his team's idiosyncratic gifts but the number of collaborators smart enough to recognize their artistry and take a leap to create theater magic. "So many of these pieces, when I look at them, what occurs to me is not the sense of I/We did this [but] that time when we were all standing there and this happened. The sharing of it ends up being the joy in it." Hodges has a way with a story, but throughout the book he cedes center stage to other artists inside each show. "I wanted to get this sense of, kind of around the circle of, different people's perspectives on how these things tend to be. Because that's really how they're made: it's through all this wisdom of multiple people's point of view that you kind of come together and say, Okay, that."
Seeing the often hilarious, bold, gorgeous art that didn't get chosen, one can't help wondering about the frustrations of the job. "There are producers who take risks, there are producers who -- their job is not to pick the artiest poster, that is for sure," he says. "There are producers who really have an inherent ability to see the work and get it; there are many more who think they have the ability, which is actually worse than if you say, "'This is not my strength; tell me what I should do.'" He considers Seller one of the best: "It's not an accident that the work ends up being so strong, because he knows how to respect the people making it, so they want to make even better work."
Such collaborations have provided one gift Hodges never anticipated. Unlike his years in records and film and cable, where "you're really very outside the making of the actual thing," Broadway offers a thrilling invitation in. "The group that's making the show is in such a bubble, but they're dying for someone just outside that bubble to give them some perspective. They can't go to someone who's way outside that bubble, so you get asked all the time what you think, what you're not getting, what you love. The biggest surprise is that you get the respect of being in the middle of the creative process. I thought we could make some great posters; I never thought I would be in a conversation with Edward Albee. I didn't imagine I would be inside the making of the actual show -- I never thought I would be in that room where it happens."
Hodges' opinion is clearly valued across the industry -- as his role helping Fun Home realize its true potential, a tale shared in the book, makes plain. "There's always a conversation, 'Should this move?' And I'm often one of the people who gets asked," he says. "I was absolutely asked on that show, and my answer was, 'You can't not move this.' Because then I have to decide that there are good things for Broadway and really good things that just can't be on Broadway. Fun Home is actually such a beautiful one to think about, because I'm so thrilled to see that that show could be the mainstream -- and continues to be. We've all worked on really arty things that did okay for three, four months and won their Tonys, but this show keeps becoming this mainstream hit. I send people all the time. They're often not sure what it is. No one's ever disappointed. And I really feel good that everyone was like, This needs an audience. How are we gonna do this? In that case it really was the Tony. One of the best things we could do was to try and get people to feel how beautiful that show is, get that Tony -- and with the Tony, there are a certain amount of people who are just going to make sure to see the thing. Fun Home's a good example of a thing that probably wouldn't have been on Broadway 20 years ago."
When he was young, Hodges saw three shows all in one season: Stockard Channing's turn in Joe Egg, Ain't Misbehavin's ensemble, and the thing that was Sweeney Todd -- the first time theater really registered for him. "It sort of ends up representing my career," he realizes, "that I'm always working on this mixture: something big, something small, something serious, something not, something gay, something straight."
On Broadway may vividly re-create the latest golden age of theater we've been living through, but it feels of-the-moment: "We're talking about something very now," says Hodges. After working on 25 shows a season all these years, he finds it satisfying to bring the world he's inhabited to those outside the circle. The man who's helped transform the way performance has entered our cultural bloodstream routinely deflects compliments by praising the work of others, but Drew Hodges can't deny his latest theatrical outing has been fun: "Not everybody gets to play the organ at their own wedding." 
©On Broadway: From Rent to Revolution by Drew Hodges, Rizzoli New York, 2016. Hamilton and Who's Afraid of Virginia Woolf? art courtesy of SpotCo. 
Ms. Eisenbach is a journalist, screenwriter, and author of the novel Loonglow  and the satirical how-to/cry for help Lesbianism Made Easy.