Anthony Phillips
The Geese and the Ghost
Wise After the Event
Sides
Private Parts & Pieces I-IV
Harvest of the Heart (Esoteric/Cherry Red)
Anthony "Ant" Phillips, an original member of Genesis, left after their second album (Trespass, 1970) because of stage fright -- an especially problematic situation, one supposes, for the lead guitarist. He spent the ensuing years studying music at the Guildhall School of Music and Drama (which is to say classical music), along with occasionally recording demos of new material at home. It would be seven years before his first solo album would appear, but after that he would be fairly prolific. Though he never achieved mainstream success -- which sadly makes sense given that this progressive rock legend didn't issue anything in 1971-76, the peak prog years -- aficionados of the style have long admired his work. Cherry Red's Esoteric imprint is now in its third year of repackaging Phillips's work with his collaboration, and with the recent issuance of 1979's Sides meaning that all of his '70s albums are now available again as box sets, now seems like a good time to review the story so far.
Phillips started work on what would eventually become his first solo album, The Geese and the Ghost, in 1972 as a collaboration with ex-bandmate Mike Rutherford, though many of the pieces that would end up on it had been written immediately after quitting Genesis in 1970. Actual recording began in 1974, as first a studio was built in Phillips's parents' house, and then recording together had to be fit around Genesis' schedule, which along with Phillips's schoolwork partly explains why The Geese and the Ghost took so long to come together. Phillips's replacement in Genesis, Steve Hackett, helped out by injuring himself, which put a half-year gap in the Genesis schedule (just as they'd been about to start touring The Lamb Lies Down on Broadway). Work on the album was finished in 1975, but then Charisma, the label that had financed it, lost interest and the album (as well as a separate single done in 1973 but unreleased -- more about which below) lay unreleased until the American label Passport picked it up in 1977. Coming out at the height of punk was bad timing, but prog devotees loved it anyway; among my friends, at least, it is considered Phillips's masterpiece. (My preference is for his next album, but, again, more on that later.) And The Geese and the Ghost is certainly proggy. Most of the tracks are instrumental, with an archaic-sounding seven-section suite, Henry: Portraits from Tudor Times, at the center of the album (with a previously deleted movement restored for the first time thanks to its rediscovery during the compiling of this reissue). The core of Phillips and Rutherford on twelve-string guitars is heard on most tracks, but with considerable overdubbing, including orchestra and keyboards (the latter mostly by Phillips, who with his Guildhall education also wrote the orchestrations). Not counting one crowd-scene vocal in the Henry suite, there are three songs with vocals, with Phil Collins singing two of them, "Which Way the Wind Blows" and "God If I Saw Her Now." Phillips himself sings lead only on "Collections," double-tracked; though he does not have a strong voice, its plaintive quality is perfect for this ruminative song, which mixes solo piano sections with orchestral swathes. Throughout the original album, Phillips concentrates on creating moods and beauty; there is no token rock-out/shred number to disturb the flow, though the Henry suite does provide plenty of contrast, both as a whole to the more modern rest of the album and also within itself from movement to movement.
Cherry Red includes a second disc of demos, basic tracks, and that unreleased 1973 single, "Silver Song"/"Only Your Love," with Collins again providing vocals, along with (unlike the album tracks he's on) drums. Not coincidentally, "Silver Song" had been written as a tribute to ex-Genesis drummer John Silver; this is a big, upbeat tune, and it's surprising that Charisma passed on releasing it, though it is suggested that the label didn't want to distract from Genesis with solo offshoots yet. The flipside is similarly upbeat, again showing a side of Phillips otherwise subdued on his debut. Also especially noteworthy is the 1973 demo of "Master of Time," which was to be included but got left off the LP because there wasn't time to finish it; it's another chance to hear Phillips sing, here without double-tracking. Cherry Red's presentation is wonderful: a fold-out poster of the album art, with drawings and narration illustrating the movements of the Henry suite; a twenty-four-page booklet with detailed documentation of the album's creation, complete with many amusing anecdotes; and an additional DVD-Audio disc with a 5.1 surround-sound mix for those who are equipped for such, all enclosed along with the two CDs (each in a cardboard sleeve) in a sturdy 'clamshell' box. It's well worth acquiring even by collectors who have the original release.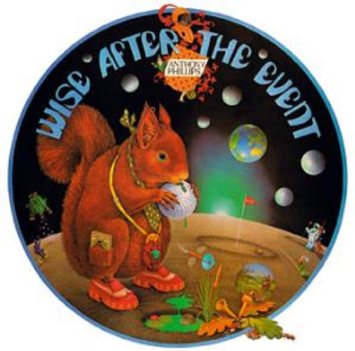 Phillips's next album,Wise After the Event (1978), came together more quickly, though not without troubling aspects, as the label kept it from achieving the shape the artist envisioned, which would have been an LP accompanied by an EP so as to fit all the material onto one release (more on that later). Despite that, the result was still, in my opinion at least, an improvement on the already formidable debut. For one thing, it leads off with "We're All as We Lie," one of the very greatest prog songs, musically strong and lyrically witty yet profound. Also, Phillips sings this time out instead of using Collins, and while I understand why record labels might have preferred a more assertive singer, I like Phillips's voice. Finally, this is a song album (no instrumentals), and more of a rock album (with ex-Genesis drummer Michael Giles). Though it's still layered and full of subtlety, the middle section of "Birdsong and Reprise" is more rambunctious and musically stimulating than what Genesis was up to at the time. The complex title track, the melodic "Greenhouse," the lovely "Paperchase," and the animal-rights anthem "Now What (Are They Doing to My Little Friends)" are all excellent as well. Furthermore, the whole thing sounds professionally recorded, which can't always be said of Geese, though the latter's muddy piano sound has its own charms in a way (it certainly doesn't bother me). Producer Rupert Hine was obviously a big help in making Wise sound big and brilliant (he recruited both Giles and bassist John Perry [Caravan]), and he also captures Phillips's electric guitar sound in all its lush glory (the title track's textures are especially enjoyable).
This box has a whopping four discs: the original mix remastered, a new stereo mix, the DVD-A 5.1, and a CD of "demos, out-takes and extras." The original mix is a bit compressed (of course, since it was done for vinyl), so I prefer the new stereo mix, which emphasizes all the positive things I said about the sound of Wise in the above paragraph. Both restore "Squirrel," a song intended for the original release but moved to the B-side of the "We're All as We Lie" single when the label vetoed the LP-plus-EP format. However, there is a missed opportunity here: the LP-plus-EP program, which included a number of instrumental links, is frequently alluded to, but not presented. The finished versions of the instrumental links aren't even in this box; they were released on Private Parts & Pieces II: Back to the Pavilion, a 1980 LP. Cherry Red has released the first four of the series in a box (see below), so readers can approximate this with some work, but it really should have been done for the new stereo mix, since presumably there might have been some overlapping or at least snugly fitted joins, and the link "Tremulous" was actually going to be in the middle of "Birdsong." Also, the notes neglect to mention that the link "Sitars and Nebulous" was a shortened version of what was eventually retitled "Von Runkel's Yorker Music" when it was included on Pieces II. Think I'm nitpicking? Since I already love the album as much as I do even without the links, I guess I am. Hey, at least I'm not complaining that "Ant" didn't go back into the studio to record the orchestra arrangements for "Moonshooter" and "Greehouse" that he ran out of time (and presumably money) to record back then.
Some of the instrumental beds on disc Two have been presented in new mixes from the 24-track tapes to emphasize the keyboards more than the final mix did, which is interesting to music geeks such as me and perhaps you, and a link that would have gone on the album backwards had it been used is included in its previously unheard frontwards version. Note that I don't have the 2008 two-CD reissue to compare it to as far as the mix of this non-LP material, but there is one more track here than their was then. The album cover, by Peter Cross (as was that of the debut), is a tour-de-force of whimsy, and rightly featured on another fold-out poster, the reverse of which contains the lyrics for all the tracks. And, again, there's an informative and entertaining booklet (minus that one blip mentioned above), and everything's in a clamshell box. A must-own, even without the four missing links.
At this point, Phillips had some serious momentum going, and 1979 brought his fourth solo album, Sides (between Wise and Sides came a compilation of older unreleased material, the first volume of the Private Parts & Pieces series, covered below). Hine produced again, with Giles and Perry the rhythm section again, and again the record company meddled, changing the track order so all the short songs were on side 1 and the longer, more progressive tracks were on side 2, and overdubs were added to a few songs. The program change gave the album a split personality; I suspect a lot of Phillips fans play the second half more. Cherry Red's reissue is again four discs: original mix, 2016 remix, DVD-A 5.1, and a CD of "bonus material" (mostly instrumental and alternative mixes of the album's material, with just one demo -- the non-LP piano ballad "Before the Night" -- and an instrumental version of a song Phillips cut from the album because he didn't like his lyric. Again I am surprised Cherry Red didn't take the opportunity to show us what might have been by giving us one of the earlier track orders on the 2016 remix, but at  least with what we're told in the twenty-page booklet and with all the pieces here, it can be programmed. Also, including non-LP B-side "Souvenir" between Sides One and Two, even on the original-mix CD, instead of putting it on the "bonus material" disc, seems illogical and makes the wait for the proggy side longer. With a disco-ish track and a faux-reggae track in the first half, Dan Owen (if you thought "who?" your reaction matches mine) the lead vocalist on two songs, and more synthesizer than guitar on some Side One songs, it starts to seem rather compromised, though the lyrics are amusing. Then come the last four tracks, two of them instrumentals (with Dale Newman [again, who? -- but the booklet notes explain who both of these obscure ringers are] taking the lead vocal on the most melodic of them, "Bleak House"), and we're back on familiar, and more impressive, ground. By the way, this time I prefer the original mix, as the greater clarity of the 2016 remix increases the treacle factor on some of the shorter tracks and, even on the longer ones, those 1979 synths sound better compressed. (And thanks to Cherry Red for providing both options so I had a choice!) The highlight is the instrumental "Nightmare," which closes the album. The usual fine packaging format for these reissues is again present.
I could do without the DVD-Audio discs on the above three releases; seems to me it would be fairer all around to package those separately (and include the non-album tracks on them too) rather than making the CD and DVD-A audiences each buy stuff they'd rather skip. But I'm sure there's an accountant at Cherry Red willing to explain why I'm an idiot to think that way. Let's just rejoice that these albums are available again, presented so thoroughly. The next two sets are just CDs.
As already mentioned, after Wise came Private Parts & Pieces. On it, Phillips gathered a variety of mostly acoustic home recordings, some composed years before they were recorded. When it came out on CD, he added three later tracks, including a solo recording of "Stranger," an old Genesis song that the group hadn't recorded, along with a solo version of "Silver Song" Phillips made years after the unreleased band version with Collins. The album's intimate mood is, in my opinion, what made it popular. In 1980 Phillips followed up with the aforementioned PP&P II: Back to the Pavilion, a somewhat differently focused collection of often more fleshed-out arrangements of material that had almost seen the light of day in various obscure contexts, such as musical settings of Shakespeare (specifically Macbeth; for the album, that rocking full-band material with Rutherford and Greenslade drummer Andy McCulloch was condensed into the Scottish Suite), those instrumental links that didn't make the cut on Wise, and other LP outtakes, though also with some solo home recordings as on the first volume. There's a lot of stylistic variety as well; I am especially fond of "K2," a soothing 1979 improvisation on Polymoog and ARP 2006 synthesizers. The third volume, PP&P III: Antiques, was -- paradoxically, considering its title -- all new duo recordings with Argentinian guitarist Enrique Berro Garcia, then living in England. Two of the duo tracks were old Phillips compositions, but most were co-written specifically for the album in 1980-81. Now alternate takes/versions are added as bonuses, along with a 1990 collaboration, "El Cid." PP&P IV: A Catch at the Tables (1984) returned to the mining of solo home recordings, but less acoustic as he was using synths and drum machines much more.
Cherry Red has compiled these first four PP&P not only with bonus tracks from their earlier CD issues included on each volume, it has added a fifth disc of previously unreleased material, dubbed Private Parts & Extra Pieces. Many of the tracks are alternative versions of pieces on either PP&P volumes or other albums, but some are previously unreleased compositions, even including a 1980 song with vocal, "Long Ago." Everything else on the fifth disc is instrumental. Obviously one has to be a Phillips fan to get excited about this material, but if there is anything prog fans know, it's that Phillips fandom is often rewarded with charming little nuggets, and that the more informal the setting, the more charming the results, which is precisely why there were eventually eleven volumes of the PP&P series (twelve if we number this new disc!) and why they have been among his most-loved releases.
Finally, the first of these sets, Harvest of the Heart (note that it is not the same as the 1985 Cherry Red compilation of the same title, which collected highlights of PP&P I-IV.) Released in 2014, before any of the above sets, it bravely -- and fairly successfully -- attempts to sum up Phillips's career on five CDs. It would be easy to whine that such-and-such a favorite track is missing, but a) that way lies madness; b) the compilers, with Phillips's blessing if not participation, have done a pretty good job, actually. It opens with a 1969 demo, a duo with Rutherford, simply titled "F Sharp," but Genesis fans will recognize it as the instrumental basis of "The Musical Box," which appeared on the band's first post-Phillips album. Other than that and a Mike Rutherford B-side, the years up to 1980 are covered with material on the above albums, taking us well into the second CD (sensibly, this set also has no DVD-A). After that it's into territory Cherry Red hasn't covered with reissues yet (aside from a few PP&P items) and which, aside from a few albums considered cult classics (Tarka, 1984) and some later PP&P volumes, non-fanatics will mostly be unfamiliar with, meaning that it's quite educational but also varied, natural considering that it follows his activity all the way to 2013. Even fanatics will not have heard some of the material on the fifth disc, as the set's final ten tracks were all previously unreleased. Here's hoping Cherry Red keeps up its good work with the Phillips catalog.