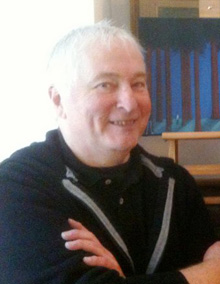 In a life that could have stepped straight from the pages of his beloved Dickens, albeit a 20th century and queer version, Peter William Burton was a boy of humble Hackney origins, born as the Second World War staggered to a close, who by dint of an extraordinary passion for books blazed a fascinating trail. His father was homosexual. Common of many of his kind, then persecuted, he married as a means of disguise. Like father like son, but their shared sexuality gave them nothing in common. What it created was an unhappy backdrop for growing up, and a desire to leave home and school as soon as possible. When he read the eulogy at his father's funeral, he stated, "George Burton was an old bugger!" Most of those gathered assumed he was being affectionately ribald. He was in fact being bluntly truthful. It is a great shame that he never wrote a book about this unusual, if imperfect, relationship. It would have made an extraordinary epistle, especially from the pen of one with both an eye for detail and an acute sense of mischief.
Books evolved the young Burton into a state of social mobility. By the age of sixteen he was working in the publicity department of the respected publisher Hamish Hamilton, and when the reviewer Ted Benson, who wrote for the Stage, couldn't make an opening night in September 1965, his career in journalism accidentally began. In 1966 he was running the gay club La Duce; homosexuality was still illegal, but such circumstances further introduced him to various literary scoundrels, drunks, and miscreants, especially the old rogue Gerald Hamilton, Isherwood's inspiration for Mr. Norris Changes Trains (renamed The Last of Mr. Norris in America) and Somerset Maugham's nephew, Robin, the chronically alcoholic author of The Servant.
As Robin Maugham's assistant, walker, and companion, Burton traveled, wrote, dealt with his employer's rages, and indeed executed his final four novels, Maugham being too addled to undertake any literary endeavor. Peter became adept at forging his autograph on books sent by fans for inscription, another task beyond his employer's increasingly limited capabilities. Anyone who has read his memoir Conversations with Willie, based on notes Maughan kept on visits to his famous Uncle's villa in the South of France, only to forget about them and later unearth them in his attic, has been conned. It was concocted over numerous drunken evenings, as Peter and his employer would embroider a series of vignettes of what Somerset Maugham would have said or done in certain situations.
By 1970 Burton had landed the job of handling Rod Stewart and the Faces' U.S. publicity. These were his years of L.A. & New York excess, peopled by everyone from Warhol to Elton, who Peter always alluded to in later years as "Dame Fat Reg of Pinner." From hosting parties at Studio 54 to a creepy visit to Phil Spector's L.A. mansion with the new Riva Records discovery Johnny Cougar, it resulted in nothing; he embraced the hedonism well, but was still quite happy to curl up in a corner with a literary novel and a cup of tea. During this period he was instrumental in fulfilling Stewart's ambition to see singer-songwriter Tim Hardin rehabilitated. Stewart had recently covered "Reason to Believe" and was a major admirer. This act of artistic altruism resulted in the disappointing album Nine. Stewart was later to reflect, "Never meet your heroes on the way down. It's just too painful." When I asked Peter what Hardin had been like, he sighed: "The worst kind of junky, fuck-wit tosser you could ever want to meet!" Burton's association with Stewart spawned the best-selling, authorized biography A Night on the Town. This was written during a 48-hour speed binge, but it made him enough money to buy a property in Brighton.
There was no such idiom in Britain as a gay press, but Burton became involved in its earliest flowerings. He had written for such small publications as Jeremy and Spartacus, and with Denis Lemon brought Gay News to the fore. The publication of a James Kirkup poem, "The Love that Dare Not Speak Its Name," in 1975 enraged the housewife harridan Mary Whitehouse, who sought to preserve the morals of the country. The poem about the love of a Roman Centurion for Christ on the Cross resulted in a blasphemy trial, which saw Whitehouse win, and Lemon receive a six-month suspended sentence. It was Lemon who christened Burton "the Godfather of Gay Journalism"; where his other moniker, Dame Peggy, came from has been lost in the mists of gay repartee.
When Burton took to helm of the literary pages of Gay News in 1983,he created an invaluable archive of features and reviews. Stimulating, thorough, and witty, he maintained this delicious output for two decades before being unceremoniously sacked by the new proprietors, who were happy to rehash press releases and praise what Peter referred euphemistically to as "one-handed reads." He was also the editor of the final incarnation of Gay Mens Press as Millivres Books, who successfully turned the adult movie actor Aiden Shaw into a recognized novelist and championed neglected classics such as the astonishing The Heart in Exile by Rodney Garland, as well as works by Robin Maugham and E.F. Benson.
As one door closes, another slides ajar, and Burton then embarked upon his most rewarding work creatively, if not in financial terms: a career as an editor of a series of gay-themed collections of short stories, four of which were short-listed for the prestigious Lamda Award, the last being What Love Is in 2011. In this way he was a vital connection between new writers and established practitioners of their craft. Burton wrote or contributed to more than thirty books. He also wrote for a variety of magazines, the most high-profile being his book reviews for the Daily Express. Over the years his words crept into such publications as Time Out, The Independent, and the Transatlantic Review, amongst many others. He interviewed everyone from Christopher Isherwood, Patricia Highsmith, and Edmund White to Kenneth Williams and Hanif Kureshi. One of his earliest interviewees was the playwright Joe Orton. Burton famously upset Isherwood when he described him in a feature as "a writer who didn't grow up...he has been showing promise for fifty years." This was a rift that never healed.
He once bemoaned to me his failure to realize a photograph of his friends Quentin Crisp and Kay Dick, the lesbian writer, together on the sofa in his book-lined Brighton home. Dick was a rather humorless, flinty woman with as an alarming head of hair as Crisp's. The one looked like the gender opposite of the other, and their pairing would have been both surreal and amusing. Dick, astute enough to realize the risk of being sent up for posterity -- she had overheard the plan being discussed at a party -- never capitulated for her close-up, whereas Crisp wouldn't have minded either way. Peter, on occasion, did ring this redoubtable, monocle-wearing, tweed-attired individual and breathed heavily and huskily at her down the telephone. She would bellow, "Burton! Is that you Burton? I know it's you! Get off this line immediately or I shall call the police!"
Peter Burton was a kind, essentially shy individual who enjoyed nothing more than cooking hearty suppers for his friends, then polishing off the night with as much grog and gossip as his guests could withstand. From the age of fifty he had been perfecting the act of a doddering old duffer. When I challenged him about this facade, he smiled at me rather impishly and exclaimed, "But you have to admit that I do it rather well!" He never really joined the digital age, hammering out on his trusty old typewriter reviews that his companion, the writer Torsten Hojer, then turned into e-mails. Hojer was the recipient of his all-too-telling last words, "Make sure the copy arrives on time," meaning his final book review for the Express. He died of a heart attack a week after attending the memorial service for his friend, the writer Francis King (1923-2011). He wrote of the novelist Kathleen Farrell (1912-1999), "She would have been surprised at just how she shall be missed"; so too would he.
Many will never have heard of him, but his bravery, influence, and determination in less tolerant times helped secure liberties that none of us should ever take for granted.