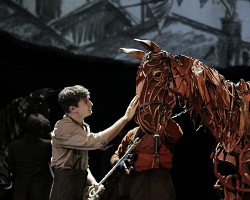 War Horse
Lincoln Center, NYC
The acclaimed production of War Horse is a triumph of theatricality with its stunning mix of a brilliant production, strong staging, and amazing puppetry. If there has been a criticism of War Horse, it has been that the writing does not measure up to the production itself. That is a fair point – War Horse is not a literary masterpiece. But it really doesn't matter. The story is involving enough, and the overall show is so well constructed with such awe-inspiring theatricality, that you don't need a Tom Stoppard or Edward Albee-type script to make for a powerful evening of theater.
War Horse originated at the National Theatre in London, where it has been selling out since opening four years ago. That production has now been mounted at Lincoln Center's Vivian Beaumont Theater, with an American cast. It opened in April to rave reviews and has been selling out in New York too. At the Tonys, War Horse won multiple awards, including Best Play and Best Direction of a play. It is based on a novel by Michael Morpurgo, adapted for the stage by Nick Stafford in association with the Handspring Puppet Company, the South African group that conceived and constructed the horses we see onstage.
The play tells the story of a boy and his horse. It begins in Devon, a large county in southwestern England, prior to the start of World War I. Albert is a teenager, and Act One portrays the bond that evolves between Albert and his beloved horse, Joey. Albert's drunken father had overpaid for Joey at an auction as a way to try to get back at his brother, with whom he had a rivalry. Joey and the other horses shown in the play are the show's stars. The horses are life-sized puppets, each operated by three people. They represent a truly remarkable achievement, infusing the horses with personalities and life-like sounds and movement. Watching the horses onstage, you quickly stop thinking of them as puppets and begin thinking of them as real. The audience can pretty much feel the horses' emotions. Joey and Tophorn, the other featured horse, are quite astounding. As we watch Albert train Joey, Act One is often idyllic and innocent, including a beautiful series of scenes in which Albert, in order to keep his horse because of a foolish bet his father had made with this brother, teaches Joey how to be a plow horse. 
But war has broken out, and Albert's father sells Joey to the cavalry. Albert wants to enlist to look for his horse, but he is only sixteen. He ultimately runs off and enters the army, lying about his age. In Act Two, we follow Joey's journey in the war, as well as Albert's as he encounters war while still searching for his horse. The play aptly depicts the harshness and brutality of war. Joey ends up in German hands, but is protected by a kindly German soldier. The play's climactic scenes are exceptionally powerful as well as dramatically tense.
Stafford's writing tells the story effectively. Other than Albert, there isn't much character development, but Stafford succeeds at presenting a story that can resonate, then allows the puppets and the production to elevate everything to a higher level. There are a few developments in Act Two that are not presented in a completely clear fashion, but it is a minor quibble. The combination of the puppetry, the lighting, and the exceptional staging result in some harrowing and frightening war scenes the likes of which are rarely if ever seen onstage. There are moments that are painful to watch.
Along with the exceptional work of the puppeteers, the other heroes of the evening are co-directors Marianne Elliott and Tom Morris, who have done magnificent work in bringing this large and complicated production to the stage. There are some magical, enchanting moments with Albert and Joey in Act One, followed by the horrors of war, charging horses and cavalry, encounters with barbed wire, and so much more as the play goes on. The imagination and skill involved in all this cannot be underestimated. In addition to the directors, praise also goes out to Toby Sedgwick, who is responsible for "movement and horse movement." While there are minimal set pieces, there is a screen used for projections that establishes locations and adds to the atmosphere. The show also utilizes folk songs, adding to the impact and complete theatricality of the entire affair. The play has a huge cast of thirty-five, including the puppeteers, which is large even for a musical and almost unheard of in a play.
Finally, one cannot ignore the superb work of Seth Numrich, who beautifully portrays Albert. He captures Albert's innocence, determination, and youthful awkwardness in Act One, and he makes the transition from boyhood to manhood as the show goes on. It is a near perfect performance. Numrich is a talented actor, and his wonderful performance, along with the depiction of Joey the horse by the terrific puppeteers, anchors the show.
The book on which the play is based is currently being made into a movie, directed by Steven Spielberg, which is scheduled to come out late this year, but there is plenty of room for both the movie and the stage versions of this story. War Horse at Lincoln Center is a remarkable, triumphant achievement, filled with grace, power, emotion, and exceptional theatricality. It is not to be missed.