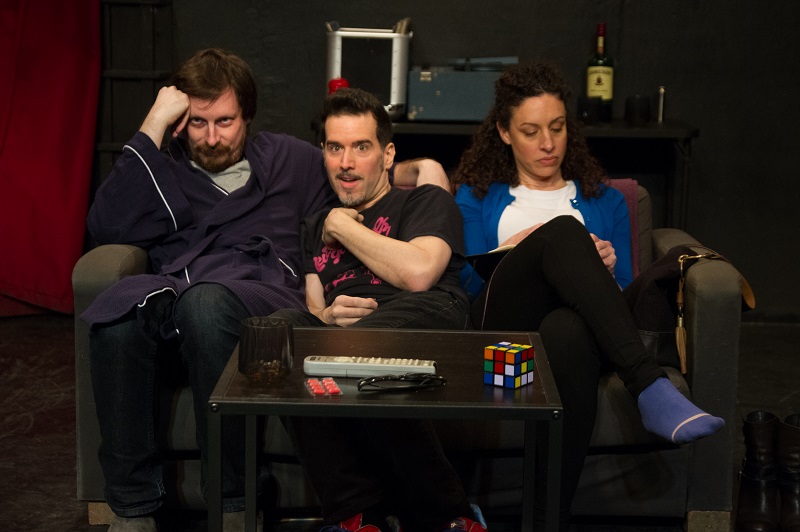 Kyle
Written by Hollis James, Directed by Emily Owens
Presented by Hot Tramp Productions at UNDER St. Marks, NYC
March 11-25, 2017
Kyle is the first play from Hot Tramp Productions, which promises "darkly comic" shows as part of its mission to create "pre-apocalyptic theatre for a post-Bowie world." Written by Queens native Hollis James, Kyle mines comedy from the depths of addiction and marks an impressive debut both for James as a playwright and for his and director Emily Owens' newly-founded production company.
Kyle (Hollis James) may feature in the title, but it is Jack (Nat Cassidy) who pays the rent for the apartment in which they live amidst bottles of whiskey and posters of Robert Smith and Minor Threat. When we first meet Jack, a writer and vinyl-collecting music nerd, he has just returned from a concert with his girlfriend, Crystal (Tricia Alexandro), and the two have decided that a little bit of celebratory cocaine would cap off their night out perfectly. They await the arrival of Crystal's old source, Frenchy (Christian Polanco, who also plays Hector, low-level dealer and would-be artist committed to drawing women's butts in all their variety), and Jack, who had tried coke once years before to no effect, finds out that he enjoys the experience entirely too much. Soon enough, Crystal, who had been planning to move in and who is the more domestically inclined half of the couple (she thinks in terms of "cup towels" while Jack thinks in terms of DIY toilet paper), is confronting Jack about his increasing, self-imposed isolation and the pile of cocaine baggies on his coffee table. The deterioration of Jack and Kyle's apartment reflects the erosion of Jack's personal and professional relationships, which his best friend and editor, Reggie (Christine Renee Miller) attempts to help him to help himself reverse. Jack's struggles with his relationships to himself and to cocaine and alcohol result in, among other incidents, a surreally hilarious call from Chad (Christian Polanco, one more time) in cocaine customer service and in a climactic and (mostly) comic physical fight with Kyle, who occupies the role of Jack's petulant, child-like id.
Kyle seasons its humor with insight and grounded emotional moments. Kyle's boys-will-be-boys-and-boys-party worldview is eventually contrasted by Jack's admission that drugs are more a way to temporarily paper over existential ennui and depression than they are a way to have fun. The play also admits that the mechanics that drive addiction aren't something that just disappears from someone's life. The increasingly unkempt Nat Cassidy is outstanding not just at communicating the complexities of Jack's highs and lows but also at keeping Jack someone whom the audience is pulling for during that journey. Cassidy and Alexandro also succeed in establishing an appealing bond between Jack and Crystal early on, so that the audience feels Alexandro's absence from the stage in the same way that Jack feels her absence from his life. Polanco puts in some solid comedic turns in his several roles, Miller suggests with small gestures the strength of Reggie's relationship with Jack, and Hollis James creates a Kyle whose seemingly boundless energy and self-destructive need for diversion is usually paradoxically endearing.
An addiction comedy might itself sound paradoxical, but Kyle walks the line between laughter and darkness with entertaining aplomb. We look forward to Hot Tramp's next balancing act. - Leah Richards & John Ziegler