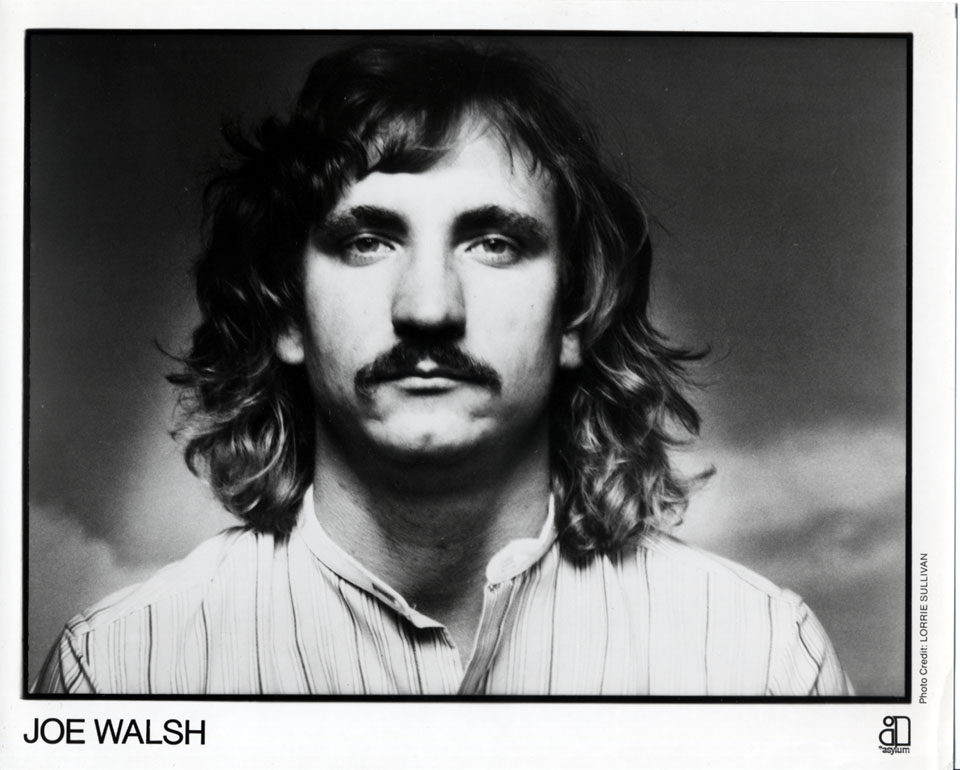 I recently posted a Joe Walsh song on my Facebook wall and the reaction was mixed. One commenter wrote, "Walsh always struck me as the real-life Spicoli, and that was about as seriously as I could take him." This is a common misconception about Walsh.
Walsh has had a music career of over five decades.  There are many, many people who know of him mostly as a member of the Eagles (since 1975) who had a hit in 1978 with a funny song, "Life's Been Good." Yet Walsh was a music biz veteran of eleven years' standing when Hotel California was released in 1976; he would not have been recruited into the Eagles if he had not already established himself as such a distinctive guitarist that he could instantly give them the rock cred they so desired. Already on his resume were the killer riffs of "Rocky Mountain Way," "Turn to Stone," "Walk Away," and "Funk #49." The latter two came with the James Gang, an Ohio band that gathered an international following after so impressing the Who while opening for them in Pittsburgh that they were invited to open for the Who for a whole tour.
Walsh has two reputations: great guitarist who came up with the riff of "Life in the Fast Lane" and funny guy who wrote "Life's Been Good." Yet consider that he played oboe in his high school orchestra. Or that after he left the James Gang, Humble Pie tried to recruit him as Peter Frampton's replacement. Or just listen to his albums all the way through instead of only the hits, and focus on the songwriting. In particular, James Gang Rides Again (1970) and Barnstorm (1972) are masterpieces through and through, much deeper and more musically varied than those reputations would suggest.
The first James Gang LP, Yer Album, leaned heavily on cover songs, but also contained two fairly adventurous Walsh tunes, "Take a Look Around" and "Collage," both more musically intricate than the hard-driving power trio style the group was known for.
The second James Gang album, the aforementioned Rides Again, was big on heavy riffs for most of side one, but side two was more sophisticated, climaxing with "Ashes, the Rain and I."
The eponymous debut album by Walsh's post-James Gang group, Barnstorm (though both the albums he made with them were credited as Joe Walsh albums), is a low-key masterpiece that is, perhaps aside from the wry "Mother Says," an entirely serious affair. "Turn to Stone" is heavy, "Birdcall Morning" is mixes folkie picking and spacey timbres.
Walsh's third LP, So What, came in the wake of tragedy: the death of his daughter in a car crash. "Song for Emma" was written in her memory. "Help Me through the Night" also shows Walsh's sensitive side.
Though Walsh's role in the Eagles was guitar-slinger, on Hotel California his beautiful ballad "Pretty Maids All in a Row" showed him still refusing to be typecast. The Eagles' superb vocal harmonies are the icing on the songwriting cake.
Walsh's 1978 LP, But Seriously, Folks, made him a superstar thanks to the massive success of "Life's Been Good," but that song also led most casual fans to think of him as a guy who wrote a funny novelty song. Yes, it was the track Top 40 radio played, but anyone who bought the album could also hear that much of it was more serious, "At the Station" being a fine example.
In the long break between Eagles albums, Walsh not only release the above-mentioned LP, he also cut "In the City" for the 1979 soundtrack of cult-favorite movie The Warriors (it's played at the end when most of the titular gang has won its way back to its home turf). The Eagles redid it for their Hotel California follow-up The Long Run, but the less polished Walsh version is just as attractive, a little less predictable.
The acrimonious sessions for The Long Run broke up the Eagles, leaving Walsh free to continuing pursuing his solo career. He immediately released There Goes the Neighborhood. On it, the often serious tone of his earlier albums was mostly gone. The lyrics of the album's only single, "Life of Illusion," were not humorous, but the goofy music undercut their mood. Fortunately the lovely ballad "Rockets" received a more appropriate arrangement.
By the time of 1983's You Bought It -- You Name It, Walsh seemed completely trapped in the role of musical clown; it even featured a song whose title had to be disguised as "I.L.B.T.s," standing for I Love Big Tits (not that I'm disagreeing with him on that). On 1985's The Confessor, things were a bit less silly, and then on 1988's oddly titled Got Any Gum?, he regained his form with "Memory Lane," though it was still an exception to the general mood.
After that, Walsh's solo career petered out and he spent most of his time touring in Ringo Starr's All Stars (in the process marrying Ringo's wife's sister) and with the reunited Eagles. He also, after decades of hard living, cleaned up. His 2012 album, Analog Man, was his first new studio release in twenty years. Walsh's humor was still present, but more wry than goofy (I'm not against him having or displaying his sense of humor, I'm just trying to make the point that it has unfairly overshadowed his other talents). And his song "Family" is totally serious, and once again finds his songwriting and arranging chops -- his distinctive sense of harmony on ballads, the crying tone of his guitar solo -- back at the heights of his '70s work.
Walsh is currently on tour; he'll be at the Borgata in Atlantic City on July 31. - Steve Holtje