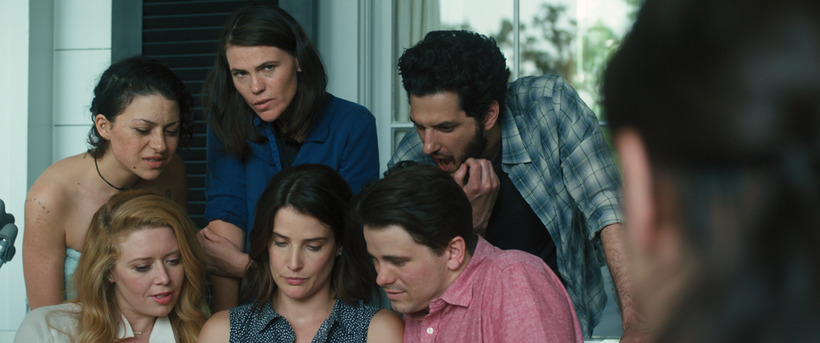 The Intervention's appealing ensemble. (Courtesy Paramount)
It's no secret that women are still mostly used as beards in studio bromances or scenery in tentpole actioners. But even smaller character-driven films can't always be counted on to provide satisfaction for those of us yearning to recognize some aspect of ourselves on screen. Faced with intimate stories that fail to bring female characters into focus or ambitious tales that mirror but don't alleviate the special joys of being a girl (worldwide), female audiences are mostly left to get enlightenment or escape by dreaming ourselves into male characters and stories.
Men rule in the sinister Equity, a sleek woman-powered drama that compels attention from start to finish but occasionally thwarts our need for clarity. Three women's fates intertwine in what is essentially a horror movie about the perils of being female in the high-stakes world of finance (and elsewhere). A strong cast and swift editing camouflage some less convincing aspects of Amy Fox's twisty script. (By the way, did Fox, author of the ahead-of-its time gem Heights, specifically intend the lesbian of the triumvirate to be the only one with a male consort who isn't abusive, deceitful, predatory or clueless?) We end with all three women facing unclear futures, but I don't have a good feeling. Equity is a bracing ride, with no happy endings.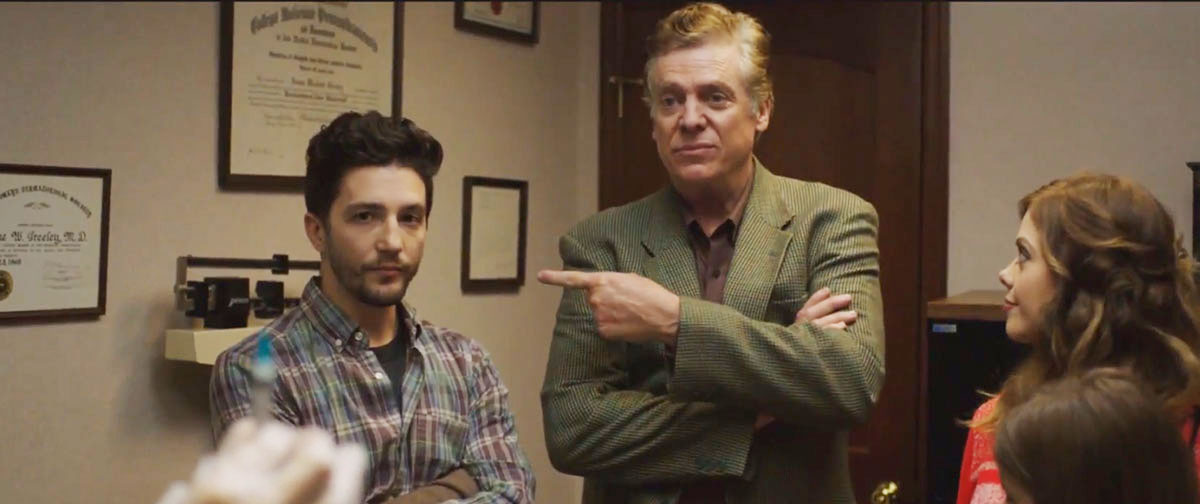 Don't Worry Baby's Talia Balsam, John Magaro and Dreama Walker. (Photo courtesy FilmBuff)
As warm and quirky as Equity is shiny and ice-cold, the diverting Don't Worry Baby keeps its female quotient sporadic, unconventional and brimming with frustratingly unrealized potential. Part mystery, part family dramedy, part anti-romance, Baby is more interested in the contentious relationship between an uncommitted father and his photographer son than its ostensible plot motor—finding the answer to a sudden paternity issue in which father and son both figure. The cast is uniformly appealing, but only the male characters (including an entertainingly bizarre Tom Lipinski as lead John Magaro's roommate) are allowed real weight. The baby mama at the film's center (the always welcome Dreama Walker) is a cipher whose chief feature seems to be a willingness to sleep with her male costars. As a date repeatedly dissed by yet inexplicably taken with Magaro, Britt Lower (who seems to be enjoying some private joke) makes a nonsensical role almost believable. And as a cuckolded wife who responds to circumstances with bluntness and equanimity, Talia Balsam makes one crave more of her -- in every movie.
Emotionally and intellectually heated, the directorial debut of indispensable producer James Schamus, Indignation, almost overcomes the challenge of making Philip Roth's females human, battling if not entirely vanquishing the author's tradition of viewing women as animals driven by priapic sexual compulsion. Sarah Gadon's beautiful performance as a goddess/slut object of desire goes a long way to infusing the film with a dignity Roth denies her, opposite Logan Lerman's fine turn as a Jew-out-of-water college boy hoping to escape becoming either cannon fodder in '50s Korea or a butcher like his father. The film's sexual politics are as murky as its framing device, but Shamus's impressively faithful adaptation of Roth's late-career novel is artful and evocative.
Almost twenty years after they first fell in love on screen in the neon-bright farce But I'm a Cheerleader, Clea DuVall and Natasha Lyonne are together again as one of four couples facing relationship issues in The Intervention, DuVall's winning feature directing debut, a refreshing addition to the Big Chill canon. (See: A Group of Friends Congregate for a Special Event only to have Secrets Unearthed, Histories Illuminated, and Expectations Turned on their Head. Everyone emerges Changed.) 
DuVall's script enriches familiar tropes with fresh storytelling that continually swerves from what we expect -- starting with its skewed take on the classic recovery event. This particular weekend-reunion-cum-intervention turns out to be a group conspiracy to end a relationship the others have deemed too toxic to continue. Of course, the conspiring participants' certitude will be tested by the fault lines in their own relationships.
The film's couples run the gamut: bickering long-marrieds; a couple on the verge of tying the knot; a womanizing lesbian in her longest relationship to date, with her first girlfriend "old enough to drive"; a widower and his sexually freewheeling girl-toy.  Believable and affecting backstories implode what seem to be clichéd setups as we learn who these people actually are, the thorny parts of their pasts they have been suppressing, the intricate dynamics that may sink or save their unions. Despite its penchant for broad comedy, The Intervention excels at dramatic insights, complex motivations, and affecting moments of communion. The lesbian couple ultimately confronts truths rarely acknowledged that may not be survivable; the alcoholic's highly individualistic method of self-treatment complements gender-flipped commitment issues; the widower's conventional history turns out to be less so, and his polymorphous dalliance is not who he imagines. Even the wretched couple being confronted is capable of growth and change -- the film is generous about the promise it offers all players in this fools' paradise. The cast is idiosyncratic, believable and excellent, especially a brilliantly off-kilter Melanie Lynsey.
Casting a collection of charismatic actors can cover a multitude of filmmaking sins. If movie-watching while female continues to be a mixed bag (even in the current pottymouthed-feminist-fungirls moment), filmmakers like DuVall show it's possible to portray both genders in all their full, flawed, endlessly watchable humanity.