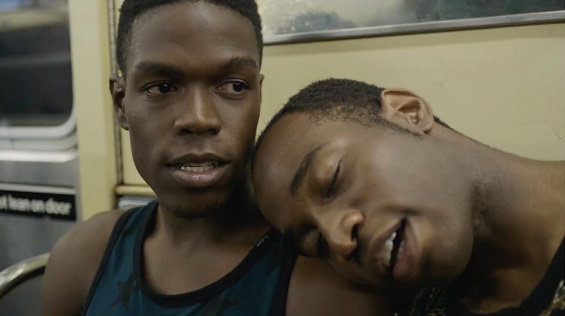 "For the longest time I couldn't put a name to who I was. I didn't have an image to who was like me. It was torturous," Jane Lynch notes in Fabulous! The Story of Queer Cinema, the savvy documentary from 2006 by Lesli Klainberg and Lisa Ades.
A few minutes after Jane lets loose, Todd Haynes, the director of Carol and Poison, adds, "I think films do make a difference. They get under people's skin, and they reflect our lives and our experiences back to us."
But if you're gay and don't check off Caucasian on various surveys, you have had a harder time finding yourself on the big screen. There's been Pariah (2011), The Watermelon Woman (1996), Brother to Brother (2004), and a handful of others of varying delight. But if you are a gay, black, Muslim teenager residing in Brooklyn and are in love with another gay, black, Muslim teen, where will you get media support? Certainly not on Modern Family or even The Real Housewives of Atlanta.
Writer/director Jay Dockendorf tries to remedy this situation with Naz & Maalik, a film based on interviews he had with several genuinely gay, black and Muslim adolescents. The result is a film that often comes off as thoughtful, authentic, and poignant, until a little too much plot rears its ugly head.
On the plus side, there is a believable chemistry between the kufi-capped Naz (Curtiss Cook Jr.) and Maalik (Kerwin Johnson Jr.) who spend their after-school days selling overpriced lottery tickets, Christian saints cards, and bottles of scent on the neighborhood streets. They are scammers in love who steal a kiss now and then in doorways while also finding time to pray in the local mosque. Seems almost idyllic.
Yet, in the opening scene, Naz's younger sister, Cala (a very fine Ashleigh Awusie), attire in a black hijab, finds a used condom in the family bathroom's garbage can. Immediately, she runs into her brother's bedroom, holding up the evidence, and scolds, "It's haram." (It's forbidden.)
Naz: It's not mine.

Sis: It's in our bathroom.

Naz: It's probably mom and dad's.

Sis: You can't be having sex. You can't be having sex.
She then blackmails Naz for $25 to keep his secret. If she had known he was gay, too, she could have gone up to $26. No wonder Naz is in the closet. 
The cash deal behind him, Naz runs out of the apartment to hook up with Maalik, and their day begins with buying supplies, hawking their goods, eating pizza, riding the subway, and philosophizing. Is the world getting better?  Can you be gay and Muslim? What does the Quran say on the matter? And after that, even gentrification gets its due: "Everyone wants to live in Manhattan. That's why they're making Brooklyn look like Manhattan."
Further highlights include a pickup by a white, yuppie, Beanie-Baby collector and the lads' plans to kill a chicken halal-style as a birthday gift for Maalik's mother.
But instead of concentrating on these gems and further developing the closeted couple's relationship, a ridiculous, poorly scripted FBI subplot is thrown in. An undercover agent tries to sell Naz and Maalik a gun, the boys joke about it, and for the rest of the film, an inept government agent (the frightful Annie Grier) trails them as if they were potential terrorists.
What could have been a hard-hitting exploration of the healing power of redemptive love in an unreceptive world nearly becomes a cartoony look at government paranoia in the post-9/11 New York. Thankfully, Jake Magee's truly superb cinematography and Andrew Hafitz's agile editing, along with Cook and Johnson's performances, help you to overlook the more amateur aspects of the screenplay and allow you to focus on a brave attempt to explore budding queerdom among the Muslim populace.