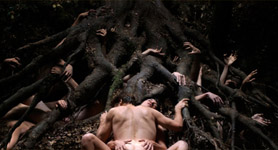 Antichrist
The prologue to Lars von Trier's current effort might be among the most beautiful and powerful opening moments of cinema ever filmed. A married man and wife, labeled HE (Willem Dafoe) and SHE (Charlotte Gainsbourg) in the production notes, are making passionate love (with full on-camera penetration) while their angelic child escapes his crib in another room, only to shortly fall out of a window to his death in extremely slow motion.
From then on, HE, a therapist, tries to treat SHE out of her depression. No pills. Just chatter and role playing and much fanatical copulation. HE's methodology proves ineffectual. Well, then how about a change of locale? There's the couple's isolated house in the woods called Eden. But can man challenge God and return to Eden? Possibly, but not with his sanity remaining intact. And as SHE observes: "Nature is Satan's Church."
Brilliantly acted and envisioned, plus magnificently shot and edited, the question is what does Antichrist add up to? From a chronicling of grief, the tale rises or sinks to a level of horror with an unimaginable brutality that no doubt Saw 8 or 9 will pilfer. The film seems to be asking, is Freud prematurely dead? Are all females congenitally evil and, therefore, deserving of being burnt at the stake, or are the ladies just the eternal victims of man?
Or is Antichrist just a huge intellectual prank?
The answers to these queries will possibly be known only after your third or fourth viewing of the film, a task I'm not sure I'm brave enough to tackle.
But since I'm in the midst of reading Harry Kondoleon's Diary of a Lost Boy, let me share the late playwright's less Devil-ish take on Nature. "Nature . . . [is] like a book party with no place to sit. The book [is] fabulously illustrated, but there [is] no explanation for anything. One [grows] numb to be participating so vividly in a story so indecipherable, the author absent." That's Antichrist in a nutshell.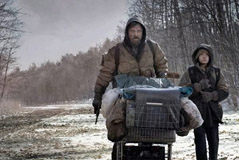 The Road
"The clock stopped at 1:17. I think it's October, but I can't be sure. I haven't kept a calendar for years. . . . No animals have survived. . . . . Soon all the trees in the world will have fallen."
That's Man (Viggo Mortensen) on the voiceover. And yes, this is the second film of the month where characters are known as Boy, Thief, and Well Fed Woman #2 in the production notes.
But while Antichrist will be inspiring fistfights among its partisans and naysayers, it's hard not to divine that The Road will be receiving near universal acclaim and a truckload of Oscar nominations.
Inarguably, Cormac McCarthy's best novel has received a screen adaptation worthy of its prose. Post-apocalyptic, The Road chronicles the journey of a father and son (Kodi Smit-McPhee) through a dying landscape peopled by marauding gangs of rapists and cannibals. Our heroes are heading south in hopes of finding life, warmth, and surviving remnants of civilization. Will they be the lucky ones? Other families have hung themselves in despair.
BOY: "We would never eat anyone, would we?"
No, they wouldn't, Man insists with a slight doubt in his eyes. They're "the good guys" and they're "carrying the fire."
Some reviewers have called the book "a Christ parable." And, in the film, there are moments where you can see director John Hilcoat and screenwriter Joe Penhall have leaned in that direction. But whatever your interpretation, you'll be awed by Javier Aguirresarobe's cinematography and Chris Kennedy's production design, but most of all by the film's message, which a Mr. A. Einstein once worded rather well: "Learn from yesterday, live for today, hope for tomorrow." - Brandon Judell

Mr. Judell is currently starring in Rosa von Praunheim's New York Memories, which is still in production. In the fall, he'll be teaching "The Arts in New York City" at City College. He has written on film for The Village Voice, indieWire, Detour, The Advocate, and dozens of other publications.