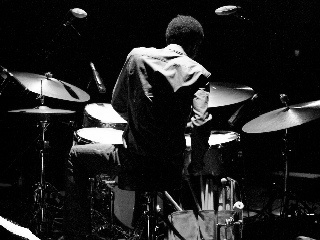 Daniel
Lanois's

Black Dub
Webster Hall, NYC
Brian Blade is God! (Nod to Mr. Clapton's graffitti homage.) If there is a better drummer on the planet playing with a better touring band, I want to know about it right now. Last night at Webster Hall, Black Dub killed it. They wiped the floor of any and all bands playing any borough of New York City on this particular evening. And believe me, there was plenty of competition. But as we all know, competition for an audience's attention tends to bring out the best in musicians. And Lanois's insanely tight quartet was more than up to that task and at the peak of its collective prowess.
Back to Mr. Blade. It was during the transcendant version of "Ring the Alarm" -- off of the debut (watch live studio version below) -- that I flashed on a "what if." Besides being one of the greatest drum performances I've ever witnessed live -- and I've seen and played at least a thousand shows in every musical genre -- I was rendered speechless. His shoulders didn't move. He was all wrists and hands, a blur of activity that pushed time to a fourth dimension and then brought it back to our spacial place and time. Lanois looked as blown away as I was. And he gets to play with him every night.
But "what if..." What if Miles Davis were alive and gigging? Would he have snatched the aforementioned drummer knowing that he was heir to the Tony Williams, Jack DeJohnette, Lenny White legacy? Sure. I mean, Blade has done time with some heavies -- Wayne Shorter (a member of his quarter since 2000), Bill Frisell, Joni Mitchell, Dylan, and Mr. Lanois, to name but a few. On this particular night he could have replaced both Jack and Lenny on Bitches Brew. No doubt Mr. Shorter, who played on that seminal jazz fusion record, feels the same way. And one need only watch this Louisiana-born native live to grasp his superman jazz/roots-rock/funk/pop time-keeping chops.
If you follow my blog, you'll remember that I gushed about this band in November at their Bowery Ballroom show. I don't need to recap their set from last night, as it was nearly the same set as in November but even more dynamic. No doubt a product of playing together for the past eight months. And I was a bit harsh on my critique of their debut album, but damn if they don't extrapolate their songs in concert. It's like the epicenter of a detonated neutron bomb. The beauty of the silence in the space of each song that surrounds the explosion of sound from the instruments, harmony vocals included, that all four of these Black Dub warriors share with their audience is life changing.
Go see them now. Get right with God.