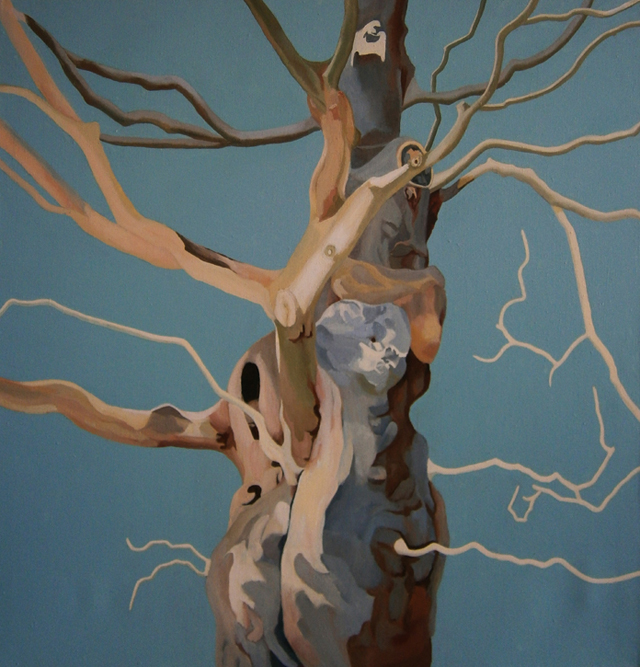 Mary Hrbacek is an artist and an art critic (AICA) based in NYC. In 2016 she received the Carole A. Feuerman Sculpture Foundation, ESKFF Foundation, The Helis Foundation, Financial Grant for her art on view at Mana Contemporary. Her drawings in "Whispers" have been included in the collection of The Museum of Contemporary Art of Crete.
Bradley Rubenstein: These are quite lovely; I did see one of your shows a year or two back at CREON, they had a remarkable clarity, and reminded me of Georgia OKeefe's work -- there is a very large O'Keefe in the Art Institute of Chicago, a sky, with strange biomorphic clouds. It is a strange painting, and growing up in Chicago, held my attention for years. I don't want to get to far ahead of myself here, so let's start with a little background…
Mary Hrbacek: My appreciation of the environment began while I was living for five years as a girl near Stockholm, Sweden, in a Scandinavian culture that venerates the natural world. When we returned to the States my dad purchased a rundown house in northern Vermont near Canada, to be our family's "stuga," a getaway refuge where all Swedes retreat from the city during the summer. First I became fascinated by the peeling bark of the many birch trees on the property, then I noticed the life force that emanates from the human-like "eyes" and gestures of the waving branches. Later when I traveled with my husband we discovered 400-year-old sycamore trees in Viareggio, Italy with distinctly human characteristics and gestures. I became inspired by the mythology of Virgil's "Metamorphoses," with its tales of morphing human and natural forms.
BR: I like what you described about your working process. You create the charcoal that you use to make the drawings… it is an actual tree drawing a tree. It reminds me of Susan Rothenberg's early horse paintings: she used glue paint, a horsehair brush, and traced shadows of horses…all those horses but no horse… just an image of a horse. There was a bit of Jasper Johns in that thinking. Is that similar to how you see what you are doing? The process being a part of the picture?
MH: I actually buy commercial charcoal, but it does derive from tree bark, which makes the charcoal drawing of a tree, a "'tree' made from a tree." The process is certainly a part of the final picture, as it plays a prime role in the deep dark "feeling" and textural surface that I create with layers of charcoal, which I later extract with a cloth to slightly vary the surface. I use line to carve in to hone the forms exactly.
BR: The paintings feel different to me, I mean, they are similar as images, but I see more action going on in them. You are catching the trees morphing into something else. Rudolph Arnheim talks about the difference between "seeing into" and "seeing as." You seem to be doing two things at the same time, choosing the tree because it suggests something, "seeing into", then transcribing it, just painting the part of the tree that you want in this new form "seeing as". Or Leonardo looking at clouds and discovering "characters" in them.
MH: I find your analysis very succinct. I think what you say about the artist putting things into a work that others may not see or appreciate, such as references, metaphors and symbols, is a result of the artist's emphasis or vision. My vision is not very realistic; it is intuitive. I also have a problem with visual reception that affects my ability to see and to read, which may distort how I perceive my motifs. The thing is, one person may not get them all, but just about all of them, even the ones I don't intend, are noticed by someone. That's why two people seeing the same piece see something different. Much of what is perceived in a work is what the viewers bring, that sometimes supersedes what the artist envisions. It is a mix of one's own likes, dislikes, prejudices, hopes, and fears, which we see in external objects. What is actually there is a different question altogether, and is conceivably never wholly grasped.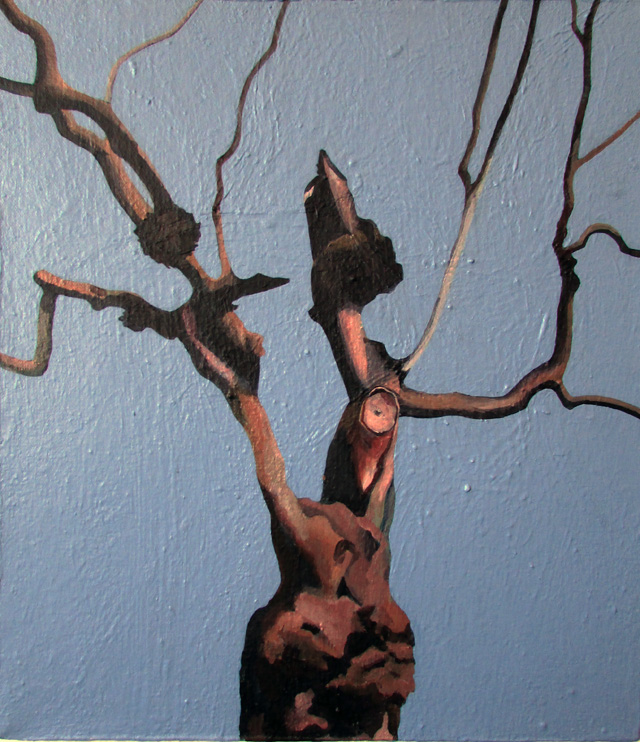 This is why, in my opinion, conceptual art, a genre which relies extensively on written forms and narratives to explain the art works and their intensions, tends to close down viewer experience before it even has a chance to start. (Perhaps this statement is controversial?)
BR: Why do think they work and how do you see the viewer sees them?
MH: It is possible that viewers find the ambiguity in my art challenging; there are unexpected yet discernible bodily references in most of my work. The piece called "Facing Front IV" is taken from a tree by Central Park South, which has a warm brownish gray "top" and a cool grayish brown base. "Warm" and "cool" are technical terms used in painting that create contrast and liveliness to a palette or color scheme. I wanted the tree to have a human aspect, so I switched the "warm" brown top zone for pink, the "cool" gray brown base for dull blue. I don't want to get too technical, but I took certain liberties with the colors to create a dramatic effect of shimmering colorful transformation. In the piece "Tree Woman," the figure is clearly discernible, as seen in the original motif, which is a digital photograph of a tree near Central Park West that has a clear female form inscribed in relief in its trunk. I hopped over two fences to get the shot. I use a flat graphic color space to divorce the motif from naturalistic references, highlighting it to accentuate an iconic quality in the isolated image. It occurs to me that the use of a flat ground connects my organic biomorphic forms with hard edge abstraction to create a hybrid genre.
BR: We are at a moment where the line between organic and synthetic is rapidly blurring. Your tree figures morph, they are organic, they are becoming something new. How much of your interest in them is related to the science of it… they are, in a way new forms.
MH: I think the fact that my hybrids tree-figures are new forms makes them noteworthy. I am not at all interested in the science of my vision and process. I just do it. Science is a field that I greatly respect but I have never had much affinity for. I am interested in the manifestations of poetry in the human bits and full figures that I am able to apprehend when I focus on a motif.
BR: There are a lot of artists I can think of that are working in this way, Anna Ehrsam and her light experiment photos for example, Pedro Barcieto creating these geometric abstractions that meld machines and organic passages… What are you looking at? What is influencing you that is out there now?
MH: I have always had an affinity for abstraction, although it isn't my gift. My work is poised on the cusp between abstraction and representation, not realistic at that. I admire Giuseppe Penone's large-scale tree sculptures and I am drawn to the works of Leonardo Drew, whose massive black sculptural relief works and installations connect with my interests in dark forms and natural materials. I very much appreciate the wooden sculptures and constructions of Ursula von Ridingsvard. Adrian Ghenie morphs abstraction and realism in enormous wall sized painted tableaux (Pace Gallery 2017). I don't look much at anyone; I find my own way through an image to its final resolution in my work.
I am crazy about the Old Masters; Rubens, Titian's mythological themes, J.M.W. Turner, Claude Lorrain, Nicholas Poussin, Gainsborough, and of course Cezanne, Picasso and van Gogh.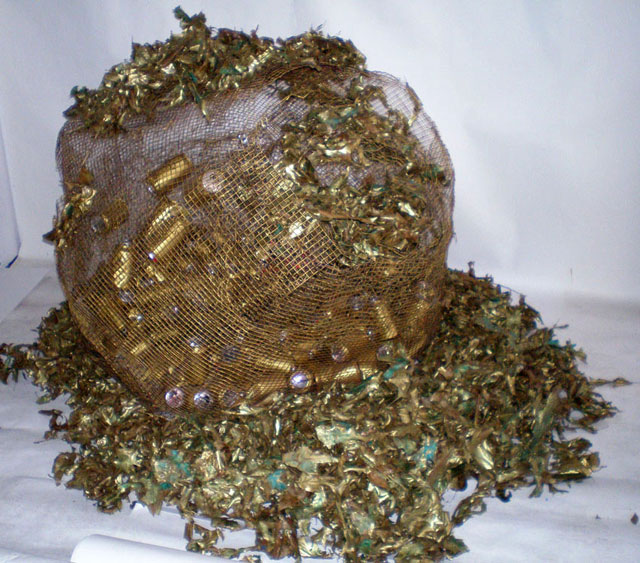 BR: Your sculptures caught my eye immediately -- I see those and think what a great piece of set dressing for a Beckett play…
MH: Thank you for noticing my sculptures. I confess I know little about Beckett, but I will do some research. People say that my paintings are sculptural and my sculptures are painterly; this is my contrarian nature at play. I made about twenty-five pieces, but I had to stop as I lost my studio space due to contamination on my hallway. My current space is ten feet smaller, but I kept three sculptures to show visitors. When I was doing them, very few people said much about them. Now that I cannot make them anymore, people have begun to notice them. One day perhaps I will do some in my Vermont studio. I loved sculpting and drawing with metal. I painted them gold to signify the value of the found and discarded used objects that I combined with natural materials like sticks and pine cones, which I found in the Sequoia National Park in California.
BR: What are you working on next and when will we see it?
MH: I am going back to Scandinavia this month so I will be photographing northern and Icelandic trees. I have some shots of trees growing out of restaurants and cafes in Greece, so I may explore images of obstructed bio-forms intersected by geometric architectural elements. Not sure. I did some strong charcoal drawings of these motifs last summer. I have to intuit what I want next, so I cannot be sure until I am ready to know what to do.
BR: Anything else?
MH: I started a painting of a tree located in Collioure, France that I want to develop. I call it "Pharaoh and the Woman" but of course it is a tree with a projecting figure-like form jutting forth from its side. The forms are deep black with burnt sienna highlights. I also want to paint some more bonsai tree images. That is all I can think of for the moment.