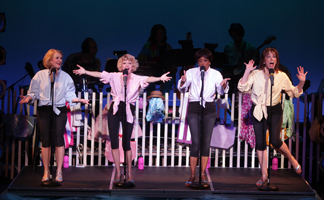 The Bikinis
The Queens Theater in the Park Flushing
Meadow Corona Park, NY Through December 12, 2010 Yes, Manhattanites, there is a shiny, new and lovely 450 seat theater in Queens Park, housed in architect Philip Johnson's 1964 World's Fair New York State Pavilion, where The Bikinis, a new musical beach party is taking the stage with a relentlessly power-packed show of girl songs (and boy's as well) from the early sixties and beyond.
These Jersey "girls' are now not all too far from their early sixties, and have ventured from New Jersey to Florida to perform for the first time in twenty years at a benefit to save (or vote to lose for big bucks) their treasured summer homes at a Florida seaside trailer park. Oops! I mean Sandy Shores Mobile Home Seaside Resort, which is really -- well -- a trailer park. An energetic song fest ensues taking us from tunes by the Shirelles and on to the disco era. All the while the back story of the women's lives weaves in and out. Act one dwells on the stuff of youth, whereas the second act focuses on the trials of maturity, settled and unsettled marriages and failed relationships, etc.
Each of the players is a consummate and seasoned Broadway professional. Kathy Morath (Jodi) and Kristi Carnahan (Annie) portray sisters. Karyn Quackenbash (Karla) and Marva Hicks (Barbara) are the school friends who join to become "The Bikinis." These women deserve kudos galore for delivering thirty-five or so songs with a boundless energy which would be impressive in women half their ages. Upon curtain's close I imagine them rushing to take their places in individual hyperbolic chambers for deep oxygen infusion.
The songs of the first act are primarily of a type which is now lost in the mists of time: the ditty, which Messrs. Merriam and Webster define as "an especially simple and unaffected song." Examples are "It's in His Kiss, Where the Boys Are", and "Shop Around." The show's director Ray Roderick, and Joseph Baker, the music director/arranger co-wrote an original ditty, the obligatory, "In My Bikini," which is the one hit wonder that put our girls on the radar, if only for a blip. The second act songs commence with The Zombies' "Time of the Season" and conclude with Donna Summers' "The Last Dance." The Era of the ditties is now over, and so are the fun-loving breezy days of youth. This is brought home when Jodi sings an original country song, "Goodnight to You," saying farewell to her cheatin' husband.
The cast delivers their songs in tuneful, unaffected and appealing manner, backed by four musicians who create a big sound that belies their small number. Ann Klein plays both electric and acoustic guitar, accurately recreating the sounds of the various eras and occasionally pops on stage as a character referred to as Betty. She is joined by Masataka Odaka skillfully putting out classic bass lines. Fine keyboarding is provided by Joseph Baker, who also co-wrote the original material, as well as serving as music director and arranger. Aaron Russell on electric drums gives us all the varieties of rhythm we could want.
The Bikinis is not in any way a feminist polemic on women in music, but it does provide a refreshing alternative to the Jersey Boys discourse. Hey, who were the Jersey Boys going after? Perhaps it is time to get the story from the girls who became the women they married, divorced and otherwise may still long for.
I shamefully admit the show evoked an image stream of personal nostalgia which two days later is still with me. I was sent back to 1961 when I went to the Hollywood Bowl with Janis (whose last name I can no longer recall) to see the original Shirelles. Although the show can be enjoyed by all regardless of age, those of us who lived through the eras in which these songs first appeared, may find themselves savoring some sweet recollections.