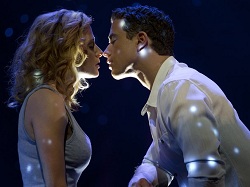 Ghost
Lunt
-Fontaine Theatre, NY
Avid fans of Broadway musicals love nothing more than a thrilling, exhilarating show, but we also realize that isn't going to be the case all that often. While we love it when a musical strives for and achieves brilliance, sometimes we know going in that a show is not going to redefine the genre. In those cases, we can often be content with an evening of good entertainment. We can still analyze what was good and what wasn't, but if the show ultimately works for you, it would have succeeded. It is the Broadway equivalent of a popular popcorn movie or a good summer beach read. That was the case when I saw Ghost, the new Broadway musical, adapted from the hugely successful 1990 movie that starred Patrick Swayze, Demi Moore, and Whoopi Goldberg.
The movie won two Academy Awards and grossed over $500 million worldwide. The musical adaptation has been playing in London and just opened at the Lunt-Fontanne Theatre. Not everything gels in this production, but the storytelling is strong, and Ghost, even with its imperfections, successfully grabs the audience, draws them into the story, and tells that story with an entertaining mix of drama, humor, and emotion. The book is well written by Bruce Joel Rubin, who also wrote the movie screenplay, for which he won an Academy Award. Of course it is manipulative, as was the movie, but I'm a sucker for that and enjoyed it. Add in some nifty special effects and you have much of what is needed to please an audience.
As I indicated, Ghost has its flaws, starting with the music. Dave Stewart and Glen Ballard wrote the score, with book writer Rubin also contributing lyrics. Stewart is a Grammy and Golden Globe winner who may be best known for his collaboration with Annie Lennox in Eurythmics. Ballard is a six-time Grammy winner. Given that Ghost IS a musical, the score's shortcomings cannot be completely glossed over. It is not that the songs are terrible; based on a first hearing, there seem to be some modestly attractive pop songs that, if I heard them a few times, might grow on me. But there is not one standout musical number. The songs, while contributing something to the overall feel and atmosphere of Ghost, don't elevate the show, as you expect from good musicals. They don't take a key moment and make it into something special, whether by advancing character or story elements or by giving the audience a great showstopper. The ballads seem repetitive, although "With You" made a decent impression; the lyrics for the louder production numbers were overpowered by the musical accompaniment. The attempt at an 11 o'clock number, "I'm Outta Here," got a pretty good audience response, but comes up short of being a truly exciting showstopper. The choreography in Ghost is also unimpressive and at times unnecessary; most of the time, it takes us away from the key characters who are the core of the musical.
However, the narrative often compensates for the other problems, with able assistance from the stagecraft and special effects. There is a real dramatic tension in Ghost, which is an element that has been unfortunately missing from too many other musicals I have recently seen. The projections can be dazzling, with the visuals and LED screens creating a momentum in the show's pacing, particularly as they swiftly take the audience from location to location in New York City. At times, it can be overdone, especially with the "digital dancers," who were interesting the first time but grew a bit tiresome when repeated. Overall, however, the visuals clearly are a positive element of Ghost, with some of the special effects being truly inspired.
Richard Fleeshman and Caissie Levy do good, solid work as the romantic leads (roles they originated in London), although their parts as written don't allow for breakthrough performances. That said, Levy's vocals are particularly impressive. Da'Vine Joy Randolph, in the role created by Goldberg in the movie, is terrific as Oda Mae, getting all the big laughs in the role. Ghost gets a real jolt every time she is onstage. Much admired director Matthew Warchus does an effective job keeping everything moving at a brisk pace, plus successfully meshing the storytelling with the effects.
I only saw the movie once, and it was a long time ago. I remembered some of the key elements, didn't remember others. The story told in Ghost is often hard to resist, and the musical has some truly first-rate scenes, culminating in the well-done final scene, which is satisfying, emotionally moving, and features several powerful visuals. I wish the music were better, and that a few of the choices the creators made regarding production numbers and visual effects had been different. The critics, not surprisingly, were not kind in their reviews, but I enjoyed Ghost overall -- it is not an artistically brilliant Broadway musical, but it effectively tells a good story with comedy as well as genuine drama and emotion, two elements that have often been lacking in this less-than-stellar season for new Broadway musicals.