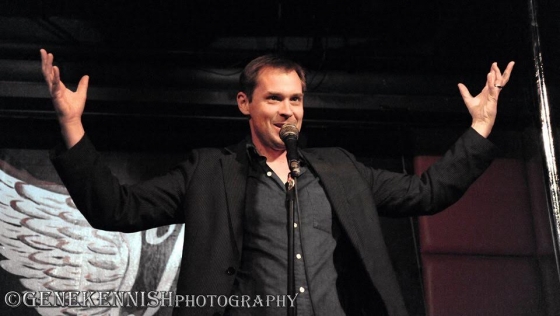 The tenth annual FRIGID Festival is underway in New York City's East Village, and in our first of two dispatches from it; our first trio of plays under discussion includes a twelve year-old pornographer-for-hire, an irreverent grandfather, and a cabin in the woods. We will touch on only a fraction of the 30 shows in this year's festival, but more information can be found on the FRIGID New York website (http://www.frigidnewyork.info/), where there is also a deal available that gets you into three shows for just $30. The show with the highest box office will receive an encore performance at the end of the festival, and audiences are encouraged to vote for their favorite shows.
The Gospel of Sherilyn Fenn
Written and performed by Brad Lawrence
Directed by Cyndi Freeman
Under St. Marks, NYC
February 24-March 5, 2016
Brad Lawrence's The Gospel of Sherilyn Fenn, much like its director Cyndi Freeman's own I Was a Sixth Grade Bigfoot, a hit at last year's FRIGID, explores the fraught period of transition into adolescence. The one-man show introduces us to an overweight, bespectacled, artistic, and less-than-popular twelve year-old child of evangelical parents. This version of Brad first begins, to his own initial surprise, to gain social capital by drawing obscene pictures, produced to order for his male Missouri classmates. Young Brad's burgeoning art business soon leads him to the principal's office, the first stop on a journey through the next four years of his life that includes fundamentalist sex-ed sermons, a troubled step-brother's return home, and, of course, late nights spent in the company of Showtime After Hours, especially the 1988 softcore sexploitation flick Two Moon Junction and its oft-nude star, Sherilyn Fenn.
Along the way, Brad's faith finds itself in increasing conflict with, for example, the irresistible pull of a Playboy beckoning, misplaced, from a lower shelf in a Waldenbooks, and it faces a more serious test as a result of his step-brother's sojourn. Through these struggles, compassion emerges as one of his guiding values, with Lawrence delivering a poignant reminder that we only need forgiveness when we lack compassion to begin with. In keeping with this, Sherilyn Fenn avoids bitterness, unfolding instead as funny, warm-hearted, and hopeful. By the end, our narrator has undergone some transformative experiences, one of which, he notes, would probably kill anyone who isn't a 15 year-old, and the play ends elegantly on a moment that opens across a threshold to a new stage in his life. Lawrence's storytelling is not static; his actions on stage complement the words, and his delivery builds in a series of crescendos, imbuing the show with an often comic rhythm of tension and release. If you were ever a teenager, you'll enjoy this show.
Punk Grandpa
Written by Laura Force Scruggs
Directed by Janie Martinez Glitter Candy
Under St. Marks, NYC
February 19-March 5, 2016
Like The Gospel of Sherilyn Fenn, Punk Grandpa also concerns a child growing up in a highly religious midwestern household in the 1980s, but it does not quite so directly delve into questions of doubt and (loss of) faith. Instead, it primarily operates as a whimsical love letter to the titular grandpa, who punk appellation derives from his attitude rather than his musical tastes (indeed, he is a fan of swing rather than, say, the Dead Kennedys). Much of the play focuses on one special day that Laura (Becky Chong) had with her grandfather, Bob (Ken Coughlin) when she was five and three-quarters years old. Laura, our narrator/protagonist, is a very serious child of very serious parents, in addition to possessing the literalism normal to a five year-old. Her grandpa, on the other hand, is the kind of man who flirts with all of the bank tellers, drives on the sidewalk as a game with neighborhood children, and enjoys silly wordplay. From him, Laura learns that she enjoys breaking rules, and, perhaps more importantly, the value of unfettered self-expression and of unconditional acceptance from loved ones.
Becky Chong turns in a fantastic performance as Laura, effortlessly inhabiting the mannerisms of a child while occasionally jumping forward in time, with an accompanying change in demeanor, to discuss, for example, the decline in her grandfather's health. Ken Coughlin captures the character of a particular type of grandfather, one whom many of us may have known in our youth, and the ensemble cast (Mitchel Kawash, Bree Klauser, Rachel Ladd, and Michael Pichardo) provide solid support in roles ranging from Bob's wife and Laura's younger brother to a police officer and judgmental churchgoers. Flights of surrealistic fancy punctuate Laura's narrative, which covers the highs and heartaches that come with familial love, but the play keeps things light and uplifting, likely how a Punk Grandpa would want it.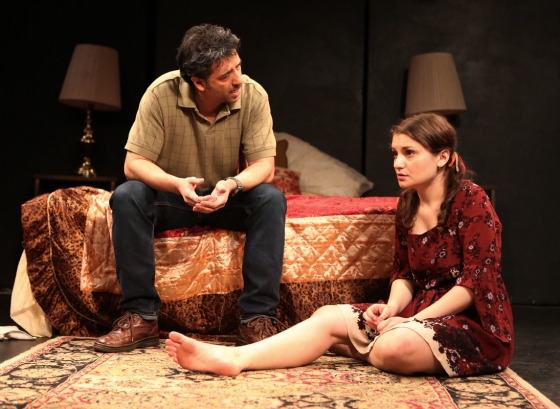 Sprucehaven B
Written by Mark Cornell
Directed by Akia Rising
Sun Performance Company Kraine Theater, NYC
February 17-March 3, 2016
Mark Cornell's world premiere Sprucehaven B takes looking backward and the human desire for acceptance to a much darker place than the other two plays discussed here. Physically, that place is a cottage in the Sprucehaven Lodge on an island in Maine. Isabel (Elizabeth Burke) is meeting Tommy (Tucker Bryan) there. He wants her to finally sign divorce papers; she wants to reminisce about their high-school glory days and perhaps rekindle their romantic attachment. After the handcuffs come out, the situation deteriorates rapidly.
The second act jumps backwards in time to a 13 year-old Isabel (Samantha Turret) and her father, John (Richie Abanes) in the same cottage. John, a former high-school football coach, and his daughter are there under police protection for reasons that become clear, sometimes obliquely, as the narrative unfolds. His inability to move on or to let go -- a consistently harmful position in this play -- forms one of the thematic links with the previous act, as does the confusion of abuse for loving attention. As we learn more about Isabel and her past, events take some grim, riveting turns.
The cast is excellent and all employ New England accents with skill, and the play establishes its intensity almost immediately and never lets up. Elizabeth Burke as the damaged, desperate pill-popping adult Isabel and Tucker Bryan as a man who is caught between the temptations of the past and the determination to break free from his hometown and his history generate ominous tension with one another. In the second act, Samantha Turret's young Isabel is all fidgety, nervous energy and compelling teenaged angst with a bullet, and her longing for approval mirrors that of Burke's adult Isabel. Richie Abanes's body language as well as his words communicate John's anguished conflict between wanting and not knowing how to reconnect with his daughter, and Ari Veach is more than up to the task when Officer Snodgrass takes a turn at center stage. Sprucehaven B's bleak psychological drama is unquestionably a must-see. - Leah Richards & John Ziegler