Here is my list of top-notch, dare I say, epic culture from 2018. Certainly in these digitally-enhanced days, it can be overwhelming to check out everything. I suspect I'll continue to discover more, as I read some of my peers' favorites. In any event, hope you have the time to check out some of my choices.
A Private War (Aviron Pictures)
A movie that will put war into perspective in a more than obvious way, the way that war correspondents do so every time they step onto the battlefield; telling the truth can be perilous to their lives. Sadly, giving voice to the voiceless will always be dangerous politics.Look for Rosalind Pike to get an Oscar nomination for her portrayal of the most celebrated war correspondent of our time, Marie Colvin. Ditto for the director Matthew Heineman and the movie itself. 
Capernaum (Sony Pictures Classics)
This film shatters  humanity's inhuman way of handling our fellow humans with little to offer them in ways of support or empathy. Winner of the coveted Palm D'Or at Cannes, not hard to see why. Director Nadine Labaki's Capernaum ("Chaos") tells the story of Zain (Zain al Rafeea), a Lebanese boy who sues his parents for the "crime" of giving him life. It was made with a cast of non-professionals playing characters whose lives closely parallel their own. This emotionally-charged film will leave its mark on you for life.
The Marvelous Mrs. Maisel Season 2 (Amazon Studios) 
This is the best on-line/TV/episodic show of the past decade. Kudos Amazon Studios. Caveat alert! No, I've not seen The Handmaid's Tale yet. And I loved season two of Showtime's stand-up comedy period piece circa early 1970s I'm Dying Up Here. (Sadly executive producer Jim Carey's show got cancelled.) Season 2 of Mrs. Maisel may not pack the wallop of Season 1, but it's the devil in the details that had me binge view the new season. There is more focus on her Jewish family at home, in Paris, in the Catskills for the summer, her disastrous comedy road tour, et al. As a former TV agent that worked with comedians, I know a few things about the lives of comedians. The sophomore season focuses on Rachel Brosnahan's Miriam "Midge" Maisel trying to navigate her slow ascension into the world of showbiz while juggling the mishegoss of her upper-crust Jewish family on the Upper West Side of NYC. (I live on the Upper West Side and little has changed in the social fabric of our neighborhood.) Midge has to deal with all of it -- her Paris-based mother Rose (Marin Hinkle), her Columbia professor father Abe (Tony Shalhoub), her soon-t0-be-ex-husband (?) Joel (Michael Zegen), her foul-mouthed and badass manager Susie (Alex Borstein), her CIA-employed brother Noah (Will Brill) and neurotic sister-in-law Astrid (Justine Lupe), "in-your-face" father-in-law Moishe (Kevin Pollack), and even Lenny Bruce (the extraordinary Luke Kirby). I hope the producers and writers can pump up Season 3. Expect more Emmy nominations/awards for this show in 2019.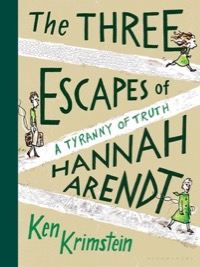 The Three Escapes of Hannah Arendt: A Tyranny of Truth (Bloomsbury Publishing)
Author/New Yorker cartoonist/CC contributor Ken Krimstein has released one of the finest graphic novels of our generation. Before you thumb your nose at the thought of "reading" a graphic novel one would be well-served to buy this novel and ingest it for yourself. Don't believe me? Cartoonist Roz Chast had this to say: "Ken Krimstein's deeply moving graphic memoir about the life and thoughts of philosopher Hannah Arendt is not only about Hannah Arendt. It's also, through her words, about how to live in the world..."
Slave Play Off-Broadway Play
A riveting and complex portrayal of race, gender, and mental health in America presented by the New York Theater Workshop. Playwright Jeremy O. Harris rips apart history to shed new light on being black in the 21st century. Directed by Obie Award winner Robert O'Hara, it has already won the Rosa Parks Playwriting Award, the Lorraine Hansberry Playwriting Award, The Lotos Foundation Prize in the Arts and Sciences and the 2018 Paula Vogel Award. Look for it to move to a larger New York theater in the new year.
The Kinks - Preservation Green Society Box Set (Warner)
Some have suggested that this is the quintessential Kinks album and one of the quintessential rock albums about English society circa mid-196os. This box set has the vinyl in stereo, mono, German pressings; CDs with bonus tracks including the one above. A treasure-trove and a must-own collection for any music fan!
Stay Awake: Music from Vintage Disney Films (A&M/UMe)
I admit a very soft spot for the early Disney films, and a massive disdain for rote covers of classic songs. Thankfully producer Hal Willner does as well. This is one of my favorite "cover" albums ever produced. So many amazing versions of amazing songs from amazing Disney movies. Check out my full review here. 
The Band - Music from Big Pink (Universal Music Group)
Much has been written about the legacy of The Band, architects and purveyors of the entire Americana movement, all of it deserving. One only needs to start with their genre-defining debut, one of the finest debut's by any band from the 1960s. Here it gets the royal vinyl treatment -- remixed and re-released as a double album, 180 gram, 45 RPM. Listen to the digital version of one of the greatest "American" songs ever written. Not bad for 4 Canadians and one badass drummer/vocalist from Arkansas.
Loma Loma (SubPop)
From Shearwater vocalist Jonathan Meiburg, ethereal vocalist Emily Cross, and multi-instrumentalist/engineer Dan Duszynski comes this ethereal juggernaut. Sonically rich even ambient at times, but complex enough to require multiple listens to fully appreciate the magic created by this trio. Check out the video for "Black Widow" above.
The War and Treaty Healing Tide (Thirty Tigers)
Won't find any false pretenses in this release. Gospel, funk, rock, soul... a heady stew of timeless music that will sanctify even the coldest heart!
IDLES - Joy as an Act of Resistance (Partisan Records)
Punk-rock fury from the UK. Visceral and in-your-face anger. Like PIL, like The Fall, like Gang of Four, like... shit, "anger is an energy." Just ask Mr. Lydon. Or the IDLES' lead singer. "I'm like Stone Cold Steve Austin, I put homophobes in coffins."
Shame - Songs of Praise (Dead Oceans)
The debut studio album by yet another British post-punk band Shame might have been released in January 2018, but it didn't find it's way to me until August. This London-based quintet has a killer guitar sound throughout and shares the same artistic aesthetics as Wire, The Fall, even Oasis on the fantastic ballad "Angie." For me, the best of the ten tracks is the Iggy Pop-like rocker "Gold Hole" (see video above). Nary a weak track, top to bottom. I picked it up on vinyl.
Charles Lloyd & The Marvels + Lucinda Williams Vanished Gardens (Blue Note/UMG)
I saw them live at Jazz at Lincoln Center just last week. Charles Lloyd was revelatory, even at the young age of 80! And Lucinda held her own with these masters of jazz, even inspiring them. Their take on Dylan's "Masters of War" needs to be required listening.
Natalie Prass - The Future & The Past (ATO)
Funky white girl lets some funky 1970s pop seep into the proceedings as well as a little help from her friend -- singer-songwriter, producer, arranger, and founder of Spacebomb Records Mr. Matthew E. White -- and results are smooth as silk. 12 undeniable songs, perfect for any road trip, holiday or otherwise.
Parquet Courts - Wide Awake! (Rough Trade)
NYC's punk/alt/indie quartet made one of the best album's of 2018. Think Talking Heads meets The Clash and that's only a small influence-peddling comparison as the funky James Brown video above will prove. Released in May, the video above is from their sixth album and -- IMHO -- their most diverse, musically speaking, and best.
David Bowie - New Let Me Down (2018) (UMG)
This version of Bowie's critically-spurred 17th album from David Bowie Loving The Alien (1983-1988) box set was originally released in April 1987 takes his original vocals, strips away the insipid '80's production value and adds "a brand new production" with new instrumentation overseen by producer/engineer Mario J. McNulty. Bowie himself was never pleased with the "studio sessions" vibe of the album and started Tin Machine band with guitarist Reeves Grabel soon after.  This "reinvented" version is extraordinary as it includes elements of the original tracks along with new recorded tracks by some of the artists who worked with Bowie during his lifetime. A stand-alone new vinyl version will be released in February 2019. 
For more of my favorite music from 2018, check out my Spotify playlist. It's much more extensive.
What was on your radar for 2018?