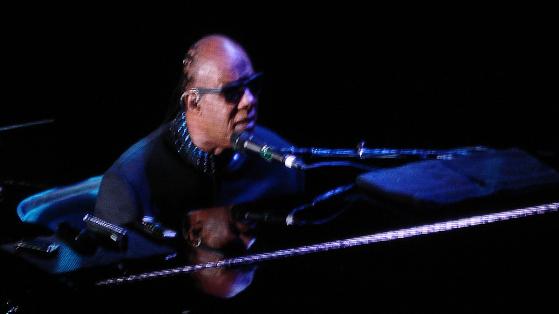 Stevie Wonder: Songs in the Key of Life
Madison Square Garden
November 6, 2014
I wasn't going to miss this one! Fortunately the cheap seats were "only" $49.50 (plus fees, of course), which for a big-ticket concert these days is actually reasonable.
Wonder's 1976 double-LP set is on one hand an oddball choice for such treatment, yet from another perspective is perfectly obvious. Oddball because although it does have hits, the hits/filler percentages are higher on the latter than on any of his classic '70s single LPs, and some of it is downright eccentric. Perfect and obvious because, among musicheads, this set has acquired mythic status and, given its length, handily fills an evening.
The thing is, who says what's definitely filler (undistinguished material that just takes up space) and what's a hidden gem? And there's so much variety, stylistically and in terms of arrangements, that some people think it doesn't flow, doesn't cohere, whatever you want to call it, whereas serious musos revel in some of those tangents, such as the wild jazz fusion track "Contusion."
Speaking of filler, early on, SITKOL also included a four-track bonus EP that my vinyl edition didn't have, so I never heard those songs until the CD edition, where they are stuck on at the end. This evening, however, those songs were inserted between sides, so to speak: the first two at the end of Side 2 (after which there was a half-hour intermission), the other two between Side 3 and Side 4. And no, these are not all unnecessary padding; "All Day Sucker" in particular is a much-loved funk nugget in certain circles.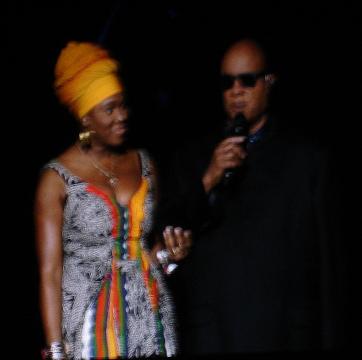 Wonder started the evening by walking out on the arm of star R&B vocalist India Arie, whose mother, Joyce Simpson, was a Motown artist who opened for Stevie back in the day. Wonder brought out two musicians from the original SITKOL sessions playing with him this evening: Greg Phillinganes, keyboardist and the conductor of this tour band, and bassist Nathan Watts. Wonder also noted that one of his daughters, Aisha Morris, was among the backing vocalists.
Here's a brief rundown of the evening's setlist. By my count -- and I was sitting far, far away from the stage and my eyesight's not so good, so I could be off by a few people -- there were three drummers, four saxophonists, a trumpeter, a trombonist, three keyboardists, the aforementioned Watts, two guitarists, a minimum of six backing vocalists (five female) [plus India Arie popping in and out], and a six-person string section.
"Love's in Need of Love Today"
Wonder joked about the internet rumor that he isn't actually blind. Amusing, but that wasn't what I was wondering about. The main question, of course, was: Is he still great? Yes; that was immediately apparent. Still singing magnificently, still ripping off those wild melismas. Band? Tight but loose. Good mix. Off to a good start. 
"Have a Talk with God"
India Arie returned, and Frédéric Yonnet took the harmonica solo; throughout the evening, his playing was distinguished from Wonder's by the fact that he played blues harps rather than the chromatic harmonicas that Wonder uses.
"Village Ghetto Land"
On SITKOL Wonder accompanied himself using a synthesizer's strings setting. Tonight, the lights came on stage left and suddenly a real string section was revealed. Much classier, and highlighted even more the ironic contrast between the music and the lyrics. Wonder flubbed the second verse, instead singing, "I forgot my own lyrics," then told us it was because he was so excited about playing New York City. Well played, Stevie. He also changed the last line to "Tell me would you be happy in 2014 still in Village Ghetto Land."
"Contusion"
This scorching jazz fusion thrown-down was introduced as having been inspired by Chick Corea. That the band negotiated its tricky meter changes and blazing tempo proved that these guys could play with anyone.
"Sir Duke"
The arrival of the first hit got the audience on its feet.
"I Wish"
Funky as hell!
"Knocks Me Off My Feet"
Stevie moved over to a Yamaha acoustic grand piano for this ballad. It got greatly expanded beyond the studio recording, with an interesting section of call-and-response vocals on the word "I" followed by a bunch of keyboard solos and "trading fours" by Wonder, Phillinganes, and Eddie Brown (and it's worth noting that this concert was a vintage keyboard collector's wet dream).
"Pastime Paradise"
The string section was back for a song best known from being sampled by Coolio, which in turn got parodied by Weird Al Yankovic. That added familiarity got the audience excited again for a song that, if you really listen to the lyrics, is pretty weird.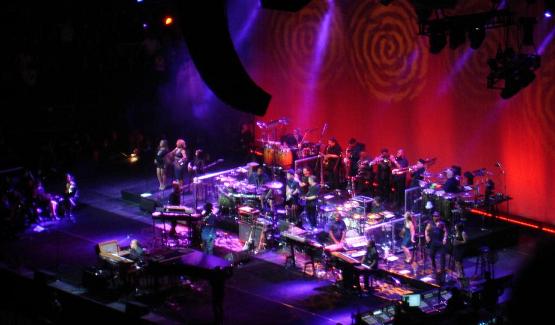 "Summer Soft"
So much more vivid "live" than on the album. Backing vocalist Keith John took the lead on one verse and sounded uncannily like Wonder himself. Unfortunately some sound problems cropped up near the end of this song as it sounded like whole banks of speakers were going in and out.
"Ordinary Pain"
The sound problems mutated; perhaps in an attempt to compensate somehow for the previously mentioned problem, getting the missing parts into what was working, the sound got very boomy. During the long and funky coda, the mixing problems became seriously annoying: during the section where some of the female backing vocalists got to step forward with a series of sassy lead vocals that make fun of the supposed pain, the leads were buried. For that matter, the horns were hardly audible.
"Saturn"
The first of the EP songs found India Arie back, wearing a very long yellow skirt that, once she took her place, was deployed around her as a sort of cone, one of the most visually striking effects of the evening in a concert mostly devoid of them. This on one of the most unusual and in some ways downright goofy songs on the album, which contrasts a fantasy paradise on Saturn ("where people live to be two hundred and five" and "don't need cars 'cause we learned to fly") with the gritty disappointments of life on earth -- war, poverty, etc. Somehow, hearing it in person, it seemed like it should be taken more seriously.
"Ebony Eyes"
Wonder moved to a tack piano at the front of the stage for this lightweight, old-timey throwback with a slight New Orleans lilt. More mixing trouble cropped up as a sax solo went unheard for about half its length.
Intermission was announced by someone saying, "Now we're going to turn over the record." Fortunately the most egregious sound problems were fixed during the break, although the warm clarity heard at the beginning of the show was mostly gone, replaced by a louder, harsher mix.
"Isn't She Lovely"
Before the start of this song, Wonder brought out his youngest daughter, Tamika, and refuted rumors that he'd had triplets. It featured Wonder on harmonica, and as cute as this song is, it had worn out its welcome by the time it finally wound down.
"Joy Inside My Tears"
This one dragged on as well, with another repetitive and ultimately redundant coda, though there are worse things
"Black Man"
Breaking down in tears at times, Wonder dedicated this song to a family in the audience who had lost a child in the Sandy Hook massacre. Afterward, he spoke of his desire to see stronger gun control laws, but more generally of wanting people to "let hatred go." Musically speaking, hearing this song in person made me realize that, with the didactic aspect played down in a live performance, it's actually a killer track.
"All Day Sucker"
The aforementioned highlight of the EP got a rousingly funky performance. The problem with the speakers going out reappeared, but for the last time this night, fortunately.
"Easy Goin' Evening (My Mama's Call)"
This harmonica-featuring EP instrumental -- Wonder and Yonnet both playing – is the fillerest of filler. I don't know if it lasted longer than the studio version (though I suspect so) or if it just always seems like an eternity before it squeals to a finish.
"I Am Singing"
India Arie reappeared, in a new outfit and equipped with a crib sheet for the lyrics of this song in Zulu, Spanish, and English. Competing for the previous instrumental for musical lowlight of the evening was an out-of-tune solo by the second guitarist, who seemed less comfortable on acoustic, as here, than on electric. It was not redeemed by the la-la/na-na-na-na sing-along at the end that was divided between the women and men of the audience.
"If It's Magic"
Wonder set this up by explaining that he was using the original backing track, instead of hiring a harpist, in tribute to the deceased harpist. A picture of her was shown on the big screens around the arena. But unless I somehow missed it, he neglected to actually say Dorothy Ashby's name. Nonetheless, it was another touching moment.
"As"
We were in the homestretch here, with another familiar favorite. Vocalist Keith John got to fill in for Wonder on another verse here and triumphed over its tongue-twister lyric. This is another killer coda, killer in the good sense this time, the vamp growing denser and denser but staying implacably funky. We also got a rarity, an in-concert fadeout.
"Another Star"
With India Arie joining the backing vocalists, we reached the climactic finish of SITKOL. Among its good features was a hot electric solo by the lead guitarist. The love emanating from Wonder was palpable; it was easy to hear this love song as directed at his fans this time.
"Superstition"
Whoopie Goldberg joined the backing vocalists for this encore. This song comes from Talking Book, of course, not SITKOL, but it made a great encore, perfectly in the character and style of the most iconic tracks on the night's featured album. It brought the cathartic night to a fitting close.
Remaining tour dates:
11/9 Verizon Center, Washington D.C.
11/11 TD Garden, Boston MA
11/14 United Center, Chicago IL
11/16 Wells Fargo Center, Philadelphia PA
11/20 The Palace, Auburn Hills MI
11/22 Philips Arena, Atlanta GA
11/29 MGM Grand Garden Area, Las Vegas NV
12/3 Key Arena, Seattle WA
12/5 Oracle Arena, Oakland CA