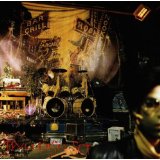 Tuesday was already the traditional album release day in the U.S. by March 31, 1987. Music fans' choices among the new releases that day included Close to the Bone by the Thompson Twins, The Circus by Erasure, and the two albums I refer to in the headline: Prince's Sign o' the Times and Suzanne Vega's Solitude Standing. Both of the latter artists had proven their talent by that point, and these releases were eagerly anticipated.
Sign o' the Times (Warner Bros.) was a double LP (barely under 80 minutes), always a major statement (discounting live doubles). It is to Prince what There's a Riot Goin' On was to Sly & the Family Stone: an album of schizophrenic swings between dire warnings of social disaster, personal darkness and confusion, and seemingly desperate attempts to stave it all off by often-lascivious partying -- and also an artistic peak.And since this was back when Prince was arguably the biggest pop star around (certainly the only one prolific enough to put out at least one new album each year), it yielded three Top 10 singles (Billboard Top 40 chart) in the space of a year. Had he not put out Lovesexy the following year, Sign o' the Times could easily have been milked for more hits.
The variety of the three hits alone match all three of the categories above: the title track's itemization of the decline of urban America, the oddly low self-esteem of "I Could Never Take the Place of Your Man," and the hotly urgent yet sometimes weird and jokey come-on "U Got the Look" (with Sheena Easton). Strangest of all is "If I Was Your Girlfriend," in which, over a popping bass line, he asks a girlfriend (or perhaps ex-girlfriend) what their relationship would be like if he were a woman. Perhaps it's not surprising that he's so in touch with his feminine side here: parts of this album were pulled from an aborted project as Camille, his alter-ego.
Other highly personal tracks include "Strange Relationship," depicting dysfunctional co-dependency; the scarily dark religious ode "The Cross"; and the goofy "The Ballad of Dorothy Parker." As far as more standard fare, for romantic ballads, there's "Slow Love," Forever in My Life," and "Adore"; for cheery pop there's "Play in the Sunshine"; for trendy dance action there's "Housequake"; for funky party music there's the live Revolution track "It's Gonna Be a Beautiful Night."
Musically, the beats mix club-music drum machine exactness, rock exuberance, and in-the-pocket funk, while the horns (saxophonist Eric Leeds and trumpeter Atlanta Bliss) show Prince moving closer to the conventions of old-school funk and his blistering guitar licks show his love of rock. Prince at the top of his game, as he was here, is a multi-genre experience of inspiring genius.
New York City folksinger Suzanne Vega had made an acclaimed debut in 1985 with an eponymous album; Solitude Standing (A&M) was her sophomore follow-up. Few expected a folkie could have a national radio hit in those days, much less one concerning child abuse, but in the summer of 1987, the supremely catchy "Luka" hit No. 3 on the Pop Singles chart. The production, by Steve Addabbo and Lenny Kaye, used a full band for a more polished sound than most folkies had, making it more attractive to radio programmers.
Vega excels at singing in the voices of her characters rather than observing them from the outside. Luka announces, "My name is Luka / I live on the second floor / I live upstairs from you / Yes I think you've seen me before," innocuously setting the scene and establishing the involvement of the listeners Luka's addressing directly, who may "hear something late at night / Some kind of trouble, some kind of fight." But Luka tells them, "just don't ask me what it was." Luka talks around the topic, blaming him/herself ("I think it's because I'm clumsy / I try not to talk to loud / Maybe it's because I'm crazy / I try not to act too proud") but eventually saying, "They only hit until you cry." But later Luka says, "I walked into the door again / Well, if you ask that's what I'll say." The conflicted child's psyche is perfectly depicted in his or her own words.
Other masterful first-person evocations of vivid characters are literarily inspired. "Night Vision" comes from a Paul Eluard poem ("Juan Gris"); "Calypso" looks at a story from Homer's Odyssey from the point of view not of Odysseus, but the sorceress Calypso, and as she avers "I let him go," her loneliness is palpable.
"Wooden Horse (Caspar Hauser's Song)" draws on a famous case in psychological literature of a nearly feral child who appeared in Nuremburg in 1828 whose only words at first were, "I want to be a rider like my father" (quoted by Vega) and, in response to all questions, "don't know." He was fascinated by horses, including toy horses; on some level, he seemed unable to distinguish toys from real horses, as he fed the toys and gave them water. It's this that Vega focuses on with the refrain "What was wood became alive." His simpleness, an inner emptiness filled only by this one joy, is made starkly clear. But Hauser was attacked by an unknown assailant in 1829, and assassinated in 1833, and this mysterious aspect of his life is also touched on with remarkably accepting foreboding.
Vega doesn't explain everything, often picking out a few striking points and leaving listeners to figure out meaning (sometimes leaving it ambiguous, as on the title track). The exception that stands out from everything is the a capella opener, "Tom's Diner," a straightforward description of trivial events, aside from thinking of a special someone's voice while "listening to the bells of the cathedral." Surprisingly, it also became a hit -- but in 1990 (No. 5), with an electro-pop arrangement by D.N.A. under Vega's vocal. "Luka" and "Tom's Diner," so far, remain Vega's only U.S. charting singles (she's been more popular in the U.K., starting with her debut). Similarly, Solitude Standing (No. 11) has been her only Top 40 album.