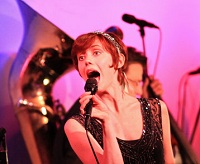 Carole J. Bufford's speak easy.
Metropolitan Room, NY
Hearing Carole J. Bufford sing backed by Vince Giordano & the Nighthawks is a rare alignment of stars not to be missed. Chronicling the Prohibition Era through its music, speak easy. brings this bygone time of legal restraint and social release to life in a relevant manner that is laced with nostalgia but not dependent on it. Deep within Bufford's dazzling and somewhat puckish eyes is a spark that sets fire to the music that radiates from her. Exuding playful sexiness, her presence is well suited for this genre and her connection to it is displayed by her genuine grasp of every note. 
Bufford sings with a sincerity that is hard to match, coinciding with every expression on her face, every movement of her body, and every fiber of her being. There is love in her voice for these songs and it is eagerly shared with her audience. Playing with dynamic swings between powerful belts and soulful softness, she has a unique approach that is distinctly engaging. Amid songs she shifts between flirty banter and revealing anecdotes regarding the period she is showcasing, once more displaying her profound interest in the era whose music she sings so well. Bufford is a rare combination of personality and talent.
Fresh off their Grammy Award-winning work with Boardwalk Empire, Vince Giordano & the Nighthawks provide Ms. Bufford with the kind of instrumental support that most singers can only dream of. Giordano thumps a mean upright bass and blows a reverberating tuba as Peter Yarin coaxes the ivories into singing and Will Anderson runs wild on the clarinet and an arsenal of other woodwinds. The sound is warm and welcoming with a joyful hint of danger, opening a window to the musical treasure of the past. Larry Lees capably conducts and provides the magnificent arrangements.
This tribute to a time of illegal liquor and romanticized lawlessness makes for a classy experience. With only one date (June 16, 2012) for speak easy. remaining at the Metropolitan Room, time is of the essence. Reserving a warm seat and a cool martini would be a wise move.