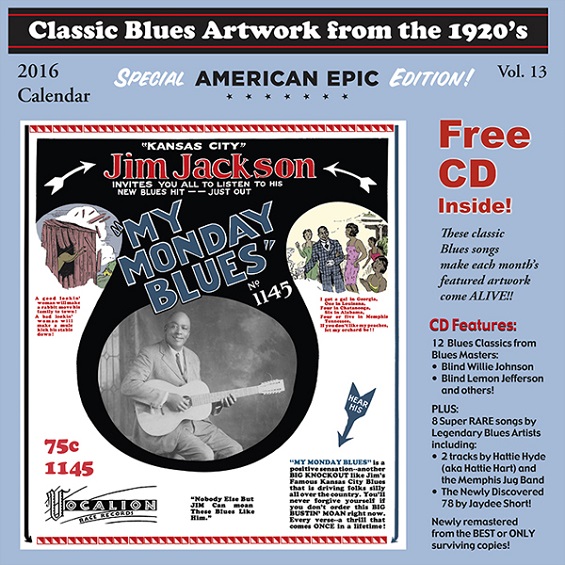 It's calendar-buying time, so here's my annual boosterism for Blues Images' great calendar/CD combo. 
In past years the images and accompanying CD tracks were keyed to Paramount Records advertising. This time out, collector John Tefteller's company changes the focus to the upcoming TV series The American Epic Sessions, www.pbs.org/americanepic/ a triptych to be aired on PBS and the BBC next year. That series takes a look at the vintage recording equipment and artists of the 1920s and early '30s, when producers travelling to the artists, instead vice versa, became possible, resulting in so many vivid 78 RPM recordings of rural music styles in situ (not just blues, though of course that's what's focused on by Blues Images).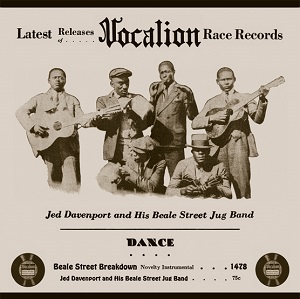 Thus, some of the music on Blues Images' annual CD comes from American Epic engineers, but (though this is not clear) it seems that at least some of the extreme rarities on the second half of the CD -- after the first twelve month-artwork-synched tracks -- come from Blues Images, most notably the major rediscovery: the only copy of Jaydee Short's 1930 "Tar Road Blues"/"Flaggin' It to Georgia" 78.
Other recently unearthed items are "Special Question Blues"/"T.N.&O. Blues" by Hattie Hyde (1929), accompanied by members of the Memphis Jug Band (parts of the B-side ended up in Junior Parker's, and hence Elvis Presley's, classic "Mystery Train"), and Papa Charlie McCoy's "Boogie Woogie"/"Country Guy Blues"(1932) -- since the first McCoy song is on the calendar, I guess it's an American Epic transfer.
More famous songs by blues icons Blind Willie Johnson, Barbecue Bob, Blind Blake, Blind Lemon Jefferson, and Ma Rainey are heard in new, cleaner transfers. The Jaydee Short item is the only one with any sonic problems, but they are brief and pale to insignificance compared to these tracks' historical importance. Any serious blues fan needs this CD, and the calendar is gorgeous as always.