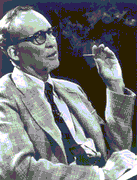 As the publisher's website explains, New Directions was founded in 1936, when James Laughlin (1914-1997), then a twenty-two-year-old Harvard sophomore, issued the first of the New Directions anthologies. "I asked Ezra Pound for 'career advice,'" James Laughlin recalled. "He had been seeing my poems for months and had ruled them hopeless. He urged me to finish Harvard and then do 'something' useful."
Few American publishers have been more useful to the cause of poetry. Yes, ND has published much great prose as well, both original (notably a huge number of Henry Miller essay collections), and in translation (Hermann Hesse's Siddhartha, the success of which funded many other projects; Jean-Paul Sartre's Nausea) or reprinted/collected (Delmore Schwartz's In Dreams Begin Responsibilities and Other Stories). Nonetheless, poetry -- less often supported by the major presses, especially early in a poet's career -- is where the press has made its biggest impact.
Here, in chronological order, are ten crucial volumes of poetry published by New Directions. I avoid reprints (thus omitting, for instance, Robinson Jeffers's Cawdor and Medea and Delmore Schwartz's Selected Poems: Summer Knowledge), and limit myself to one book per author (with one semi-exception); certainly William Carlos Williams and Gary Snyder would otherwise loom much larger on this list.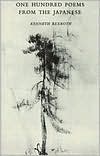 One Hundred Poems from the Japanese: Kenneth Rexroth, editor/translator (1955)
I can't think of another American who has done more to popularize Japanese poetry, both ancient and modern. This is partly due to Rexroth's excellent taste, but mostly because as a poet himself, he offers translations that, if not always ideal for a literal understanding of the original poem, make much better reading than the usual academic translations. Most of this volume focuses on tanka, the traditional form measured in syllables (5-7-5-7-7; the more modern and more popular 5-7-5 haiku form is a descendent of tanka); Rexroth quite rightly gives Kakinomoto no Hitomaro the most attention with 17 poems, notably including three naga uta (long poems), one of which (first line: "Utsusemi to") is perhaps the most heartbreaking love poem in the world. This volume's sequels, One Hundred Poems from the Japanese (1976), which includes some more modern work as well, and Women Poets of Japan (with Ikuko Atsumi, 1977) are just as crucial, and a similarly titled trilogy devoted to Chinese poetry is also excellent.
A Coney Island of the Mind: Lawrence Ferlinghetti (1958)
Ferlinghetti had already co-founded the bookstore/press City Lights and published his first collection through it, but had his second published by ND; it's his best known. He was associated with the Beats, and certainly published enough of them and fed enough of them, but considered himself to be from an earlier generation of bohemian poets. Well, most greats in any endeavor to some extent dislike being categorized, but the often-whimsical tone of Ferlinghetti's style is certainly what we think of as Beat. Though it sounds of its time, it's still easy to relate to, still seems utterly true, and never puts a foot wrong.
Pictures from Brueghel: Collected Poems 1950-1962: William Carlos Williams (1962)
Yes, a little over half of this consists of short books (The Desert Music and Journey to Love) that had been previously published by Random House, but this collection won the 1963 Pulitzer Prize for Poetry (the first of ND's four), more than enough reason to include it here. It's historically valuable for his working out of his concept of the "variable foot" (a less strictly measured rhythm that matches American colloquial speech patterns without slipping into free verse or prose), which made his late poetry much fresher than most poets' in their last years. It closes with "Asphodel, That Greeny Flower," a 30-page poem that's the supreme long love poem of the twentieth century; highlights preceding it include the title set and "To Be Recited to Flossie on Her Birthday." New Directions has been strongly devoted to the work of Williams, issuing practically all of his poetry and much of his prose across a number of collections, and certainly all four poetry volumes belong in every collection.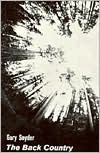 The Back Country: Gary Snyder (1968)
The rhythmic lessons learned from Williams resonate through Snyder's work, but Snyder has a quite different sensibility and focus, making their work quite different. Williams was an Eastern doctor, Snyder a Westerner who alternated itinerant work and periods of intense Zen study in Japan. Williams was certainly appreciative and keenly observant of nature, but Snyder is fully immersed in it; Williams writes from outside it, Snyder from deep inside, in a gritty and practical way. Snyder treats human relationships in a similar way; he sees no distinction between humans and nature, even when those humans may be loggers dismantling nature. Just as he was bouncing between the U.S. West Coast and Japan in these years, so does this collection move from a Far West section to Far East, then in the Kali section switches between mythic concerns and interpersonal relationships, in Back becomes more overtly political, and then devotes the last part of the book to his translations of poems by Miyazawa Kenji (1896-1933). Of all the Beats, Snyder -- who just turned 80 and remains quite active -- has aged best in the sense of seeming the least bound to a particular time or place.
The Captain's Verses: Pablo Neruda, translated by Donald D. Walsh (1972)
This collection was originally published anonymously; Neruda had written these love poems to his nurse/mistress. The directness of expression and unrestrained passion of these poems is extraordinary. There is an almost strange level of intensity that's quite intoxicating, matched by an imaginative level of beautiful metaphors that are both flattering and witty. Most impressive is how, across 42 poems, Neruda manages to vary the mood and his language enough to somehow avoid seeming repetitious.
New Poems: Kenneth Rexroth (1974)
It would be a slight to an important poet to include Rexroth as editor/translator but not as poet! The first section, Love Is an Art of Time, pursued his familiar interests with a new autumnal grace often reminiscent of the ancient Asian poems he was translating (see above). This collection also includes his remarkable hoax of supposed translations of a contemporary Japanese poet when in fact they were Rexroth's own poems written in his imagined persona of Marichiko. While, once this became known, it seemed obvious that the poems were what the sexually intense and open Rexroth wished that a Japanese female were writing – his fantasy – that didn't make the dozen short poems less poetically powerful. There's then a brief section of acknowledged imitations of Chinese poetry, followed by a bunch of Chinese translations. The differences between his own writing style and his strongly poetic translation style make the transition seamless.
Herald of the Autochthonic Spirit: Gregory Corso (1981)
This was the comeback of one of the original Beats, a triumph over dissolute living – and he addresses that quite openly in some of the poems. The slim volume opens with his wry description of a 1975 reading at Columbia University, where Beat had gestated, and then launches into a semi-serious ("Coleridge and De Quincy were spared / the Eldorado Caddie connection men") conversation with the Muse about drug-squandered potential. Here and elsewhere, he strikes an irresistible balance between high-flying oratory and street slang, Classical (gods of Greece and India abound) references buttressed with sesquipedalian vocabulary and an acute command of modern rhythm, often in the same lines. Even if his ideas weren't so good, one could wallow in his cadences and wordplay; that they are put in the service of deeply probing ruminations makes them some of the best poetry America has produced.
The Selected Poems of Tu Fu: David Hinton, editor/translator (1989)
Tu Fu (712-770 AD) is a perennial candidate for the title of greatest Chinese poet, and this collection not only includes a generous selection of his work but also 17 pages of biography. Additional sections and notes provide an examination of his greatness in the context of Chinese poetry, culture, and history. But for all his historical importance, his work is timeless, easily appreciated even without knowing anything about him or his era.
The Cantos of Ezra Pound (1995)
Not all originally published by ND, of course, but the press was the first presenter of everything published from 1940 on, over two-thirds. In its work of presenting the complete cantos, ND added "new" material, so the date I use here is that of the 13th edition, the last to add something not previously included. Though Pound himself was not the best human being (outspokenly anti-Semitic and a collaborator with the Fascists who betrayed his native United States), as a writer he was as deeply complicated and multi-faceted as his personality. His work is so full of allusions to other literature and to history, and so often slips momentarily into other languages, that it can seem quite intimidating, but even without resort to another volume for explanations and translations, there's a rich enough tapestry here to appreciate why some folks have devoted their lives to understanding this massive (824 pages) tome. I'm still not convinced it's worth that much effort, but it's too fascinating to dismiss.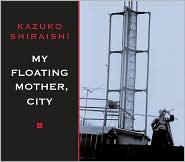 My Floating Mother, City: Kazuko Shiraishi, various translators (2009)
New Directions' 1978 collection of translations of Shiraishi's work, seasons of sacred lust, made her famous (and more than fulfilled Rexroth's little fantasy of the saucy Japanese poetess as well), but this much later collection is more mature (nothing's here just for shock value), and less uneven in inspiration than her other two ND collections. The title poem is quite emotional, inspired by the deaths of her mother and colleague/friend Allen Ginsberg (one of the other translations here is by him), among others, and perhaps increasing awareness of her own mortality (she turns 80 this year). Her themes (loss, ecology) are universal, but her expression of them is highly personal and deeply moving. - Steve Holtje

Mr. Holtje is a Brooklyn-based poet and composer whose newest work is a four-song cycle setting poems from James Joyce's Pomes Penyeach.