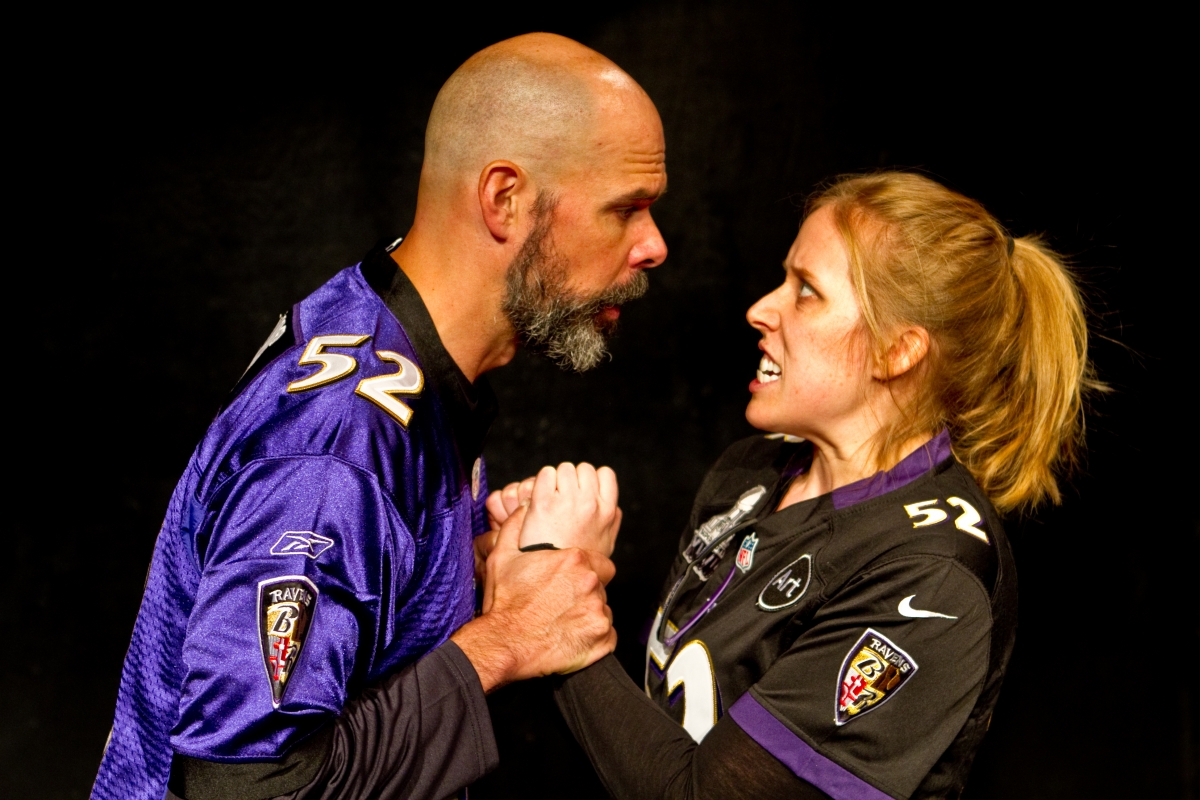 Dog Show
Directed by
Karim
Muasher
Created by the Ensemble Animal Engine
Kraine
Theater 85 E
4th
St., New York, NY 10003
The Can Opener: A Brief Horror Musical
Directed by Kenneth Oefelein
Written by M. Zachary Johnson 
Kraine Theater 85 E 4th St., New York, NY 10003
Richard the Third and Goal, or RG3
Written and Directed by Neal J. Freeman
Bloody Shakespeare at Under St. Mark's 94 St. Mark's Place, New York, NY 10009
This is the first of two dispatches from the theater festival whose name is currently more than apt: Frigid New York. Frigid is in its ninth year, and all of its revenue goes directly to the artists involved. This year, there are thirty shows running for a combined total of 150 performances in two theaters. Here, we will discuss three of those thirty, ranging from light comedy through horror-tinged musical to an excellent reimagining of Shakespeare by way of professional sports.
First up is Dog Show. We will refrain from beginning with a dog joke, but Dog Show does have plenty of jokes by dogs. This is a play for anyone who wonders what his or her pets get up to when they are left alone. The answer, of course, is that they perform amateur theatricals, specifically French farce. It's as absurd as it sounds, but with a woof of -- sorry, a whiff of truth to it: the fin de siecle farce that the dogs perform is a play about marriage, anniversaries, and infidelity, and the dogs remind us that humans are animals and, when in heat, can be real dogs. The four actors who play the dogs make each an individual, and the ten roles that they quick-switch between are as individualized as a farce demands. Melinda Jean Ferrarraccio is particularly strong as Shitsi the dog; in addition to some excellent loveable dog behaviors, she switches in "Sauce for the Goose" between the bored, lonely wife whose husband forgot their anniversary (spoiler alert: he hadn't; he bought her a new leash, a nice nod to the archaic notions of ownership that the marriage-industrial-complex perpetuates) and the concierge whose flightiness leads to all four couples and an extraneous handyman moving between the bed, the bath, and a growing pile of champagne bottles. Dog Show and the dogs' show, performed while their master is on a date with an allergic dog-hater, are high-energy reminders that conversations about marital crimes ranging from disinterest to infidelity are inherently farcical, and the cast's role- and partner-swapping keeps that energy high enough that the stage seems surprisingly empty when the dogs revert to dogs.
The Can Opener: A Brief Horror Musical uses zombies to manifest anxieties about leaving the nest for college. Bobbi (Sharon Lam) has what she calls a small but cheerful life, spent reading and writing, and no interest in expanding those horizons. However, her parents -- an egg-frying housewife (Rose Marie Rupley) and a father (Kevin Tucker) who pronounces each and every "t" as he reads aloud the latest newspaper accounts of young men found mysteriously dead on carpets which, the written reports remind us, have been ruined by their blood--are convinced that college "is worth the cost." Bobbi, as evinced by her recurring nightmares of zombie-sirens trying to sing her to her higher-educational doom, sees that cost as far more than monetary. What she finds at college shows that she is right -- her college, like perhaps all colleges, is a Foucauldian conformity factory, but since everyone is a part of it, no one sees what she does, which is that her classmates are doubles of the zombies in her nightmares and every kind offer has a sinister dual meaning. Perhaps the generic anti-college message, "Bobbi, Bobbi, Don't Be Snobby," might have been more effective if there had been a clear idea of what sort of school she is going to, but if we see the whole thing from Bobbi's perspective, then a general anti-college sentiment makes more sense: her parents are literally pushing her out, seeing college as a way to be rid of her, a manifestation of a childhood fear that is as universal as the monsters under the bed. Speaking of those monsters, the physical contrast between the diminutive Bobbi and Andrew Blair as one of the robed and hooded zombies achieves some genuine creepiness, as does the gift of tools from a professor to make her adjustment easier that ends the play.
Richard the Third and Goal, or R3G (image above) weaves itself out of the words of Shakespeare's play and of former Baltimore Raven Ray Lewis, and it is one of Frigid's must-see productions. R3G (a play on RG3, nickname of Washington quarterback Robert Griffin III) sweeps the audience along with its sheer velocity of language, and its juxtapositions can be both startling and revealing in their echoes. It sometimes takes a few seconds to register when we move from Richard to Ray, and how well the heightened language of these two blends together is itself interesting to experience and achieves a Brechtian defamiliarization. Without overt judgment, the play makes visible the overlaps between sports and politics -- the violence, both on and off their respective fields; the reliance on spectacle; the narratives of exceptionalism; the salesmanship: Richard sells himself to Queen Anne after murdering her husband the same as Ray Lewis (himself charged in two murders) sells Gatorade to couch-bound athletes. More unexpected, and perhaps more thought-provoking, are the similarities in Richard's and Lewis's rhetoric of self-fashioning and their appeals to God. Less surprising is the emergence of legacy as a motif. Lest all of this sound overserious, R3G bills itself as "comic riff," and it is indeed very funny, but also at times intense. Patrick Toon (as Richard/Lewis), Minna Taylor, and Montgomery Sutton all walk that line perfectly, delivering a magnetic, propulsive performance with little more than some jerseys and a sweatband. Freeman's play isn't interested in drawing clear lines or creating one-to-one equivalencies -- the Richard, Anne, and Buckingham figures all speak Lewis's words--and is the more effective and more intriguing for it. R3G grabs on like some sort of Elizabethan linebacker and doesn't let go. - Leah Richards and John Ziegler