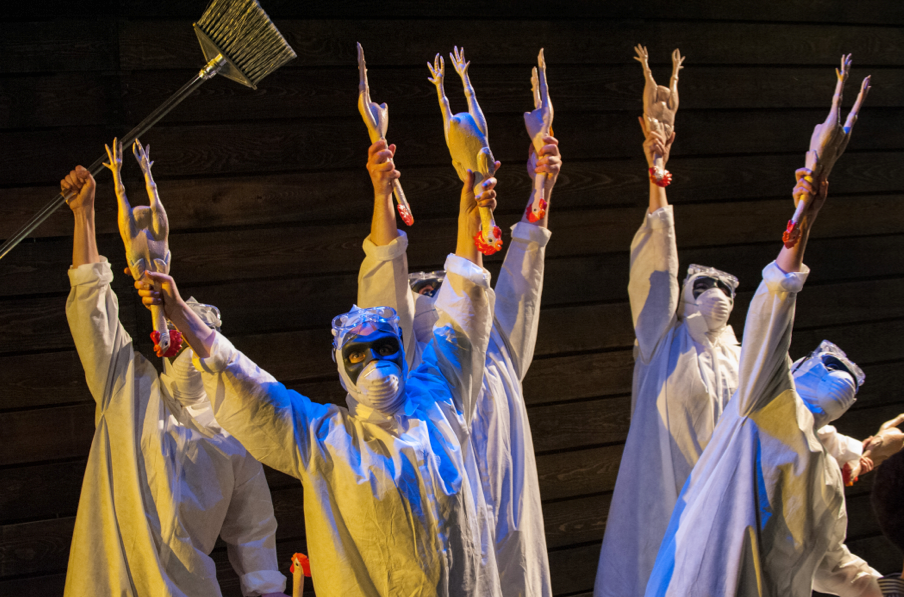 Don Nordo del Midwest
Cafe Nordo, Seattle
Dinner theatre is an experience that one might naturally associate with a mediocre meal accompanied by a tired production of some standard-bearer musical. Cafe Nordo challenges this preconception, doing the unthinkable by infusing creativity and sincerity into this otherwise basely novel tradition.
Presenting Don Nordo del Midwest as the first production in they're their new Pioneer Square location, Cafe Nordo offers up their play on the tale of Don Quixote as re-envisioned with the famed idiot savant questing to be a revolutionary chef on a haphazard mission to bring his culinary vision to the Midwest. Blending elements of commedia dell'arte and theatre of the absurd, this production serves up some interesting entertainment between original courses.
Terry Podgorski's script seizes the opportunity left on the table by most dinner theatre and incorporates the meal into the script. Following the episodic nature of the this quixotic mis-adventure, the story is segmented and chaotic at times as it bumps and crashes through some of the dietary options in the Midwest. The eye to this storm of movement and activity comes in a moment where Podgorski takes an unexpectedly semi-sympathetic look at the institution of frozen foods, exploring a tragic juxtaposition between their seeming necessity and inherent evils. This scene is hauntingly punctuated with some uncanny vocals by singer Devin Bannon, who crones with soul and sorrow. Another enchanting musical contribution comes from Dayton Allemann, who jams on guitar and sings with a beautiful and melodic flute. All original compositions are the work of composer Annastasia Workman, making for another creative evolution to this formerly flat genre.
Actor Maximillian Davis offers up the stand-out performance of this production, portraying "Sancho" with nuanced facial expressions that communicate deeper than the content of his lines and are accented with flecks of welcomed comedy. The chorus of actors/servers also engage with energy and commitment, hustling through their many roles and duties with the excitement of a devoted troupe.
However, breathing life into this most-often soulless form of theatre isn't without its drawbacks, and trying to find focus while juggling dishes and drama is where this production faces its greatest setback.
Erin Brindley's direction is somewhat scattered between the courses and the story, at moments struggling with Podgorski's script which has been crafted around the unique culinary needs of Cafe Nordo first, leaving any story or message as an afterthought. This compounds with a stewing confusion to make for some very disjointed moments where it's difficult to know where to place one's attention or what to do.
Overall, Cafe Nordo puts out a very original product and they're sincerity glows through. The possibilities of their future productions is an encouraging prospect and leaves one with anticipation over what they will serve up in the future. If you're looking for something different in the world of theatre then Don Nordo del Midwest is definitely worth checking out.