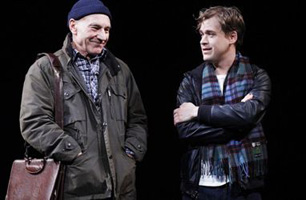 A Life in the Theatre
Written by David Mamet
Gerald Schoenfeld Theatre, NYC
Through January 2, 2011
Someone out there must be determined to have a new Mamet revival on Broadway every season. With this current revival of A Life in the Theatre, it appears that they are scratching the bottom of Mamet's literary barrel. In the end, neither Patrick Stewart's ample skills as an actor nor Neil Pepe's able direction can put any real meat on this half-baked sketch of a play.
If there is a reason to see this production then it can easily be summed up in two words: Patrick Stewart. Stewart embraces the role of Robert, a somewhat pathetic relic of an actor who desperately tries to keep the past as well as his own significance alive through long-winded, rambling monologues that he imposes on his fellow actor. He betrays hints of a not-so-deeply hidden self-doubt that secretly plagues him with the question of whether he matters anymore, a doubt which makes up the core of his insecurities and his comical attempts to mask it. Stewart summons pathos and humor, mostly at his expense, in creating a role that in some ways represents the fading of the American Theatre as it is eclipsed by the more modern media of film. T. R. Knight, playing John, Stewart's younger counterpart, digs at no such depths. From the first scene it is clear that Knight struggles with Mamet's terse dialogue; rather than finding the subtext necessary to make the seemingly hollow lines his own, he often sounds like he is simply reading lines from a script. Knight's strongest moments are when he and Stewart are flubbing a scene as their characters, but on the whole he shoots for mediocre and that's what he hits.
Along with Stewart, director Neil Pepe makes the most significant contributions to saving this patchwork play. Pepe keeps the pace moving, with the help of a highly functional set design by Santo Loquasto, and plays the piece for laughs, which is the only truly tenable approach. Pepe allows for brief dramatic moments, but wisely picks most pauses for the purposes of comic timing. As Broadway's most over-produced playwright, Mamet has provided us with an endless roster of plays -- some brilliant, most drivel; this one is decided drivel.
For a relatively short play with no intermission, A Life in the Theatre drags in many places and, combined with the lack of any real story arc, leaves one to spend the second half of the show wondering, "Is it over yet?" If the piece keeps you laughing, then it can provide an evening of mild entertainment, but if you find yourself in the mindset of "that joke isn't funny anymore," then it's a slow trudge to curtain call.