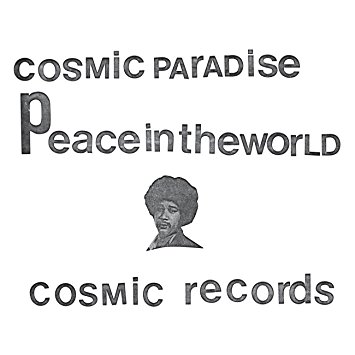 Michael Cosmic: Peace in the World / Phill Musra Group: Creator Spaces (Now-Again)
For fans of avant-garde jazz who like to dive deep into the music's history, this combination of two rarities is the reissue of the year. Michael Cosmic and Phill Musra are twins who were born, respectively, Thomas Michael Cooper and Phillip Anthony Alfred Cooper in Chicago in 1950. Falling under the influence of the Association for the Advancement of Creative Musicians after being recruited as teens by AACM member Roscoe Mitchell, they studied with Mitchell, Anthony Braxton, and AACM founder Muhal Richard Abrams. A year at the University of Wisconsin (1970-71) gave them the opportunity to take Cecil Taylor's class, after which they moved to Boston along with fellow student Jemeel Moondoc.
Boston in the early '70s was a hotbed of avant jazz, and associate producer Clifford Allen's detailed liner notes say the brothers got to play around the Boston/Cambridge scene fairly often. Both albums were recorded during their Boston period, specifically in 1974; current N.Y.C. scene elder Cooper-Moore, then a young man sharing the Boston scene with the Cooper brothers, is cited as saying they were the only band he would go out to see in Boston. He expounds further: "[appreciating their music] had nothing to do with technique; it had all to do with their spirit, their feeling, and their connection, and when they finished, you felt what they were playing."
Though there are differences between the two records, the similarities are great. The composed "heads" (opening themes) are Ayleresque in their simplicity and fanfare-like qualities, but in general are more rudimentary and rhythmically stiffer than the folk-songish tunes Ayler wrote (the flute melodies of Phill's "Egypt" and Michael's "We Love You Malcolm X" are lithe exceptions). Once past the heads, though, the brothers' creativity blossoms; their spontaneous improvisations, which don't seem related to the heads, are limber and natural-sounding, and they often intertwine horn lines with twinnish empathy. The brothers exhibit command of multiple instruments -- both played various saxophones and other wind instruments, along with "little instruments" (an AACM influence, here percussion or ethnic winds), with Michael also contributing Sun Ra-ish piano and organ (sometimes overdubbed atop group improvisations). Structurally, though themes occasionally reappear in the middle as signposts, things are generally quite free-form in a nicely organic way, and while there is serious energy on display at times, these are not Frank Wright-style blowouts, instead ebbing and flowing. The polyrhythmic contributions of drummer Hüseyin Ertunc, present on all but the last bonus track (see below) are crucial to the group's sound, both accenting in the moment and holding things together. Devotees of this period will recognize the general style and freedom concept while reveling in the twins' highly personalized take on it.
The vinyl version in stores (in N.Y.C., the Greenpoint and East Village outlets of Academy Records, perhaps others) and available through Forced Exposure is two LPs and contains all the music on the original releases and pasted-on B&W cover "slicks" in homage to the originals' DIY ethos. It includes a download of both albums plus three additional tracks. The latter tracks are also on not only the three-CD version but also the limited-edition three-LP version available only from Now-Again's Reserve Edition record club. The previously unreleased recording of "The Creator Is So Far Out" finds Musra and Ertunc, and possibly Cosmic, joined by guitarist Rene Arlain and bassist Wes Riley on a more meditative (because of no organ overdubs) and more extended undated version with a cleaner delivery of the head than on the album. There is also a 1973 recording, "Phyllis," with a similar group and, most significantly, a previously unreleased 1972 concert recording by World's Experience Orchestra, another underground Boston ensemble of great significance. The Coopers don't play on this recording, but they performed in this group at other times, and leader John Jamyll Jones is the bassist on Cosmic's album; anyway, having this music is such a boon that the oddity of its inclusion here is immediately rendered irrelevant. - Steve Holtje