Happy birthday to Pat Metheny (born August 12, 1954), one of the few jazz superstars of the past four decades to combine commercial success and critical plaudits. After paying his dues in Gary Burton's band (which he joined at age 19), Metheny put out his first album in 1976 and by the time of his third release two years later was gaining crossover radio play. Though the style of his eponymous band was smooth and tuneful, Metheny had a firm basis in jazz and straight-ahead guitarist gods such as Jim Hall (with whom he eventually recorded a fine duo album).
With success came the challenge of avoiding complacency, which Metheny has met masterfully with a wide-ranging series of albums in a variety of stylistic bags, from atonal skronk to mellow Brazilian, from thorny Ornette Coleman covers to mercurial bebop. Along the way he has lent his prestige to both respected elders (Hall, Burton, Coleman, Derek Bailey, and Jack DeJohnette) and rising stars (Joshua Redman, Kenny Garrett) and spoken out against what he sees as negative trends in the business.
Though not all his recordings have been equally successful in artistic terms, Metheny has certainly made more than just ten worthwhile albums. This selection balances quality and the wide variety of his diverse styles. (Dates shown are recording, not release.)
1. Pat Metheny Group (ECM, 1/78)
The album that made Metheny a star, it also launched a quartet with keyboardist Lyle Mays, fretless bassist Mark Egan, and drummer Dan Gottlieb (the latter two later formed the band Elements). Such catchy tunes as "Phase Dance," "April Joy," and "Lone Jack" received FM airplay on some adventurous rock stations and remain fan favorites. Its success paved the way for smooth jazz, but don't blame Metheny for that: this music isn't fluff, it's got a firm foundation in jazz and plenty of substance, as well as superb playing and imaginative solos.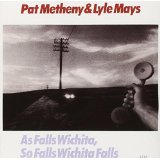 2. As Falls Wichita, So Falls Wichita Falls (ECM, 9/80)
The firmly established star moved to a spacier, more meditative sound here. Metheny (doubling on electric bass) and Mays are joined by versatile percussionist/vocalist Nana Vasconcelos in an album dominated by the haunting 20-minute title track. The chiming "Ozark" looks back to his earlier style, "September Fifteenth" remembers piano legend Bill Evans, and "Estupenda Graça" gives the hymn "Amazing Grace" a Brazilian spin.
3. Song X (Geffen, 12/85)
In the wake of Metheny's frequent covers of tunes by free-jazz avatar Ornette Coleman came this 1986 collaboration with the radical harmolodic saxophonist. Coleman's son, drummer Denardo Coleman, combined with Metheny's then-regular trio partners, bassist Charlie Haden and drummer Jack DeJohnette, for a free-wheeling, risk-taking session that makes Coleman's challenging music accessible without compromising its core virtues.
4. Rejoicing (ECM, 11/83)
This trio set with Haden and former Coleman drummer "Smilin'" Billy Higgins includes not only three Ornette tunes but also Horace Silver's "Lonely Woman" and some inspired originals by Metheny and Haden. The interplay among the three musicians is positively telepathic.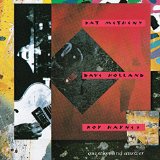 5. Question & Answer (Geffen, 12/89)
This trio with bassist Dave Holland and drummer Roy Haynes found Metheny exploring bop and post-bop with a more straight-ahead tone bound to impress hardcore mainstream jazzers. At the time, hearing him cover the standards "All the Things You Are" and "Old Folks" was a surprise; Miles Davis's "Solar" is among the highlights.
6. Trio 99-00 (Warner Bros., 8/99)
A return to a style similar to that of Question & Answer, but with a younger and sometimes funkier rhythm section of bassist Larry Grenadier and drummer Bill Stewart. This disc is both beautiful and invigorating. This band later released a "live" album that is just as good.
7. The Sign of 4 (Knitting Factory, 12/96)
This out-of-print three-CD set and the deleted solo guitar freak-out Zero Tolerance for Silence (Geffen) were Metheny's entries in the hyper-intense world of completely free improvisation. Here he combines with the legendary Derek Bailey and percussionists Gregg Bendian and Paul Wertico for mostly in-concert rave-ups in which Metheny cranks up the volume -- and the distortion -- for skronk explosions from a legendary stand at the Knitting Factory in New York City.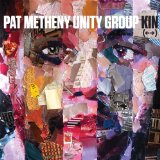 8. Kin (Nonesuch, 6/13)
The band name -- Pat Metheny Unity Group -- could signify Metheny bringing the different musical threads of his career into one context, because there's a lot of variety here, ranging from Metheny's classic rounded guitar-tone melodicism to his squealing synth-guitar and Orchestrion to some Ornette-inspired moments to the occasional Latin rhythms. Moods and vibes change up frequently, often within a track. Giulio Carmassi (piano, organ, cello, clarinet, flute, alto sax, French horn, trombone, trumpet, vibraphone, voice, whistling), Chris Potter (soprano and tenor saxes, clarinet, bass clarinet, alto and bass flutes), Ben Williams (electric and acoustic basses), and Antonio Sanchez (drums) give Metheny a lot of timbres to work with, and the return of keyboards definitely recalls the Pat Metheny Group of yore.
9. Metheny Mehldau (Nonesuch, 12/06)
A duo with pianist Brad Mehldau; full review here. They later made a quartet album that is also quite good.
10. Beyond the Missouri Sky (Short Stories) (Verve, 1996)
This gorgeous duo with Haden is mostly acoustic and pleasantly reflective. Two tunes from the Andrea and Ennio Morricone-penned soundtrack to Cinema Paradiso are especially striking in their emotional yet unsappy impact; other bases touched include Jimmy Webb, Roy Acuff, and Johnny Mandel.