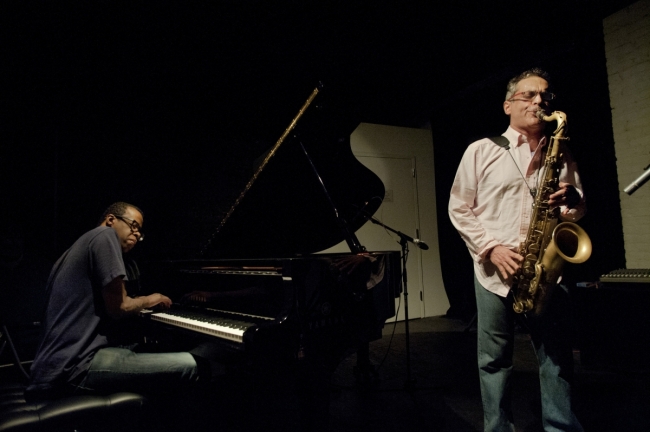 On the occasion of their new mega-release on Leo Records, The Art of Perelman-Shipp Vols. 1-7 and their ensuing CD release party at Le Poisson Rouge on May 7th at 9:30 P.M. with Italian Surf Academy, I asked Ivo Perelman and Matthew Shipp the following questions.
Steve Dalanchinsky: How long have you been associated both as collaborators and friends?
When did you first encounter each other's music?
What projects are planned in the future after this mammoth undertaking?
Talk a bit about how your musical languages differ and where they merge/intermingle.
In brief, discuss your philosophies about free music inside/outside lyricism tune structures as well as spiritual/social ideas/ideals in the music.
Do you feel there are any relevant messages in the music if any? 
Is there anything either of you want to add about the ongoing energies/ forces that unite and bind you to each other as artists and to the music?
Here are the results: 
Perelman: I first heard of Matthew Shipp in the late '90s. I had been living in NY for some four or five years. I went to The Knitting Factory and he was a sideman playing piano for Roscoe Mitchell. I really enjoyed the music. His playing really caught my attention; in fact, there were several people there in the audience just talking about the new guy back then, Matthew Shipp, and how original and creative his music was. So soon after, coincidentally, his wife -- who was working in a restaurant waitressing back then -- overheard a conversation I was having at my table. She found out I was a musician. She asked, "Do you know Matthew Shipp?"
I said, "Sure I do. I love his music."
Then we exchanged numbers and soon after I invited Matt to do a recording, which was a duo. We had never played together and we went right to the studio. It's called Bendito of Santa Cruz, released by Cadence Records.  After that, we did a few other things and then we hit big again as of five years ago with the recording The Hour of the Star, which included Joe Morris and Gerald Cleaver. Matt and I went to Brazil a few times (where I am from). We just released the seven CDs, as you say a mammoth undertaking, and we are looking forward to playing live a whole lot more. We enjoy doing that as well besides the studio work, and we will continue releasing special projects. We feel that playing in duo settings we still have a lot to discover and expand on.
Now talking about our musical languages, how they differ and where they merge and intermingle, I come from a very different background than Matthew. My background is in Brazilian pop and folk music, Jewish music, and classical music, mainly guitar music. I was a classical guitarist up until my late teens, especially the music of Villa-Lobos and only later on as I was getting older, around seventeen, eighteen years old, I started listening to jazz.  My first influences were different than Matthew. I was into Stan Getz, especially his bossa nova association.
Where we merge and intermingle is at the core of music's creativity. We deal with sounds in a very personal and creative way. Our two worlds are very distinct, very different from each other, but where we meet it makes our music just one and complete.  
Spiritual social ideas and ideals in the music: Well, we just hope for it to show through. I can only speak for myself when I say that I just hope that the music I'm playing will open up in people, different views and understandings as well as their sensibilities to appreciate music that has no preconceived ideas, no preconceived formats and music that, although fed and informed by previous masters, is music that is trying to be true to itself and to its originality.
Shipp:  1. I think we met in the mid-1990s. I don't remember exactly when, but it was around that time.
2. I saw a few articles or reviews of Ivo and then I went to the Knitting Factory one night when he was playing in a band with Marilyn Crispell, I think. I made a note to myself that some day I might play with him.
3. This is our big bang. I assume we will do a few other things; since these are done ostensibly under Ivo's name, I will let him say what he feels about them.
4. Ivo is not the usual Lower East Side avant Vision Festival type of player, if such a creature can be postulated to exist. First of all, his Brazilian heritage does enter into his playing. Second, he has an intense interest and knowledge of classical music. Third of all, having studied to be a studio musician and giving that all up, to go into free jazz makes him a little different type of player. We both have a vision of the universe after Coltrane that is inspired by that but goes in a diametrically different direction and we both like the "old" jazz sound, whether its Ben Webster or Fats Waller. As far as why we work well together, I don't think there is any analysis for that. It's like a marriage. The chemistry works or it does not, and there usually is no logical analysis for that.
5. There is no inside and outside. The music is what it is when it is played. Inside and outside is social propaganda. We link ideas. That is the tune structure -- we try to make our instruments sing. Hence lyricism rises.
6. Steve, you know the spiritual ideas of my metaphysics and you have expanded on them in linear notes you have written over the years. I am proud to be an outright mystic. The keyboard is my instrument to generate circles and spheres in nature and spirit. (S.D.: refer to Logos and Language: A Metaphysical Dialogue between Shipp and myself on Rogueart Books and a recent interview with Yuko Otomo in All About Jazz, among various other sources.)
7. The forces that bind us are being alive at the same time and partaking in the same language pool. Language is a mysterious force. Who is to say why the universe picks two people to have musical conversations with each other?