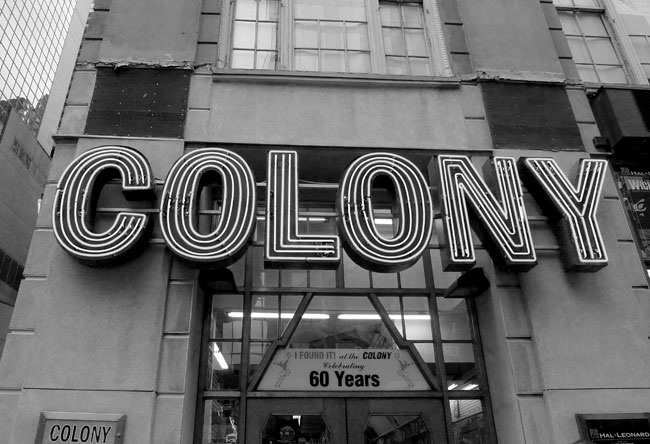 On Sunday, September 16, 2012 at 6:00 PM, Colony Music -- located on Broadway and 49th Street in New York City -- closed its doors for the last time. This venerable music store had been open for over 60 years, selling CDs, sheet music, and music-related memorabilia, including entertainment-related autographs. Its closing marks the end of an era (or maybe more than one) in New York City: after the closing of Patelson's Music House (which specialized in sheet music and scores for classical music) in 2009 after an 89-year run, Colony was nearly the last store devoted primarily to sheet music and music scores -- mostly for Broadway, jazz, pop, and rock, but also some classical music -- and by far the most visible.
Now all that's left is the smaller, much newer, and vastly less famous Dowling Music, hidden on the second floor inside Steinway Hall at 109 West 57th St. (Frank Music, on the 10th floor of an office building at 244 West 54th Street, predominantly sells classical music and lacks the all-important browsing aspect: you ask for something at the counter, the staff gets goes in back and gets it.)
As with so many other businesses, Colony's demise was primarily the result of the Internet age: with CDs and sheet music available through Amazon and other companies, Colony's sales over the past few years simply began to fall off, and continued to do so year after year. Even with a few years remaining on their (very) long-term lease (a particularly low one for the increasingly pricey Times Square area), it was simply becoming impossible to meet the rent.
To say that New York City singers and instrumentalists -- in virtually every genre -- relied on Colony would be a gross understatement. I would hazard a guess that many if not most of the musicians who frequent Culture Catch -- particularly those who live or work in NYC, or made frequent visits here -- purchased sheet music or songbooks from Colony. For myself, I own at least 50 songbooks by artists as varied as Elton John and Genesis, Joni Mitchell and Klaatu, Billy Joel and 10CC -- and, of course, at least four Beatles collections. I also own a number of Broadway musical songbooks, a Tom Lehrer songbook, and well over 100 individual sheet music songs. All of them were bought at Colony over a period stretching at least three decades.
It was also great fun to browse their memorabilia, even if much of it was unaffordable to the average (struggling) artist. From $25 ties featuring rock greats to Beatles collectibles that ran into the hundreds -- sometimes thousands -- of dollars, Colony also served as a kind of museum for memorabilia, and many tourists came to the store for that reason alone.
Although I always considered their CD prices a bit high, and found some of the staff to be a tad gruff, they did carry some fairly rare CDs (including early jazz recordings and rare progressive rock CDs), and most of their staff was not only friendly, but exceptionally knowledgeable.
In its final two weeks, Colony was selling everything to the bare walls. I had already bought a series of songbooks with selections from the Great American Songbook. However, on my last two visits, I bought more personal items: a small wooden CD cabinet with a sinuous shape that includes a piano keyboard carved into one side, and an artwork that features a thin metal representation of a jazz band on a black-and-white background with thousands of musical notes. These items make me feel like I own -- perhaps even "saved" -- a piece of history: not simply a songbook, but items that were part of the store itself.
Colony was the last of a dying -- nay, near-dead -- breed, and served the music community for well over six decades. It would not be an overstatement to say that its loss is immeasurable.