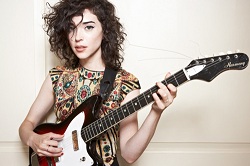 As is the case every year, I start reading year-end lists posted by trusted peers/journalists and discover I've missed plenty of deserving culture. With the glut of films, music, theater, TV shows, books, et al. on numerous websites, TV screens, bookshelves, and periodicals, it's fairly easy. Truth be told, in addition to P.J. Harvey's much-deserved kudos, other women singers/songwriters/bands really stepped up their game this year, making many top ten year-end lists, and I missed out on discovering some of them. With that in mind, here's some additions to my 2011 year's end list.
St. Vincent: Strange Mercy (4AD) - Quirky alt pop with flourishes of art rock and off-kilter guitar hooks. This Dallas-bred artist and former Polyphonic Spree guitarist/singer released her third and most favorably received album in 2011. Annie Clark has the look of an existential art girl who has known plenty of emotional scorn for her empowerment, yet has won on her own terms. Her music matches that ethos. She mixes and matches often seemingly disruptive sonics that initially jar but then blend into a beautiful and joyous elixir. Listen to how her insect-like guitar line buzzes around her Kate Bush vocal trilling in the video below. A Natch'ral born woman.
Wild Flag: Wild Flag (Merge) - Trace elements of Gang of Four, The B-52s, and The Dream Syndicate -- not to mention the band members' previous outfits -- can be found within in the alt-rock leanings of this all-female supergroup quartet featuring Carrie Brownstein and Janet Weis from Sleater-Kinney, Mary Timony of Helium, and Rebecca Cole of the Minders. Space Rock riffage populates "Glass Tambourine," while "Racehorse" shreds in a tongue-in-cheek Patti Smith "Horses" homage. The guitar riff of "Short Version" may be a sideward swipe at the Gunners' "Sweet Child o' Mine," but that's where comparisons stop.
The Dum Dum Girls: Only In Dreams (SubPop) - From Cali, this quartet fronted by Kirstin Gundred AKA Dee Dee shares the pop-rock sonics of the Bangles married to the guitar dissonance of The Jesus & Mary Chain. Produced by Richard Gottehrer and Sune Rose Wagner (of the Raveonettes), it boasts some catchy alt pop-rock nuggets, including "Bedroom Eyes" and "Teardrops on My Pillow."
tUnE yArDs: w h o k i l l (4AD) - Afro-pop with a Laura Anderson veneer, the very quirky, sexy, yet ultra hypnotic grooves of Merrill Garbus are undeniable. Yes, there is a tad of Talking Heads funkiness and Slits punkiness in her musical aesthetics, but she is unique enough to warrant the heady accolades that nearly drowned her this past year. Easy to ingest and marvel the modern dance-centric videos of "Gangsta" and "Bizness." This smart and vital release has been on repeat play for two weeks now.
Lana Del Rey: Born To Die (Warner Bros.) - Actually the buzz on this sultry siren started in September 2011, thanks in part to her self-released video single "Video Games" (21 million YouTube views). Some critics dumped on her because she re-imagined herself from a shy Lake Placid-raised indie singer/songwriter Lizzy Grant to self-styled, pouty-lipped "gangster Nancy Sinatra" major label (Interscope) recording artist LDR. Sure, her father has plenty of cash to finance this entire marketing juggernaut, but fuck it. Plenty of artists have remade/remodeled themselves in order to keep their output fresh and grow their brand. (See David Bowie and Dylan, to name just two.) Whatever it takes to get noticed is fine by me, as long as the music and the artist deliver. I'm all in with her Fiona Apple-meets-Julee Cruise noir vibe and look forward to her major release next week.
Neil Young International Harvesters: A Treasure (Live) (Reprise) - When Neil decided to go country, he went all in. While his chart-topping, country-tinged Harvest (1972) was much beloved, his countrified Old Ways (1985) was not as well received, probably too country for even his staunchest fans. Volume 9 of his Archives series is a well-worn compilation from various live dates during Neil's 1984-85 tour, featuring his crack countrified sextet breathing life into "Bound for Glory" and "Get Back to the Country" from Old Ways, taking a swipe at President Ronald Reagan on "Motor City," and ripping it up on the fiddle- and banjo-addled country-stompin' "Southern Pacific" from Re*Ac*Tor, and including five previously unheard songs. Plus there's a heartfelt take on Buffalo Springfield chestnut "Flying on the Ground Is Wrong," originally sung by Richie Furay.
M83: Hurry Up, We're Dreaming (Mute) - Thanks to CC editor Steve Holtje's review and video posting, or I would have missed this completely. Frenchmen Gonzalez, now living in L.A., has absorbed the azure skies and ambient amble of SoCal and crafted a delicious two-CD '80s synth-pop dreamscape masterpiece. Rarely has this style of music registered with me so convincingly. Must be something he's filtered in the air and water.
George Gilmore: I Am a Weed (Mouse and Anchor) - This New York City veteran singer/songwriter/guitar slinger has been a mainstay on the Americana/roots-rock scene for over two decades. His latest finds him in great form on these (lucky) 13 tunes exploring the journey of life with and without love, accompanied by an able stable of well-known Big Apple players. Tops for me is his gospel-fueled offering "The Good Lord Smote My Eye."
Tom Jones w/Crosby, Stills, Nash & Young: "Too Long Gone" from This is Tom Jones TV show - Even though you can only find this on YouTube and it really doesn't mean shit to a tree, I couldn't help but share this magical musical moment. Sent to me a few weeks ago by a friend working on a video edit for the Rock 'n' Roll Hall of Fame, this is a revelatory television moment from 1969. The sexy Welshman Jones emoting like few have heard. Check out David Crosby's grin when Jones wails. And Stephen Stills on organ and vocals shares the peak of his vocal prowess as well.
What says you, Joe Public? What will float your rockin' boats in 2012?