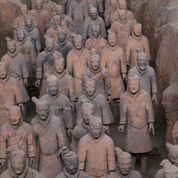 Terracotta Warrior Exhibit of the First Emperor
Pacific Science Center, Seattle
Thru September 4, 2017
Upon entering we were informed that this was a world class exhibit. Not certain what exactly that was meant to imply, the term stuck in my head as I began my journey... by the end of my time there I had my answer.
Presently on display at the Pacific Science Center in Seattle, "Terracotta Warrior Exhibit of the First Emperor" offers a rare opportunity to view a large collection of the famed Terracotta Warriors of the the Qin Dynasty. Along with the legendary statues themselves, interactive displays help bridge the gap between a professionally curated instillation and a hands-on approach utilized elsewhere at the Pacific Science Center to engage school children. This touring showcase succeeds in being child friendly without being childish, inviting people of all ages to approach the exploration of these artifacts with the kind of beaming excitement often reserved for children.
Beginning with a dramatic and somewhat cinematic introduction, projected images and a looming voice-over prepare audiences for the ancient wonders just on the other side of a pair of closed doors. This presentation induces a fitting amount of anticipation for this momentous opportunity as the Terracotta Warriors aren't often on displayed outside of their home in the province of Shaanxi. Unless you're planning a trip to China some time in the future this may be your only opportunity to witness in person such an extensive collection of these haunting figures.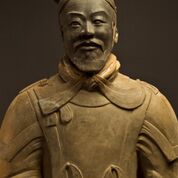 The statues themselves require no introduction. Created sometime around 210 BCE, then forgotten for centuries until farmers digging a well accidentally unearthed them again in 1974, these statues have since worked their way into popular culture. Even if you are unfamiliar with their history or cultural significance, you have been undoubtedly exposed to images and likeness of the Terracotta Warriors. Almost as ubiquitous as miniature replicas of the Eiffel Tower and Empire State Building, recreations of these Warriors with their chiseled features and plated body armor appear in the most unlikely of locations and manifestations as lawn sculptures to chachkies employeed as bookends on random shelves. This exhibit invites you to understand them to the fuller degree and depth that they deserve. From archers to officers, cavalry to servants, a wide variety has been selected to display a full range of the different statues that were re-discovered just outside Xi'an.
A multitude of interactive stations allow visitors of all ages to better understand both the statues and the painstaking process of their excavation, presenting the challenge of reconstructing several broken pieces into the complete face of a statue. Multimedia also plays a part in the entertaining engagement through touch screens and projections on one mold of a statue which works through a cycle of how the statues were painted, then faded, and ultimately decayed to the clay figures which remain today.
The Pacific Science Center is also offering an IMAX movie, "Mysteries of China", for a separate cost, which provides an enjoyable introduction. With the quality that matches the higher fare of History Channel programming this 40 minutes 2D presentation is perfect for the museum goer who likes to be prepared and informed on what they are about to be seeing in person. For those who are happy with an abbreviated version, the introduction at the beginning of the exhibit should satisfy.
Tickets are not cheap but still well-worth the price of admission and include entrance to the Pacific Science Center as well. Adult package prices are $39.95 with the IMAX movie and $34.95 without (Children: $32.95/$28.95) with hours of operation being 10:15am-6pm Monday through Friday. The IMAX movie runs approximately 40 minutes and the exhibit itself takes about an hour to an hour and a half to experience, though audiences are welcome to stay longer. Groups are admitted in 15 minute intervals, so if you plan to catch the IMAX movie be sure to purchase an entry slot for the Exhibit which allows for time to hit the restrooms and get some water after the movie as facilities are not available inside.
"Terracotta Warrior Exhibit of the First Emperor" will remain at the Pacific Science Center through to September 4th, after which it will move to The Franklin Institute in Philadelphia (September 30, 2017-March 4, 2018). After that, it's back to China, so the options are get your tickets here, dust off your passport, or miss this chance to see these treasures forever (because, who are you kidding... you're not going to take a trip to Philadelphia).
For more information & to purchase tickets, go to: www.pacificsciencecenter.org