There are little gems to be taken away from Pattern, Power, Chaos and Quiet, a show featuring the challenging work of eight very different artists. Curator D. Dominick Lombardi has responded to the idea of landscapes as an ongoing internalization of the idea of nature and an engagement with nature with art as its portal. If art constructs a world, Lombardi's installation is a way of putting together a scene from that world... it is a fantastic palette and inspiration providing us with an in-depth look at choice artists, their use of various techniques, and how that gives way to drama and harmony. As the curator states in his introduction: "historically, artists such as the impressionists or the Hudson River School had been united by a common time and place" (such as Paris in the 1920s and America in the late 19th century, have frequently congregated to debate cultural beliefs, concerns, and approaches to art making -- such artists have used their work as a mechanism with which to question the culture of their times. Within the myriad fringe cultures of today, artists more than ever tend to generate their own societal realities and microcosms in an attempt to transcend the individual. Collectively, the artists in this exhibit remain part of this continuum, while simultaneously pushing the envelope of previous artistic movements. Here, you will find everything from fresh perspectives and appropriations of traditional mediums. Unconfined by a single medium, these artists embrace everything from photography and drawing, to sculpture, painting, and almost any possible combination therein. What unifies them is neither a literal theme nor common medium, but rather a sensibility that acknowledges, questions, and deconstructs (if not jettisons) tradition in favor of the more unorthodox and imaginative. Striving to avoid the regurgitation of their own ideas, this group of artists boldly pushes boundaries through its ambition of perpetual transformation.

Martin Weinstein's Lily Bed Evenings (top) is the work most directly linked to landscape. Weinstein has an abstracted and stylized way of looking at nature. Like Cezanne, Weinstein uses patches of color instead of drawing in tone to gets to the heart of what is before him. Weinstein tries to match the effects of color and light in the natural landscape in his painting. Weinstein uses remarkable broad areas and patches of color to show the expanse of sky and color sensations of foliage much like impressionist painters juxtaposed patches of color to model form
In Sandra Gottlieb's Cloud Study, Sunset series, we view the micro-creativity of clouds cast in high relief by the setting sun. Gottlieb's pictures are conceptual in nature, capturing moments that are structured to make the observer feel small, accept that one moment is quickly overtaken by another, or that some momentary phenomena remains beyond our reach, in terms of human perception. Here curator Lombardi breaks up the wall with a series of Gottlieb's photographs of clouds at sunset unfolding as a fleeting chaotic, majestic, and frightening vision. With these works there's collision and collusion between inner and outer. Is the terrifying cloud structure of volcanic moisture bubbling up beyond control a barometer or metaphor for the mental landscape of the country's under it's current government leadership?


This series of house paintings starts with a simple visual idea of a house or shelter, somewhat reminiscent of Jennifer Bartlett. Giergerich's combination of color and form and ground inspired by the idea of the house have a strong sense of improvisation and the free-flowing process of being. There are intimations about space of the house: is it safe? Most often it is a combination of shapes or colors which elicit a certain feeling and given the titles of the works this simple a-frame house is a part of the past and a part of the future. It is the idea of the house which possesses us and by which we are possessed. They contain an element of surprise -- or double act. The house as a visual metaphor for night and day reality -- house is a backdrop for the interior world, intrigue and magic.


Gloria Garfinkel's work is inspired by the pattern and decoration movement of the '80s and formal elements of Japanese Kimonos. Like Frank Stella, Garfinkel's has the ability to pile it on. All references to nature are undercut by the deliberate and gradual accretion of imagery (like Stella). The artist, whose work combines complex geometry and painterly invention, is particularly fascinated by the traditional Japanese kimono and obi. The natural patterns found in nature are juxtaposed with simple abstract compositions that taking the viewer on a journey through the grandeur of color and shape

.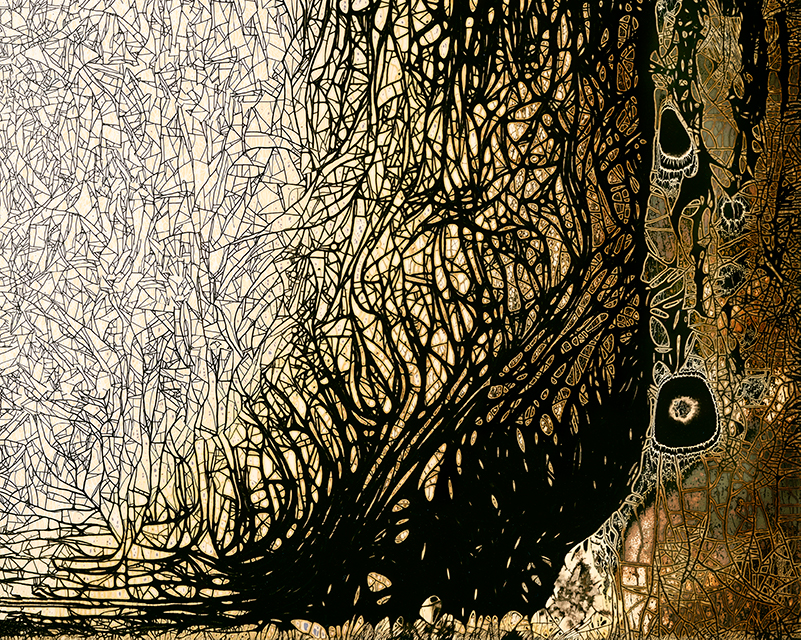 Nolan Preece beckons us to look through the illusion of the photo to the scene beyond but we are always reminded of the photo. What we are looking at is not landscape but better because the photographer has conjured up a stark and wild rendition of the fleeting natural image as it enfolds in his chemigrams. Like Stanley Kubrick, Preece work reflects on the idea of the birth of the planet, the death of the planet and the wistfulness of the image. Preece is a conjurer and his work is rooted in a desire to create what he wants to have exist. In the magic of the darkroom he practices his alchemy and discovers his own relation to creation and nature.


As a medium, wood has been used extensively throughout art history, and has deep roots woven in the realm of furniture, architecture, sculpture, and collage. Unlike many other mediums, wood lends itself to image appropriation providing a uniquely patterned surface as opposed to a blank slate, which fundamentally alters the work regardless of its purpose in the overall aesthetic. Therefore, it is not surprising that John Lyon Paul deals with the materiality of wood in a variety of ways: we have a constructed cabinet, a sculpted figure of a doe, and an assembled and majestic Rune.


Mark Sharp's interlocking shapes of patterned and painted fabric are collaged together in radiating compositions. They have a lot in common with the pattern and decoration movement of the '80s but with a difference. We look at, between, through, and under successively and simultaneously. Sharp's layering of fabric combines materiality with the energetic sprawl of Pollack's drip paintings.


And finally we have the deeply felt paintings of Susan Sommer, which borders on a kind of transcendalism. Sommer observes and remarks on her theatrical ambitions or invitation to dance in these works. Expression of the artist sets up an ambiguous depth of field, presenting the viewer with infinity -- the various colored geometric square overlaid upon a loosely painted ground. They are mind-blowing and sophisticated works: enjoyable and technically accomplished. Their mystery and subdued self-awareness are the perfect chaser for the exhibition. The infinitesimal vastness of space and the complex beauty of nature are represented simultaneously. Sommer's carefully chosen blocks of color creating radiantly abstract landscapes. 
Ms. Cullen is a media consultant, art advisor and art dealer with 30 years art market experience. She has held positions with Viart, Vice-President of corporate sales for eyestorm , and continues to advise both private and corporate collections. She has curated the Chubb collection and Virgin Airlines terminals in London. She is presently a director of art and design for Galerie Magazine and Publisher of Modern Painters Magazine.