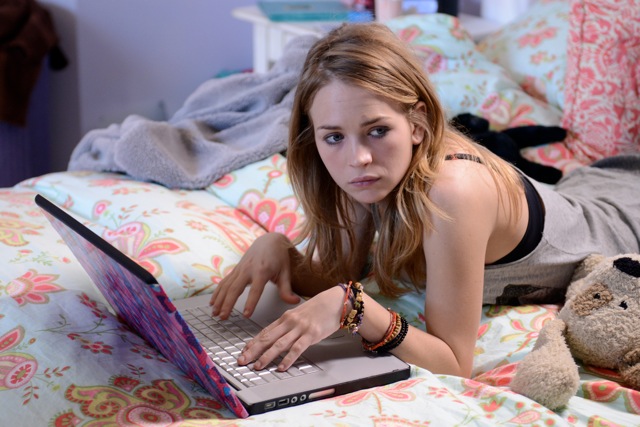 Allison Burnett, an LA-based filmmaker friend, may have discovered a new revenue stream for struggling musicians and a way for indie filmmakers to afford quality music. While he was plotting the production of his latest film Undiscovered Gyrl (image above), he decided he didn't want his budget to be consumed by the cost of music publishing and sync rights for well-known songs. Instead he invited female singer-songwriters not much older than the protagonist to submit tracks to be considered for his movie. Unbelievably, he did this reach-out on Craig's List and soon had a hundred songs to chose from. Here's Mr. Burnett's take on his unprecedented song-gathering process:
I recently directed the film adaptation of my novel Undiscovered Gyrl. It is the story of Katie Kampenfelt, an 18-year-old who decides to take a year off before college and start a blog. What begins as the diary of a bubbly, funny teenage girl, filled with the obsessions and sexual missteps of youth, soon becomes the chronicle of a soul in peril.
During pre-production I thought a lot about the music. I had already hired a brilliant composer named Jon Ehrlich to write the score. It would be soulful and sophisticated, reflecting Katie's subtext -- her oldest wounds and deepest yearnings. But I wanted the film's soundtrack to serve a different purpose. I wanted a collection of contemporary songs that would capture Katie's exuberant personality and voracious ego. Her text, as it were.
Miranda Scott - "Butterflies" (recent LaGuardia HS grad, NYC)
There was no way we could afford to license songs from established performers, and a slick, professional sound was not what I wanted anyway. This led me to a novel idea. What if I held a national song search for the works of undiscovered girls? The songs would have to be written and performed by girls 21 years old and younger. In return for the limited use of their songs, the winners would receive a small licensing fee.
The plan made so much sense that I was surprised it was not done all the time. Young talent would receive great exposure, and I would be able to afford the fresh, energetic, honest, and original soundtrack I wanted. Win-win.
What happened next surprised me. Many of the people with whom I shared the idea (this included a lot of film and music veterans) began immediately to attempt to ruin it. Why was the limit 21 years old? What if a young woman submitted a great song and she was 22? And why was it just females? There were so many talented guys out there! And what if the girl co-wrote the song with an adult producer? Then what? Shouldn't that be okay, too?
I learned an important lesson: Come up with a good idea and the universe will align itself to turn it into shit. I held firm. The rules were the rules. No exceptions.
Because I could not afford to hire a publicist, I placed ads on Craig's List in big cities all over the country. I also announced the contest to my two thousand Facebook friends and urged them to spread the word.
Savannah Jeffreys - "Key and Lock" (Stuyvesant HS Senior, NYC)
Almost immediately songs began to arrive. A few were professionally recorded, but most were recorded with Garage Band. The quality of the songs was excellent. Soon my biggest problem was not which wonderful songs to pick, but which to reject.
Of the approximately one hundred songs that were eventually submitted, fourteen appear in the finished film. The youngest singer-songwriter whose work we used is thirteen years old and the eldest is twenty-one. Most are right in the middle.
The film, which stars Britt Robertson (Under The Dome), Christian Slater, Martin Sheen, Justin Long, and Robert Patrick, is finished and we are in the process of submitting it to festivals. In the meantime, if you are curious and want to hear the music, embedded are a few links of the singers performing the works themselves. - Allison Burnett