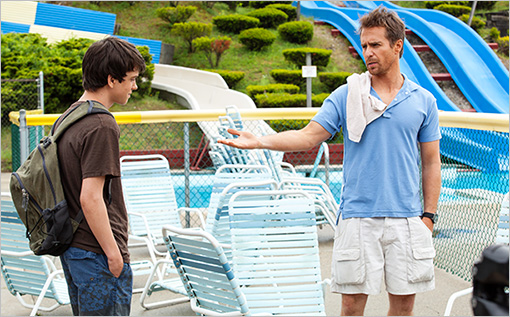 The Way, Way Back (Fox Searchlight)
One of those perfectly executed coming-of-age stories that I hope will not get lost in the giant summer tsunami of animation, sci-fi (see Pacific Rim below), and 3D mega-action films. Co-written and co-directed by the Academy Award-winning team of Nat Faxon and Jim Ras (they also have supporting roles in this film), who have hit the nerve of what it means to be young, uncertain, and disengaged in the new digital America. Moreover, we empathize with our 14-year-old introverted protagonist Duncan (Liam James) as he tries to understand his place in a world of adults who refuse to grow up -- tricky business for the children and even more so for the hard-partying parents. But when your mother Pam's (Toni Collette) new boyfriend Trent (Steve Carell) is a douchebag hellbent on "winning" your respect, and you can see right through his phoniness because you want the best for your mother, it can spell all sorts of emotional pitfalls. Just when it looks like his forced Cape Cod summer will be ruined by his "new" family, along comes the freewheeling, wisecracking Owen -- wonderfully played by Sam Rockwell (one of my favorite American actors) -- manager of the Water Wizz water park. When Owen hires Duncan, and becomes his mentor, the movie really picks up. I "forced" my moody 14-year old son to attend the advance screening with me, and we were both glad I did. If you loved Little Miss Sunshine, then this flick will provide a much needed respite from the heat.
Pacific Rim (Legendary)
It's not some fix-this-blockbuster-with-a-cool-director accident that Guillermo del Toro's latest movie should tackle this Japanese monster movie genre in full clichéd spectacle. This is his $180 million homage to giant monster AKA kaiju movies that he grew up watching on TV and in theaters in his native Mexico. If you understand the aesthetics of the genre, you'll appreciate the kitsch factor and over-the-top characters. Don't get me wrong, the wonderful 3D CGI detail and city-leveling mayhem is marvelous and center stage; the only thing really missing is the obligatory men-dressed-in-monster-suits flinging each other into miniature buildings and bridges. Putting normal-size humans into giant combat robots, AKA Jaegers, is a very cool twist. Because these robots are so enormous, they require two pilots whose minds are locked in a neural bridge to operate them. Plenty of action, strutting machismo, and utter and chaotic destruction prevail. The plot is simple. We pick up the storyline sometime in the near future after the Kaiju, arriving from a dimension portal deep in the sea, have destroyed some major cities. Only after the nations of Earth band together to create the giant robots to defend mankind was their any success defeating the Kaiju, but that will not last and thus the story unfolds. No doubt the cast and crew had a helluva time making it. Turning in a film-stealing supporting role and outro credit cameo is del Toro regular Ron Perlman (Hellboy!). Also excellent are comedic actors Charlie Day and Burn Gorman as two cartoonish research scientists both vying for their science to defeat their giant enemies. Idris Elba (The Wire) provides the General Patton sermons and leadership for his robot fighting force. Robot vs. Monster was never so much fun. The perfect summer popcorn movie.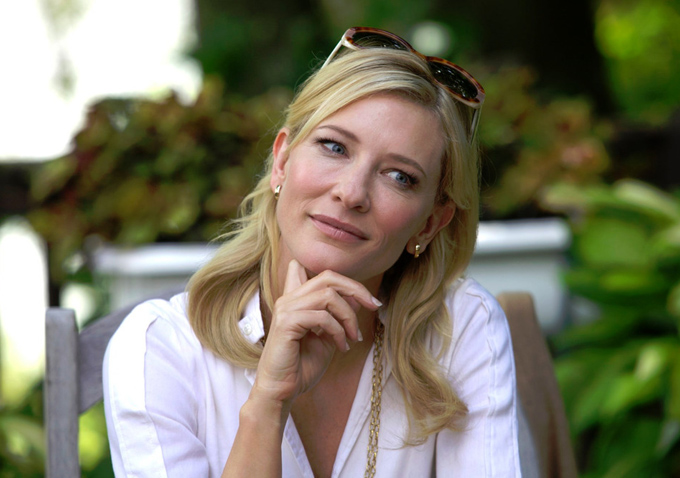 Blue Jasmine (Sony Pictures Classic)
After his questionable union with his stepdaughter, I'd abandoned Woody Allen. Not completely, but the once-brilliant auteur creeped me out, so I couldn't give his movies my full attention, respect, or merit. A few weeks back, after receiving an invite from the PR firm handling his latest effort (a drama!) and seeing one of my former clients in the cast, I couldn't resist the lure of the screening. I'm happy to say that this is one of his better latter-day films, and Cate Blanchett turns in an Oscar-worthy performance. (Fortunately we don't have to listen to any of his actors prattle along in Woody-speak or watch him lust after some younger woman.) Blanchett plays the elegant, free-falling, Xanax-popping New York socialite Jasmine, married to the financially Ponzi-scheming cad Hal (Alex Baldwin), who gets busted on all fronts; she's forced to sell everything and move into her sister Ginger's (Sally Hawkins) low-rent San Francisco apartment. It's a mighty fall from grace, and she's left damaged goods, not only from the disgraceful behavior of her husband but from her pathetic and phony one-percenter reality. (Isn't it the scorned woman who is always the last to know?) It will take everything in her power to keep her fragile mental state together. And that means losing her narcissism and polluted upper societal views. Those of us who live and play in New York have rubbed elbows with women like Jasmine (and not just the Real Housewives of New York!), and Ms. Blancett plays the role perfectly. Also of note are the riveting New York-based actor Bobby Cannavale (love to see him in Brando's role in Streetcar) as Ginger's short-fused but passionate boyfriend Chili, and comedian Andrew Dice Clay (believe it or not!) as her simple but hard working ex-husband Augie. Not to be missed. Well played, Woodman!
Happy viewing.