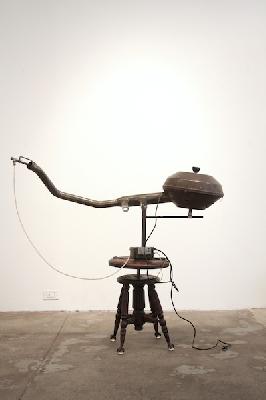 Kal Spelletich:
Where's My Jetpack?!
Through August 12, 2011
The flight to Tokyo from London makes one stop, in Moscow. The layover is interesting. You can't see much from the air or the airport. Dismal and cold. There is a First Class lounge where you are served tea and ice cream. There are lots of magazines, but none are in English. In the toilet the ceilings have little open slats, which make you think there might be hidden cameras. You're a little scared.
Before flying was a means to an end, it was a sensation, a thought. The desire to fly was to experience weightlessness, a release from corporeality. The "flying machine" made man superhuman. For Kal Spelletich, flight's future promise may be gone, but not forgotten. Where are the jetpacks? The flying cars, the escape pods, anti-gravity boots and moon colonies? This is the future, your future, but not the one that was promised.