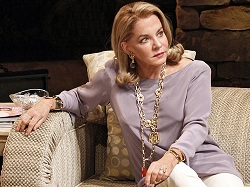 Other Desert Cities
There is no reason to beat around the bush when it comes to describing John Robin Baitz's play, Other Desert Cities, which recently opened on Broadway after a sold-out Off-Broadway run at Lincoln Center last winter. To me, it is a great play, a term I don't get to use often, and the best new play I can recall in quite some time. It was riveting, mesmerizing, totally involving, along with being quite funny and relevant. Beautifully written by Baitz, Other Desert Cities grabs the audience from the beginning and never lets go.
The play takes place on Christmas in 2004 at the Palm Springs home of Polly and Lyman Wyeth, staunch Republicans (and one-time friends of the Reagans) played brilliantly by Stockard Channing (above) and Stacy Keach. They are being visited by their son, Trip (Thomas Sadoski), an L.A. producer of a courtroom reality show, and their liberal daughter Brooke (Rachel Griffiths), who was a successful novelist before suffering a breakdown. Now recovered, Brooke returns home after a six-year absence and could tear the family apart due to the tell-all memoir she has just written about the circumstances surrounding the suicide of her older brother years before. Since that book is about to be serialized in the New Yorker, Brooke figures she better tell her parents about what she has written. Polly and Lyman are not at all pleased about the memoir. Add Polly's recovering alcoholic and liberal sister, Silda (the magnificent Judith Light) to the mix, and suffice it to say that fireworks erupt. To give away any more of the details or twists would spoil the experience of watching this exceptional play.
Part of the joy of Other Desert Cities is the chance to view these five wonderful actors all giving award-caliber performances. Each performer has his or her big moment, and all deliver. Channing is just a wonder, with her combination of acerbic wise cracks and hard-edged willpower combining for a powerhouse performance. Griffiths, making her Broadway debut, is an exceptional mix of needy, damaged, and sincere, yet also self-righteous. Keach is strong yet conflicted in a performance that builds as things start to crumble around him, leading to the show's climactic moments. Sadoski delivers in his big and very touching Act Two moment. Best of all may indeed be the remarkable Ms. Light, who can be both hilarious and sad. She has a speech to Griffiths late in Act One that is heartfelt and beautiful, and one of many moments in the play that are heartbreaking, powerful, and moving. Light, Channing, and company demand the audience's attention, and they deliver profoundly memorable moments onstage.
While Other Desert Cities is very much about politics and the great political divide in America, it is at its core a family drama, dealing with secrets, the quest for the truth, and consequences of actions that are taken. The pain as well as the deep underlying love that make up the Wyeth family dynamics are fully on display. Baitz masterfully takes fair and critical looks at both the left and the right and focuses on the grey areas that are often overlooked in today's politics. No matter what your politics are going in, the play requires its audience to constantly rethink an opinion about a character of a point of view. To my surprise, I found myself at times sympathizing with Polly and Lyman, even though their political views are far different from mine. The people and their positions are complicated, and the audience's sympathies shift back and forth throughout the evening, which is played out in an entertaining yet searing manner.
The impact of Other Desert Cities will stay with you long after the curtain has come down. A half hour later, I was sitting down to read the newspaper, and I found myself almost staring into space, still wrapped in the play's web. All in all, the combination of great writing and exceptional performances makes for some terrific theater. 
Booth Theatre is at 222 West 45th Street in Manhattan.