The Quare Land 
Written by John McManus
Directed by Ciarán O'Reilly
Irish Repertory Theatre
DR2 Theatre, NYC
9/22 - 11/15, 2015
Our final review from this year's 1st Irish Festival in New York City brings us another strong production: The Quare Land, by County Cavan playwright John McManus. McManus's two-man comedy takes place entirely within the upstairs room of Hugh Pugh's rural Cavan farmhouse (a superb set by Charlie Corcoran). The room's single naked lightbulb illuminates a chimney, record player, toilet, and, most importantly, a clawfoot bathtub. Under a thick layer of bubbles in that tub, 90 year-old bachelor and Enya fan Hugh (actor and writer Peter Maloney) is taking his first bath in 4 years in anticipation of a visit by his alcoholic brother when receives an unexpected visit from Rob McNulty (Rufus Collins). Hugh checks his mail far less often than he bathes, so hotel and construction company owner Rob has had to seek out Hugh in person to propose purchasing one of Hugh's fields. Unfortunately for Rob -- but very fortunately for the audience -- this conversation turns out to be more complicated than he expected.
Rob, who prides himself on straight-talking fairness, wants to get down to business, literally, but Hugh, whose most in-depth talks seem normally to occur with his dog, refuses to cede control of the conversation. Hugh himself has worked in the construction business, and spent time in England before returning to the family farm. A generational contrast becomes clear in his stories of an era when workers were much more likely to be crushed by a steel beam or to fatally plummet from an under-construction skyscraper, and when their fellow workers would be more likely to turn such an event into a macabre in-joke. The disconnect between Hugh's rough and tumble tales of immigrant labor and Rob's peaceful golf courses and hotel for tourists in Leitrim is one aspect of the questions of history that the play touches on: why and how and to whom it matters. At one point, for instance, Rob angrily declares in response to one of Hugh's historical tangents that people today don't care about Michael Collins. The Quare Land also concerns itself with greed, both in past and present of its narrative. How much is enough to be satisfied with? Does success unavoidably beget greed? Interwoven with these questions of avarice are those of power: Hugh, the older, less wealthy, unclothed, and thus seemingly less powerful man, wants to assert the power bestowed by his having something that Rob wants, keep hold of it, revel in it. He pushes Rob, who is more than once literally brought to his knees, and ends up testing the limits both of Rob's patience and of his own hypocrisy.
The verbal tug-of-war occasioned by Hugh's stubbornness, loquacity, and power plays keep the comic moments coming, although the comedy does also get tense at times as the play moves towards its conclusion. In addition to demonstrating a fine comedic rapport, both Maloney and Collins do an admirable job of walking the thin line between sympathetic and unsympathetic. Maloney keeps the cantankerous Hugh just likeable enough, and Collins elicits both laughs and empathy with Rob's increasing frustration and hostility. The Quare Land looks to the past and the future, reaping both laughs and reflection, and, unless you're Rob McNulty, it's probably the most entertaining 90 minutes that you can have watching an elderly farmer in a bathtub. - Leah Richards and John Ziegler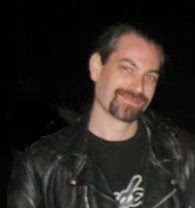 Dr. Richards is an English professor in NYC, and spends her free time raising three cats and smashing the patriarchy.
When not writing reviews, Dr. Ziegler spends a lot of his time being an Assistant Professor of English in NYC and playing guitar in a death metal band.