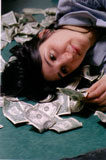 Sara Juli:
The Money Conversation
, P.S. 122 Most performances that claim to be "conversations" are actually one-sided speeches that at best make you think in response. Sara Juli's
The Money Conversation
was not like most performances; the conversation was real, and so was the money. For the performance, Juli drained her savings account of its $5000 contents, and though she did make good on the marketing premise that she would give away all of her money, it was hardly without strings. Members of the audience were asked to remove wads of cash from Juil's pants pockets, from between her toes, and even from her underwear. There were times when the cash was simply handed off to a lucky viewer, but after the gift, Juli gave each a semi-private performance (part lap-dance/part hug), such that the slightly richer audience member could not help but acknowledge her as a real person, with real money that, if taken, would take and cause real loss. Throughout the performance, Juli asked the audience the meanings of various sums of cash. "How much is $40?," she asked, disarming the audience with her frank style so that there was no shortage of answers shouted back – 40 double cheeseburgers, headphones on E-Bay, 2 tickets to this show. After gathering several thoughts from the audience, Juli replied with her take on $40 – a high-quality porno. This back and forth over the value of money continued throughout the show and elicited surprisingly candid comments from the audience, revealing bits of identity and becoming almost confessional and cathartic. Gradually, with the aid of brilliant costuming by Roxana Ramseur, Juli shed layers, pockets, and cash in ever-increasing quantities, enticing us to closer, more uncomfortable confrontations of our own relationships with money. Toward the end of the piece, Juli turned the tables completely and asked members of the audience for pennies. Nearly the entire crowd coughed up a copper coin for her collection. Holding the pennies in one hand, and for the first time nearly turning away from the audience, Juli asks, "Who doesn't have any pennies? Who doesn't make any pennies?" It was a beautiful addition to the performance, reminding the audience that there are many layers to this money conversation, and while we may discuss the tribulations of rent and iPods in a group of people who've (mostly) paid $20 for a ticket, there is another contingency of people who would be glad for that handful of pennies so easily garnered in this theatrical setting. Juli took her fistful of coins toward a strategically placed deposit box at the back of the house near the exit while repeating "I wouldn't" in her signature tortured speech. She didn't, and returned each penny back to its original owner in an impressive display of short-term memory. It was a calculated example for all of us, sitting in the house with wads of her cash – she was clearly hoping we'd all return it to her in the bank deposit envelopes so thoughtfully placed in our programs. After roaming through the house to return the pennies, Juli returned to center stage and asked, "What is $5,000?" This time she answers her own question (in an impressive display of long-term memory) by describing a woman in her twenties who at first resembles Juli herself, but quickly morphs into a composite picture of a life that somehow incorporates nearly all of the audience suggestions from throughout the show. She became a mirror for the audience. Proving that she had listened to our side of the discussion, she reflected our thoughts back for re-examination. Few performers could so successfully inspire the genuine audience participation required to make a show like this work, but Juli made it appear effortless and completely natural. At the end of the piece, Juli added up her remaining cash (with the aid of pen and paper from the audience) and gave the last few thousand dollars to one lucky audience member, stating simply, "Take it, it's for you." With those deposit slips staring back from inside the program, the statement seems more like a test than an expression of generosity, but as Sara Juli stands before us flat broke before the final blackout, the risk itself seemed generous, and gratitude is in order simply for the conversation. -
Sarah Maxfield
The Money Conversation
is now closed after running February 15-19 in a sold-out run. (Photo Credit: Rachelle Roberts)

Ms. Maxfield is the co-founder and artistic director of Red Metal Mailbox, a New-York based company dedicated to creating investigative works of theater by linking original text with a highly physical aesthetic. In addition to directing and performing with RMM, Sarah works a day job in arts administration and occasionally writes about performance.