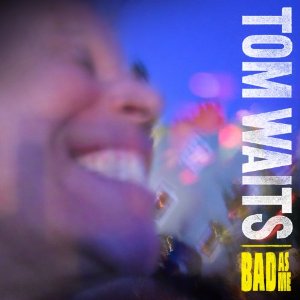 Tom Waits: Bad As Me (Anti)
This starts out as Waits getting by on gestures and timbres. That's actually pretty good, since Waits is the master of such sonic legerdemain (he uses a wide variety of voices; "Talking at the Same Time" is especially striking) and the energy exuded is infectious (the weird rockabilly hybrid "Get Lost" is hilarious). One could listen to this album solely to get off on the way the guitars sound (longtime collaborator Marc Ribot and Keith Richards both shine). Halfway through, the title track offers a solid song with amusing lyrics, and it's followed by the brilliant torch song "Kiss Me." Another quiet ballad, "Last Leaf," is even better (because the lyric uses a more original image). With this being the first Waits studio album of new material in seven years, I was hoping for more in the way of songwriting, but this'll do. If you're not already a Waits fan, though, it might not convert you.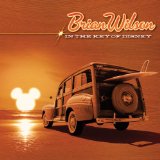 Brian Wilson: In the Key of Disney (Disney Pearl)
On the one hand, the trivialization of Brian Wilson, something that's popped up at various points in his long career, reaches its apex (or nadir) here. On the other hand, he's a lot better suited for this material than he was for the jazz standards he desecrated on his previous album. Others have found a lot more depth in Disney material (notably Hal Willner's 1988 multi-artist tribute Stay Awake), but then, Willner wasn't dealing with such crap as "Can You Feel the Love Tonight." The cutesy arrangements here ("Heigh-Ho/Whistle While You Work/Yo Ho (A Pirate's Life for Me)" is unbearable) only occasionally show a little imagination (for instance, the marimba-heavy passages of "The Bare Necessities" and how they alternate with Dixieland), so listening to the whole album straight through is a bit of a slog, the musical equivalent of eating a big bowl of whipped cream. But if you want a Beach Boys fix, "Kiss the Girl" will do the trick.
Oureboros: Dreaming in Earth, Dissolving in Light (Ant-Zen)
Dark ambient drone instrumentals from Canada, with some black metal and shoegaze influences. Rich Oddie and Aron West used to be in Orphx, after which West left to form Tropism. Now they've gotten back together to make these edgy, metallic soundscapes that mix electronics with scrapings of guitar, percussion, and violin. Quiet but nightmarish.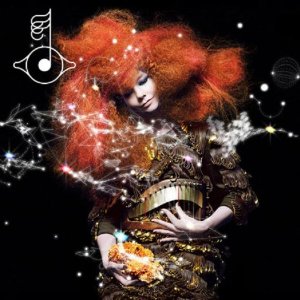 Björk: Biophilia (Nonesuch)
The harp on the first track prompts comparisons to Joanna Newsom, but the electronic beats that show up deeper into the album banish such thoughts. Nonetheless, this is largely delicate music. Even some of the songs with electronics seem like they might topple over and smash if you breath too hard (it's nowhere near as densely arranged as most of Volta). This makes them quite compelling; every sound is clearly there for a reason, with nothing taken for granted, and for me at least that makes me listen raptly. This seems to be one of those albums, like Medulla, where Björk has decided, the hell with hit singles, she's going to follow her muse and create a deeply intimate listening experience for her fans. And that's more than enough for me.
Dirty Projectors & Björk: Mount Wittenberg Orca (Domino)
The quirk quotient for these two acts is already high; when combined, their quirks (especially the frequent use of vocals in place of instruments) overwhelm the music until the final track of this EP, "All We Are"; its simple beauty is allowed to emerge relatively unburdened.
S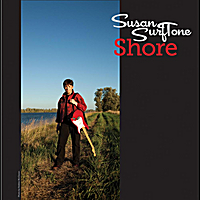 usan SurfTone: Shore (Acme Brothers)
Portland guitarist Susan Yasinski's eighth album is a fun collection of instrumentals. Yes, surf is the style, as you'd guess from her nom de strum, and a track such as "Subduction" is prototypical, but there's some stylistic variety here as well, including styles the Ventures and Dick Dale might blanch at -- I hear a little '80s new wave at times, which is abetted by the constant presence of organ (played by Avory SurfTone). Everything is originals until the concluding arrangement of The Doors' "Riders on the Storm," a great choice the quartet rides for over seven minutes. Yasinski's compositions use the surf format not only to deploy lotsa great riffs in concise structures (until the cover, nothing's over 3:15), but also to explore how to balance four instruments so that they mesh like perfectly fitted cogs in a finely calibrated machine. There's never a sense of strain or of showing off, never an iota of superfluous sound until the deliberately long wind-down of the closing cover. - Steve Holtje
Mr. Holtje is a Brooklyn-based poet and composer who is halfway through recording his five songs composed on texts from James Joyce's Pomes Penyeach with singer Kate Leahy and cellist Suzanne Mueller.