Part of catching up with the many releases on Leo Records that I haven't reviewed (first installment here) includes covering the label's latest offerings. It just released eight CDs in January; I review half of them here, meanwhile looking back at older related Leo albums (most of the other January releases I will look at in the next installment in this series, which I hope to finish writing within a week). As before, dates in parentheses after album titles are recording dates, where listed; if not available, then year of release ("p." for "published").
François Carrier  (photo above) is a 50-year-old Canadian saxophonist. Beyond his work on Leo, he has been documented by several of the other labels that focus on free jazz, including a seven-CD set on Ayler.

François

Carrier/Michel Lambert/

Alexey

Lapin
In Motion (live 12/21/10)
This is Carrier's January release, his second in this trio with pianist Alexey Lapin (more on him below) and Carrier's usual drummer, Michel Lambert. Unfortunately this concert recording from St. Petersburg -- Lapin's home base -- does not do the pianist justice; he's saddled with a tinny instrument and buried in the mix. Nonetheless, Carrier fans will happily listen past that to hear him cut loose on alto in a totally free improv setting.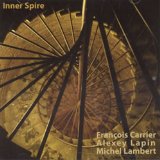 Inner Spire (live 12/19/10)
This captures the same group two days earlier (in Moscow); the mix is better and so is the piano. Here too the music is entirely improvised, and Lapin plays more richly. The opener, also the title track, starts melodically but then Carrier moves into energy music over Lapin's lush tapestry. It's very '70s loft jazz, Albert Ayler/Frank Wright style but on alto, though Carrier's fat tone in his low range even suggests a tenor sound at times. The density of Lapin's underpinning at times approaches Tyneresque levels, but in a freer, less modal fashion (Lowell Davidson comes to mind occasionally), and Lambert punctuates vigorously a la Sunny Murray. To me, for so long immersed in NYC free jazz, this is the prototypical jazz sound, and however familiar the ingredients, when played with the inspired imagination heard here, it's utterly captivating, carrying me along on its organic flow.
Now I'll look back much further: This utterly remarkable double live set (1:54:55 in length) was Carrier's first Leo album. The title harks back to '60s counterculture, and so does the inclusion of Indian instruments by Uwe Neumann (sitar, sanza, ektara, anandolphori ["talking drum"]). Mat Maneri contributes his microtonal viola style, and Carrier (on soprano and alto) emphasizes that aspect of his own playing. Bassist Pierre Côté and Lambert round out the band; on the second CD, they are joined by dancers and vocalists (a few words and sounds, but no singing) Lin Snelling, Chantal Lamirande, and Brad Denys. Yup, it's a happening. My favorite tracks are the free 33-minute "happening (one)" and the grooving, Dolphyesque "happening (five)," but everything here operates at a high level of inspiration.
The great French bassist Jean-Jacques Avenel fills out the trio this time, so the textures are sparer. Furthermore, Carrier plays modally more often. It's an equally valid approach, just as musical, but doesn't match the visceral excitement of either the trio with Lapin or the larger group on Happening. It's still a fine album, it just requires more focus on the part of the listener -- focus it's well worth applying.
On this home studio session on two dates, Dubois is credited with "voice and objects" while Carrier plays alto and soprano plus objects. Dubois's style is, alas, the sort of avant-garde vocalizing that I can't stand, more of a symbolic presentation of sounds that carry a weight of emotional representation than a musical expression, in my opinion. Carrier manages to make it all a little more interesting, and there are fleeting moments when, in full voice, Dubois approaches areas of this style that I can enjoy more, but I leave the evaluation of this album to those more sympathetic to her goals than I am.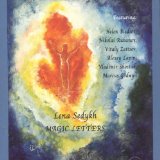 Lena Sedykh
I include this album because Alexey Lapin both plays piano and co-produces, having brought together an international band. It's an unusual project in that Lena Sedykh is not a musician: she's a painter and writer. Her voice introduces tracks, and the music seems to be collectively improvised. It's not the energy style of Lapin's work with Carrier, but rather a spacey, airy, freely melodic sort of improv created by Lapin, Helen Bledsoe (flutes, including some evocative bass flute), Nikolai Rubanov (bass clarinet), Vitaly Zaitsev (trumpet with lots of echo around it), Vladimir Shostak (five-string double bass), and Marcus Godwyn (drums). Like Sedykh's art, the music is very colorful, featuring extremely attractive combinations of timbres.
And one more featuring Lapin, here with Vlady Bystrov, a multi-instrumentalist who plays alto and soprano saxophones, B-flat, D and alto clarinets, bawu, Akai EWI (electronic wind instrument), Kaoss Pad 3, and Air FX). Russian composer Rimsky-Korsakov is also listed among the artists, his credit on the inlay card reading "his spirit was hovering above inspiring the performance" and in the booklet "his spirit influenced the performance in every possible way." That spirit appears to be his quotation (also in the booklet) "I am an artist, after all. If I so choose I will break any rule and do what I need, what my ear tells me." Quite apropos for free improvisers. There's a great amount of variety of textures here, and timbres as well, thanks to Bystrov's instrumental versatility; the results range from energetic insistence on clangorous motifs to delicate structures that twist like mobiles, from dense, busy pieces to light, spare ones. Some tracks, such as "I will do what I damn please," find Bystrov in quite a melodic mood; others, such as "Cuimian qu," are heavily electronic sound sculptures. Without Leo, American fans of improvised music likely wouldn't get to hear albums such as this, and they should.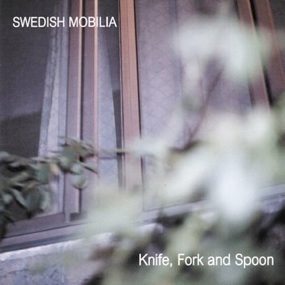 Swedish Mobilia
Knife, Fork and Spoon (5/5-6/11)
On to another January release. I know nothing about this trio of Andrea Bolzoni (guitar, live electronics), Dario Miranda (bass, live electronics), and Daniele Frati (drums, percussion). Their names seem Italian rather than Swedish, something their bios on their website obliquely confirm. The indie-rock textured improvisation heard here doesn't sound free, it's dominated by guitar and drums, is relatively tonal, and isn't particularly interesting. Bland by Leo's standards, lacking a wild card that could spark interest, it comes off as meandering prog-rock minus the big hooks and drive that could elevate the playing above mere noodling.

Anto Pett/Bart van Rosmalen
Playwork (2/19/11)
Another January release. I almost didn't review this, because I almost turned it off before the first track was finished. "PlayWork 1 methodical fascination" is rudimentary in materials and development; it sounds like non-improvising classical musicians parodying the genre. Oh, between Rosmalen's creative cello bowing and Pett intermittent playing directly on his piano's strings, some alluring timbres are briefly explored, but it doesn't go anywhere or become something greater than the sum of its disjointed parts. However, the remaining tracks make it clear that that's an utterly unfair characterization of this duo; apparently, that first track is the first part of some sort of conceptual arc about the progress of improvisational collaboration, a metaphorical statement in sound, the acting out of a metatheory. Lord knows that the booklet notes reek of theory. I would have preferred that the embodiment of that part of the theory last a lot less than 12 minutes, though.
But it gets better, much better, when these guys advance to the next stage, where they allow their talents fuller expression and the motivic materials become more extended and more sophisticated, their development denser, subtler, and more complex. It turns out that Pett and Rosmalen are virtuosi both technically and imaginatively. They're obviously coming out of the academic avant-garde tradition (they sure seem to deliberately avoid anything jazz-related), probably mostly European; though this music could be theoretically related to John Cage's instruction pieces, and Pett makes excellent use of prepared piano timbres, neither the three long, dense improvisations ("PlayWork 2 the 'work'," "PlayWork 3 transformation," "PlayWork 4 the body and the energy") nor the six short (ranging from 1:04 to 1:31, totaling 7:52) and spare improvisations that make up "PlayWork 5 six variations" (the creative apex of this album) sound like Cage works more than fleetingly. I'll probably always skip the first track on future listens (however disrespectful to the artists' vision), but there will definitely be future listening, especially to "PlayWork 5 six variations."

Free Tallinn Trio
Pett is the pianist in this group, with Anne-Liis Poll on vocals and Jaak Sooäär on electric guitar. In the booklet notes, Sooäär refers to "our kind of improvising opera which sounds quite different from 'normal' free improvisation," and since it sounds like Poll is perhaps singing words at least some of the time, I wish there were a translation provided if in fact she is singing in Estonian. On the other hand, there's clearly a lot of non-verbal singing as well, and maybe some intermediate sonic manipulation/deconstruction of language going on as well, so this is quite enjoyable from a purely sonic standpoint, and the operatic sense of drama easily penetrates any language barrier. Aside from some uncomely gargling on "Fluss," Poll's extended-technique vocals are always musical. Sooäär sounds like no guitarist I've ever heard before, sometimes evoking the timbres of cello and dulcimer, and occasionally shredding furiously. In this context Pett sounds different on each track: on "Contact" like the gloriously improbable child of Cecil Taylor and Olivier Messiaen (I don't intend to make comparisons, since his style is fully his own; I just want to suggest a few flavors), on "Fast Flowing" like a very free Minimalist running wild," on the epic "Fluss" like a hyperactive Schoenberg at times, and on the brief closer "Nostalgia" like a rather stern prog-rock riffer. This is a thrillingly freewheeling experience. 
Matthias Ziegler is a flautist. Without further explanation, you might think that's not particularly interesting, but he specializes in the rarely used low flutes -- alto flute, bass flute, and the humongous contrabass flute -- amplifies them with internal microphones, then overdubs and loops them to create pieces unlike any flute music most people have heard before.


La Rusna (p. 2012)
Ziegler's new album is just him, and thus is the purest, conceptually, of his Leo CDs. In some ways it is closest to ambient electronica, heavily processed and altered technologically. Yet in listening to it, I also find something quite ancient in the sound of some pieces (the 20-minute opening track, "La Rusna I," the closing "La Rusna II," and the opening of "ContraBasics"), with its reliance on human breath and what seem like obvious roots in ancient Asian ritual musics. I think sometimes he sings through his flutes, and whether it's that or the composition of his overdubs or some extended flute techniques, the results, especially on drone-based works, are rich in overtones that recall the timbres of Tuvan Khöömii singing, but also the long tones of Buddhist chant and didgeridoo -- if all of those things were moving in slow motion. On "Stop n Go" and later in "ContraBasics," he makes the sound more percussive with short, accented notes in mutating rhythmic patterns. "Never Odd or Even" sounds like one solo flute, no overdubbing or drastic processing apart from heavy amplification, sounding the closest to a "normal" flute, but with either overblowing or the amplification -- or both -- creating overtones, tones that pop out of the surrounding sound, and other striking effects. "Ave Kingma" is also a solo, relatively unprocessed flute, and almost sounds like a Baroque solo sonata, but with more modern harmonies and microtonal inflections. "One Note" (not a technically accurate title, as there are several pitches) emphasizes the aspect of breath, valuing its sound almost on its own near the beginning, freeing it from its instrumentality in producing notes. "La Rusna II" brings in a new timbre atop the layered drones, a harsh melody that recalls a shenai in its blaring abrasiveness. This album is an eye-opener as to the potential of the flute.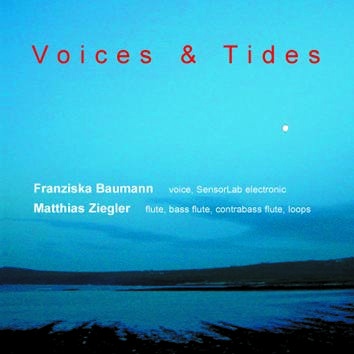 Franziska Baumann/Matthias Ziegler
Voices & Tides (3/1 & 7/5/06, live 5/10/06)
Tidal Affairs (8/11/09 & 1/26/10)
Ziegler's other two Leo albums are these collaborations with Franziska Baumann, an avant-garde vocalist who also plays the "SensorLab electronic," a gesture-controlled mini-computer worn on the user's hand/arm that is used for real-time electronic manipulation of sound. Much of Baumann's singing is the sort of extreme timbre manipulation that, in singing, does not hold my interest for long, although she does it more musically than most and gets interesting effects through the SensorLab, especially on "Watermouth" (on the first album) when she adds extreme levels of electronically produced resonance to her voice, making it function like a synthesizer. She can also produce, without electronic aid, some rudimentary overtones, but this is not a focus of her style, though welcome when it appears. Ziegler's contributions are less striking in this collaboration than his solo work (though the influence of shakuhachi technique is often clearer), but the highly distinctive results of their teamwork are very good of their kind. And if I'm saying that, people who are into this style probably rave about Baumann. - Steve Holtje
Photo of Mr. Carrier by François Le Goarant de Tromelin
iTunes does not yet have Leo's January releases, so I couldn't link to them yet; when they're available, I'll put those links in. But all of the January releases, including the ones I haven't reviewed yet, can be found right now on Leo's new release page.
Mr. Holtje is a Brooklyn-based editor, poet, and composer whose song cycle setting tanka by Fumiko Nakajo is finally complete at twelve songs. It is the most depressing set of songs since Mahler's Kindertotenlieder.