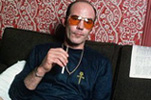 Gonzo: The Life and Work of Dr. Hunter S. Thompson
For the avid Thompson aficionado,
Gonzo
will be more of a belated memorial service providing the occasional unseen photo or unheard tale. However, if you've only had a taste of The Good Doctor and want to get a sampling of the full range of flavors he has to offer, then this film is a great way to satisfy that strange urge. As per the extended title, writer/director Alex Gibney offers a look-back over the life and work of Hunter S. Thompson through photos, old video clips, excerpts of the late author's own work, and interviews with people who knew him. The narrative follows a linear path -- not in keeping with the chaotic path its subject made for himself -- moving from birth to suicide, focusing on the years of his strongest writing. In this regard the documentary hits the basic objective it aims for, though it makes no shocking breakthroughs and provides few new insights into the personality of the outlaw journalist. Borrowing largely from outside sources, particularly the BBC special
Omnibus: Fear & Loathing in Gonzovision
, this film feels more like looking through a scrapbook than like an original exploration. The most illuminating information about Thompson comes from his first wife, Sondi Wright, as she accounts his infidelities. As wild as Thompson's life is depicted as being in his writing, there is little therein implying that he partook of the sexual promiscuities that were happening around him. However, this is only touched upon and, much like discussion of his suicide, leaves the watcher wanting more than is given. The attempt to capture who Hunter S. Thompson was comes through as sincere and somber, but it lacks the jagged edge that Thompson himself used when covering a story. Coming in with a running time of two hours,
Gonzo
is a little too long for the ground it covers and not long enough to provide the deeper look one may desire. -
C. J. Thom
Mr. Thom lives in New York City and walks dogs, writes plays, and loves dissecting pop culture.