Back from Austin and the South by Southwest crush and feeling a bit crispy around the edges. Sleep deprivation and too much good music can do that to a person. Had to sleep off my music hangover most of Monday, catch up with emails and paperwork on Tuesday, and get back to writing today. It was a wild ride for sure as Culture Catch hosted an ARTISTS SALON with amazing music every single night. In fact, we featured 26 bands from all over the world over four consecutive nights at the Canvas Bar & Gallery. There was so much variety and bona fide talent from act to act, I don't know where to begin. Certainly some of these folks will be making their way into video podcasts on our site, and probably some of them will be making their way into the larger pop culture fabric of our society.
The tone was set from the very first band to grace our stage. And though I was battling a wicked case of food poisoning, I would not be denied. I would brave the onslaught. THE SILENT YEARS from Detroit provided a thrilled audience with heady alternative rock that was long on melody and dynamic interplay between all six band members. Think Coldplay meets Of Montreal; quirky analog keyboards provided compelling textures and nuances around the guitars and strong vocals.
Following them was Portland's new break-out alt-rock trio STARS of TRACK & FIELD on Wind-Up Records (thanks, Karas). Picking up where The Postal Service left off, these guys are poised to be huge this year. Their hooked-filled atmospheric progressive pop tunes suggest a mash-up of Radiohead and Depeche Mode.

And then all the way from the Viper Room in L.A.: THE RINGERS! These hard-partying rockers are a self-contained marketing rock and roll juggernaut that attracts a crowd -- groupies, other bands, music fans, etc. -- wherever they go. And with their charismatic lead singer Joe Hursley, it's no coincidence that they create a maelstrom of fun whenever they show up. Thankfully their high-octane, infectious Dolls/Iggy stage show lives up to their own self-generated hype. I found myself nearly leaping into the middle of the crowd from the balcony. Check out "Kamikaze Heart" on their Myspace page.
And what of women? Men and women were treated to an old-fashioned burlesque show courtesy of Austin's favorite tantilizing redheaded siren -- Ms. CARDINAL CYN (photo top left). She was fabulous with feathers, bubbles, and very little else. My production manager Kate's 75-year-old mother loved her. She told me later that night how utterly fabulous Ms. Cyn's performance was. I concurred, as I'm certain the other two hundred patrons of the arts would attest.
But that was just part of the bill on Wednesday night. We still had three more nights of music, madness, and culture to share....
Suffice to say, we did indeed deliver on the other nights. Without regurgitating the entire event, here are some of the other highlights that come mind.
Much has been made of female singer/songwriters the last several years, but few have left me craving more since PJ Harvey emerged a decade ago. That is all about change with KARIMA FRANCIS. She is a 19-year-old singer/songwriter from Manchester, England with a huge, organic voice. BMI had been gracious enough to book her with us on Friday night at 9 PM. I was skeptical of her abilities, but as soon as she opened her mouth, I was mesmerized, along with the rest of the crowd. It's little wonder that Tony Visconti is lobbying to produce her.

On Friday night Gary Lucas' GODS & MONSTERS tore up our Salon at midnight. Jerry Harrison (Talking Heads) even played keyboards with them. Gary was a bit nervous, as they had a major showcase the next night for SXSW and didn't want to peak too early. But his worries were quickly dashed as the band ripped through a blazing 50-minute set of progressive fusion rock that featured the fierce sax work of Jason Candler and Gary's breathtaking ax work. But what would you expect with Billy Ficca (Television) on drums and Ernie Brooks (Modern Lovers) on bass to anchor the proceedings? These merry pranksters are so deserving of the hype that I'll leave it at that. Go see them if you have a chance. You will not be disappointed. Just ask my friend Suki from Washington, D.C.
My friends Rocky and Shaun from the Belfast-based duo OPPENHEIMER headlined for us on Thursday night, killing the crowd with their synth pop majesty, so I snuck away on Friday afternoon to see them play again at an Irish pub on Sixth. There I fell in love with the Cork-born, Dublin-based folk-rock busker SIMPLE KID who opened for them. This clever lad uses computer-generated beats and video feeds projected on a screen next to him for a truly magical interactive and creative journey. His duet with Kermit the Frog is genius. Think Donovan for the 21st Century. I begged his manager to squeeze him into our line-up on St. Patrick's Day and he agreed. It was well worth it, as his Irish magical spell had people walking in off the street to check him out in action.
Another band that pleasantly surprised me was the Austin-based alt-pop-rock trio THE BLACK & WHITE YEARS. This earnest, energetic, and idiosyncratic band sounds like Franz Ferdinand filtering Oingo Boingo and XTC. They lifted the venue several feet off the ground with their quirky guitar-driven tunes and video-projected black-and white-movies playing behind them. (Jerry Harrison is being considered a potential producer. Given his years with Talking Heads and his producer's track record, he'd be perfect.)
Late on Saturday night/Sunday morning, SIXGUN REPUBLIC, a New York City-based Social Distortion-type punk rock cowboy band, blew up our Salon and pissed off a few of the Austin club kids with their volume and attitude. Love when that happens. The two club owners couldn't have been more gracious as they begged their soundman to turn it down. Hell, I wanted him to turn it up. But that's the way we like our rock in New Yawk. Loud, snotty, and in yer face!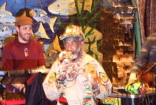 As the night coasted towards Sunday morning, Dallas the bass player from SixGun grabbed me and screamed, "Follow me right now! We're going to see LEE "SCRATCH" PERRY!" The King of dub in Austin? This I had to witness. I found my business partner Richard and dragged him out of Canvas just as the doors were being shuttered for the night. The long, lanky Dallas traversed the crowded, drunken St. Paddy revealers on 6th street like a man rushing for a private audience with the Dali Lama. And since this dude spent time on Joe Strummer's tour bus a few years ago, I know he knew his way around dub. Perry rocked the house early Saturday AM until the cops shut down the dub party. He was amazing, though his set was all too short, as was his Brooklyn-based backing band DUB IS A WEAPON. Fierce. Respect in excess.
Then we hit an after-hours party; I finally hit my pillow right before sunrise, satiated from a week's worth of revelry. I awoke on Sunday and can honestly say that I was grateful to have been exposed to so much fantastic new music by so many passionate individuals. (Plus, a festering crush on Ms. KITTY from Dave Wolfe's kickin' roots-rockin' rockabilly quartet MIDWEST MONSTER. Thanks, Dave, for all your help and hard work during the week.)
In these days of dwindling CD sales and major label doom and gloom stats, the indie music scene is incredibly vital. One need only scratch below the surface, muck about Myspace, or check our site daily to find a treasure trove of new music.
Converge.
Dusty Wright

Mr. Wright is the former editor-in-chief of Creem and Prince's New Power Generation magazines as well as a writer of films, fiction, and music. He is also a singer/songwriter who has released 3 solo CDs and a member of the folk-rock quartet GIANTfingers. And before all of this he was an agent at the William Morris Agency!