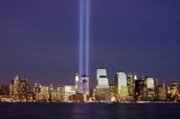 [This article, and its accompanying comments by Culture Catch writers and staff of the time, was originally published on 9/11/06.] One of my out-of-town friends recently asked me if I remember what I did five years ago to soothe my anxiety/disbelief/horror on that fateful morning. In the past, when faced with some sort of seemingly difficult emotional situation I would reach for a favorite piece of music or go see a silly movie to lift my spirits. I might have reached for John Hiatt's Bring the Family and let his cathartic roots-rock ruminations about life and family lift my spirit. Or slip on The Monkees' Greatest Hits and let the infectious sugar-coated pop-rock transport me to my childhood and right back to the knowing comfort of my mother's arms.
But that fateful morning there was no soundtrack to the tragic events that so quickly unfolded and changed the course of history. It began innocently enough. It was a beautiful late summer morning with just a hint of fall crispness in the air. I was getting my son ready for school when my neighbor Buff called me to tell me that a plane had crashed into one of the World Trade Towers. Initially I thought it was a small single-prop aircraft that must have had some emergency situation. Perhaps the pilot had a fatal heart attack? I flipped on the TV and didn't think too much about it, too absorbed in my new morning ritual of making Luca's lunch, brushing his teeth, combing his hair and getting him to school on time.
We dashed down the street and decided to pick up a bagel for him at our corner deli. The TV was on in the deli and a few customers stood watching the events unfold. Did anyone know what happened? No. Too much speculation. That's when I looked up from counting out my change for my son's bagel and watched the second tower explode. From the angle of the television coverage we were we watching, you didn't see another plane slam into it. I thought that perhaps the fire from the first crash sent an explosive fireball shooting into its twin tower. But it was still too soon before we would all come to understand what really did happen.
After calling my wife at work and talking to her about what we should do, we decided to send my son to school, as many of the children had already been dropped off. We would sort things out from there. Then the mighty Towers fell. I staggered back to our apartment. The city was deathly quiet. Suddenly two F-16s roared overhead, breaking the unearthly silence that blanketed one of the noisiest places on earth. I was paralyzed. I couldn't fathom what had just transpired a short hour earlier.
Amazingly I had I still had my Internet connection. Since our mobile phone and telephone lines were jammed, we couldn't reach any of our family and friends from around the country to tell them we were safe -- five miles north -- on the Upper West Side. I quickly sent out a flurry of emails to let everyone we were okay.
There was no Hollywood music soundtrack to play behind me. I didn't even think about music to soothe me. I was on autopilot. Then I just stopped and pushed myself away from my desk, stood up, and walked into Central Park. I found an empty park bench and just sat there in morbid silence as the jets made another futile sweep around our shattered island paradise.
I don't remember when I even played music for first time, or if I did for the next several days as New Yorkers pulled together to help each other climb out from the wreckage. Everyone knew someone who perished in the tragedy that day. My partner Richard lost his brother-in-law. Even if you didn't, you were still connected just by the sheer humanity of the collective grieving. Strangely, I've stayed away from the documentaries, movies, public and private eulogies for that day. Now when I look back, I reach for one song from an artist I had lost touch with so many years previous. His simple song pierces my emotional armor every time I hear it. I wept this morning when I played it, maybe five years of tears that I'd been storing up, so certain I would never let my guard down.
"My City's in Ruins" by Bruce Springsteen
There is a blood red circle
On the cold dark ground
And the rain is falling down
The church door's thrown open
I can hear the organ's song
But the congregation's gone
My city of ruins
My city of ruins
Now the sweet bells of mercy
Drift through the evening trees
Young men on the corner
Like scattered leaves,
The boarded up windows,
The empty streets
While my brother's down on his knees
My city of ruins
My city of ruins
Come on, rise up!
Come on, rise up!
Come on, rise up!
Come on, rise up!
Come on, rise up!
Come on, rise up!
Now's there's tears on the pillow
And you took my heart when you left
Without your sweet kiss
My soul is lost, my friend
Tell me how do I begin again?
My city's in ruins
My city's in ruins
Now with these hands,
With these hands,
With these hands, I pray Lord
With these hands,
With these hands, I pray for the strength, Lord
With these hands,
With these hands, I pray for the faith, Lord
We pray for your love, Lord
We pray for the lost, Lord
We pray for this world, Lord
We pray for the strength, Lord
We pray for the strength, Lord
Come on, come on
Come on, rise up
Come on, rise up
Come on, rise up
Come on, rise up
Come on, rise up
Come on, rise up
Come on, rise up
Come on, rise up
His modern day gospel track, replete with church organ and full gospel choir, offers me solace and positive energy that we shall overcome, we shall rise up, we shall move on. We shall find a way to bridge the insanities that face our world on so many seemingly complicated levels. That we will be able to strip away our differences and find a way to unite all of our indifferences.
I'd like to encourage you readers to share your comments. What did you do the day America lost its modern day innocence? And how do you remember? Is there a song that soothes you? A poem perhaps? Maybe a quote from one of our great thinkers from days past? Or do you care not to remember at all?
Peace.
Dusty
Photo credit: Derek Jensen, 9/11/04.

Mr. Wright is a content creator and culture curator. He is a contributor to the Huffington Post, a DJ at David Lynch's Transcendental Music Radio, the former editor-in-chief of Creem and Prince's New Power Generation magazines as well as a writer of films, fiction, and music. He is also a singer/songwriter who has released four solo CDs and one with folk-rock quartet GIANTfingers. And before all of this he was a William Morris agent.