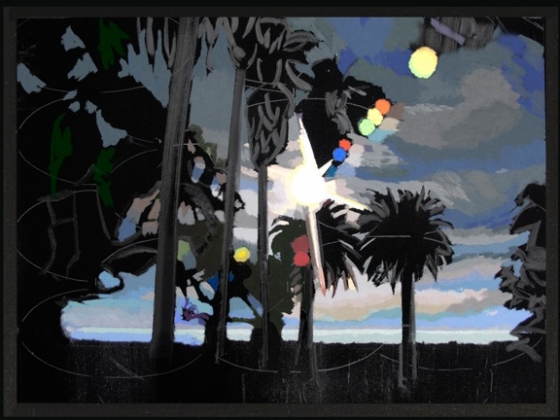 Sarah Davis lives and works in Brooklyn with her husband Millree Hughes and daughter Meriel. 
Bradley Rubenstein: What were some of your early experiences, like school, for example, where you decided to become an artist?
Sarah Davis: My radar was, What's the best thing to be doing when you're 80? Where are the best-looking old people? And for me, that was obviously painters, or the art world more generally. Maybe I was close to my grandparents, or maybe it came from going to high school in L.A., where the projected end was 30. Still, painting was my identity from about age 8. Every kind of picture book, and there were tons of them, was how I spent my free time. I copied everything and made up my own. Making paintings and drawings was how I socialized, from third grade on. 
BR: A lot of your work deals with color -- at least that is the first impression I have of it, as well as what sticks with me. There is an aspect to your work that reminds me of Matisse -- color and shape. Is that too formal a reading of your work, or do you approach it that way?
SD: No, not at all. Matisse forever, of course. The way pure color is juxtaposed with sections of grayscale, or little geometric universes of color next to each other, like Judith Linhares.
Even after school, I just could not believe how hard it was to mix and apply the color I intended. It seemed impossible. I splashed around for a while and then decided to stay inside those elements that I could truly wield and identify -- working toward color. That meant painting only in grayscale, or monochrome in this or that color. It meant mixing and tubing every color ahead of time, and matching the ground and the palette. Eventually my restrictions and experiments led to the reality that I had to come out of black. Metaphorically, for me at the time, the gesture of painting had to be one of throwing light across shadow. Draping shadows across light had no resonance.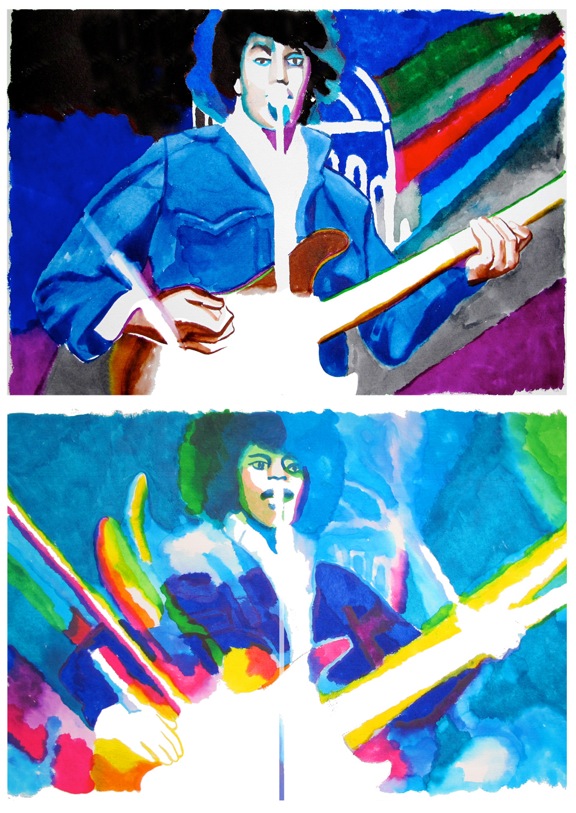 Black canvas became the field of possibility that I could pull anything out of. It had to be very, very dark, so I encountered the issue of glossy and matte. I chose very matte and made paintings on black velvet -- pastels on black paper. Paintings about bioluminescence, streetlights on a black car, a web of light across deep night -- that kind of thing. It really worked for me. It made me feel like a magician. 
After a while, for a host of very good reasons not obviously related to art, I had to switch to watercolor. Suddenly I found myself painting on white again. But now it was totally different. Whatever block I'd had against coming out of white was resolved. The lessons were learned. After some quick adjustments I was able to make color-rich images freely.  
BR: We were talking at your opening (Flash of Genius, Ground Floor Gallery, New York, NY) the other day, and I said that this new work reminds me of Liz Markus's recent series Girlfriends of the Rolling Stones. 
SD: What a great subject. I love that. I've not seen her before, and I'm tripping looking at her website. She's like a sister. This makes me think of my Stars and Cars pastels images. I have to send you some. Some other paintings that come to mind... Barnaby Furnas -- I loved his paintings of rock performances and autumn strolls. Elizabeth Peyton -- her celebrity personality fetish paintings. Marilyn Minter -- the glam abstaction. Cindy Sherman -- I really almost think of her as a painter who sears her images into repetitive memory. All this stuff I loved. Rosenquist—psychedelia of middlebrow materials. Peter Doig -- starlight. Kehinde Wiley -- unabashed hagiography. These are all artists that lit the path, and there are so many more.
BR: I really like these new pieces. You capture a sense of being in the audience, where, especially at concerts, you want to be right up there with the band. But you get that moment, especially where you paint the lens flare, the light. It puts you right there.
SD: Thanks, Bradley. I find that art creates life, so I paint what I want and what I love.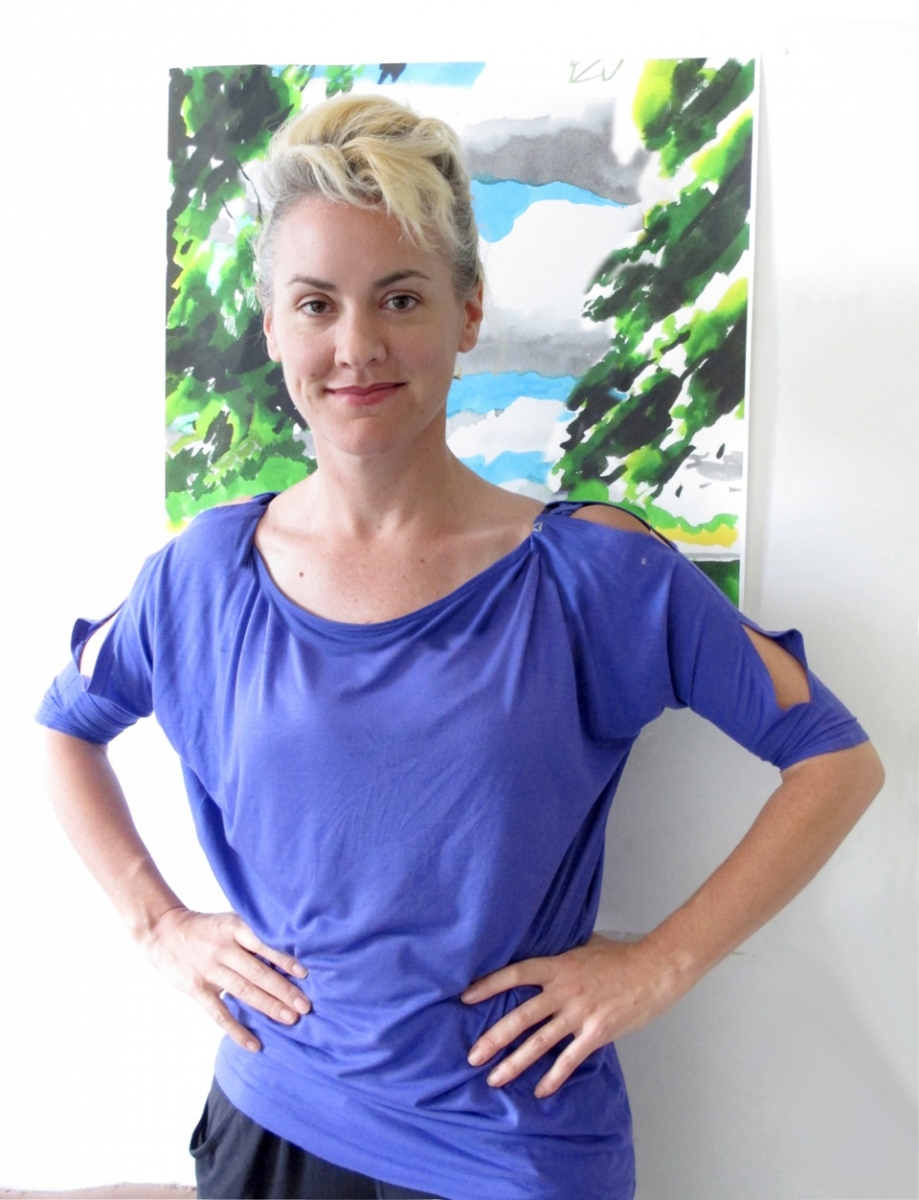 The earliest painting in the show is from 2010, when pastel on black paper was my primary medium. I'd been watching a documentary about the making of Fleetwood Mac's album Rumors, on Netflix. At one point the camera is driving down the boulevard next to the Santa Monica beach, and you could tell this was the 80s. I had been at that beach at that time. It gave me a kick to see it. The sun burst out from behind the palm trees and flared a rainbow across the camera lens, giving a sense of eureka that was steeped in nostalgia and rock 'n' roll dreams. I took screenshots and started making the pastels, using my memory and feelings of the time. I searched out camera flares from great rock 'n' roll performances documented on the internet. A stadium show is about mastery and about out-of-control joy at the same time. That is also the experience of painting, so I thought they went together well. 
After those two pastels, the rest of the images were made over the next 5 years, during which I developed my watercolor style. Some of the paintings in this show were at one time pastels. Phil Lynott, Psychedelic Moment, for example. What's on display here is the last version of images that I developed over many iterations. 
BR: I like that about both your work and Millree's -- there is a real punk sensibility to it, very DIY. Obviously there is the musical connection to it, but there is also something about working in an independent way when there's so much work about the art market. Is that an intentional aspect of your work, or just something that can be read into it?
SD: Since 2010 my husband Millree and I started making prints ourselves, on a large new inkjet printer. The music metaphor goes really deep for us. Millree comes out of London during the punk-glam transformation, when DIY could catapult you to new levels of self and social invention. We think of our printer as a small Hi-Fi record label. Like records had fidelity to the performance, our prints have fidelity to the original paintings, and this is a new thing technologically. The power of digital imagery tools has reached a new zenith. We can "mix" a file like a studio album and give the print a freshness, a rewarding immediacy. Financially, we can make small batches on demand. So we can charge something really affordable for them. People look at the art and they know it's real and good, so they think it will be thousands or high hundreds. It gives me so much pleasure, when someone is desiring a piece of art, to name a price that's in the realm of a garment or a restaurant meal, rather than a month's rent or a down payment on a house. I think about the artistic payoff that I got from say Houses of the Holy for $20, or In Rainbows as a gift. And I think, Yes. So, it's that paradigm we look to because it gives so much latitude for self-creation to performer and audience alike.
BR: One connection between your work and Millree's is a real Catholic approach to media. You use a lot of different ones in making your paintings. Do you think that is an aspect of your work that is just a tool to make paintings, like photography or whatnot, or do you see yourself working in film and video more as a result of these experiments?
SD: Well, I do want to make video of my paintings getting made -- the invention. Maybe that would become an art piece. Who knows? It's nice to think about. Millree definitely makes video -- makes art out of it -- and I'm sure he'll be doing more. But I still do see it as a tool toward the painted image. For me that's what it is -- end result. I can imagine showing source photos, along with the color charts and circle graphs, and all the "takes" that go into assembling a painting or a print, if there were interest. I love seeing that stuff from other artists. 
Painting is what I am most thankful for in the arts. It's about the hand and the circuit that it makes between eye and heart. Seeing that and making that really matters to me. In service of which, I use all the wonderful tools of photography and video and digital. They really help clarify and create. 
How it's developed is that I think of an image as something to compose, like a song -- try shapes, changes of scale, color ways...rifle through styles for rendering a form. Make up the song by playing it over and over, starting from a sketch or starting from a photo -- both happen. Scan them, change them, print them. Work on top of them, reverse them, collage them, take pictures of the print. Repeat as needed. Then perform it fresh letting consequences fall and stand there with no correction. 
BR: What are you working on next?
SD: More shows, and more prints! Millree and I have an art and design label called VERDURIN. We sell the prints, and a few other things, online at www.verdurin.vendevor.com. 
Interview conducted by Bradley Rubenstein

Mr. Rubenstein is a painter, music freak, story teller, and smart culture aficionado.