With its famous Speedway, the once champion Colts, and the popular Pacers, Indianapolis is first and foremost a sports town. What most do not know is that Indianapolis has an art scene, albeit limited, with one world-class institution, the Indianapolis Museum of Art (IMA), as its core. At the IMA, you will find a number of stellar art objects ranging from Asian and African antiquities to formidable examples of modern and contemporary art from Europe and the United States. For one, they offer one of the Ecce Homo (ca. 1510, left) paintings by Hieronymus Bosch, which features a relatively calm Christ before of a mob populated with the typical Bosch crazies. It is wonderful to see a work of this caliber - the multi-layered narrative, the expressive faces, the brushwork, the color all working in harmony unique to Bosch. And I've never seen this particular painting in a book or magazine; I found it a bit more intimate than the others of the same subject. Nearby, a work attributed to The School of Bosch, fractured looking compared to the master's work, is filled with Bosch-like references, especially those of poor souls in various stages of extreme torture. One could really go to school on these two works.
There is also a wonderful set of Vanuatu Slit Drums (1930-50, Melanesia) in the African wing that looked very Easter Island-like. But I must confess, I spent most of my time in the American Wing, where I found unique and wonderful works such as the very different, domestic-looking Jacob Lawrence titled "Tie Rack" (1951); and an amazing, very loose oil painting by Joseph Delaney called "The Artist's Party" (1941-3), which features four men (the artist, perhaps Jackson Pollock, and two others) in a heated discussion. There is also a first-class Jean Arp titled "Figure Recueillie (Self Absorbed)" (ca. 1956). As you walk around this pedestal piece, you will be amazed how the reflectivity of the polished bronze is balanced so perfectly with the curiously changing shape.
Upstairs, on the third floor of the museum, there were more contemporary works, including An-My Lé's brilliantly staged black and white photos of army activities; James Turrell's "Acton" (1976), a room featuring four dull, indirectly aimed lights around a shadowy rectangular hole in the wall that has the illusion of being a floating piece of steel; Larry Poons's "Untitled PII" (1974), an acrylic pour work that is incredibly thick and heavy with color and emotion; Dean Byington's "Blue Landscape (Jewels)" (2007), an oil on linen that looks like a faint mimeograph (remember those?) of a Durer or DaVinci drawing; and Do-Ho Suh's "Untitled Floor" (1997-2000), comprised of countless small, variously colored plastic toy men and women holding up a plate glass floor that you are prompted to walk across.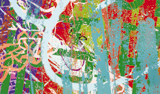 The IMA also offers a series of changing contemporary shows. Three of the six shows featured during my visit were Omer Fast: Godville, Ingrid Calame: Traces of the Indianapolis Motor Speedway, and Adrian Schiess: Elusive. I must admit, the intent of Schiess to offer these large, flat, and highly polished works on the floor, and leaning against the wall throughout the museum as ponderous or perception-altering objects, left me a bit flat. I understand the intent to play off the variously colored reflective surfaces, which captured the surrounding works and windows. But I am not sure that the work, displayed the way it is, is an interesting or different enough way to hold most visitors' attention. However, I suspect this work, and the artist's intention, would be more compelling and successful if these works were installed in anything but a museum. I would more enjoy seeing them placed in a more crowded or common place, such as a subway or bus station. This would give the work's reflective element a more covert and subconscious effect, while reaching a group of people that may really need to stop and smell the roses.
On the other hand, I very much enjoyed seeing Calame's show, from her familiar intricate and fluid color pencil tracings that show the passage of time through outlinings of various person- and machine-made marks, to her less familiar and far more dense and vibrant enamel paintings on aluminum. These enamel works, unlike the shallow fields of the drawings, are incredibly deep in field, while the occasionally eye-popping color combination fluttered my vision. I particularly enjoyed the combination of the two different media, and how they intermingled with each other without confusing the artist's intention to make us aware that there is always more than meets the eye.
I thought the most powerful of the three featured shows that I mention was Omer Fast's Godville (2005), a two-sided video projection of various excerpts from video interviews made at Colonial Williamsburg. Fast took the responses that interviewees made "in character" and in costume, then heavily edited and reassembled those responses with quotes that reflected the participants' observations of the contemporary world. The result is a wonderful video of somewhat insane-sounding ramblings that will surely reorient your thinking.
The two smaller museums in Indianapolis are the Indianapolis Museum of Contemporary Art (iMOCA) and the Midwest Museum of Contemporary Art (MiCO). They both exist due to the efforts and generosity of Jeremy Efroymson, who is the former Executive Director of iMOCA and currently the Executive Director of MiCO. During my visit, the nomadic MiCO featured a group show titled Backyard: a look at suburban backyard living, while iMOCA offered an Adam Pendleton solo exhibition, Rendered in Black + Events Are.
Backyard, the inaugural show curated by Scott Grow, is currently housed at the Harrison Center for the Arts, since MiCO is still in search of a permanent home. The exhibition features the work of 11 artists who range in media from video and mixed media sculpture to drawing. Macha Suzuki shows us a somewhat sinister side of the backyard denizen, the squirrel, drawn wearing Nacho Libre masks. Here, the otherwise shy arboreal rodents appear aggressive in a comical sort of way, while they also point to a certain way of looking at class and culture. Brian McCutcheon also addresses culture, but in a more suburban, ritualistic way through up-kept lawns and high octane barbeque grills. Nevertheless, McCutcheon hits the pop cultural nail on the head with his biker esthetic sculpture titled "Trailer Queen II" (2001), which is comprised of a flame-painted, piston-popping, chrome exhaust sporting grilling machine, while the color photo of a yellow sprinkler in the equally pristine "Lawn (August)" (2001) could also be a certain homeowner's dream.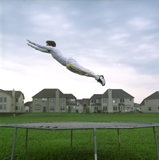 Rachel Hayes offers her commentary on the childhood fantasy of camping out in the family backyard with a multi-colored, fancy fabric tent. This work reminded me of one artist I have written about in the past, Shinduk Kang, a Korean artist who takes off cut fabrics that are traditionally used as gift wrapping (POJaGI ) and reuses them to create festive wall hangings. But here, Hayes takes a more American approach, referencing the art of quilt making by interspersing layers of heavily patterned patches, making a very inviting and cozy corner of the universe. David A. Parker also plays with fantasy, albeit an absurd one, in his now familiar series of trampoline-employing Sunday daredevils. In an attempt to fly like a superhero, these suburbanites, as represented by the artist in jogging attire, end up looking strangely impotent. In two newer works, Parker goes even further with far-reaching fantasy by using escape sections in lawns, or floating kite-shaped exit doors that seems to lead to another dimension.
In her nuclear family series, Yoon Cho projects with yellow silhouettes over color photographs and videos, the American dream of a backyard oasis surrounding it with kids and toys. For Cho, you never get the idea that any of this will come to fruition, yet, by doing the silhouette overlays, viewers might get the feeling that all of it is merely a distraction, or an interruption, to a calm, peaceful and fulfilling creative existence. Chris Doyle's video "The Way Our Story Unfolds" (2003) is a B-movie-type stop animation that shows how a garden hose can invade the normally secure space of a piece of lawn furniture. The personification of the hose, and the response of the folding lawn recliner, are creepy fun for the whole family.
The artist collaborative Simparch offers two works. "Post Modern Lawn Ornament" is in the form of a minimally painted hardened bag of cement; "Fountain" is a satellite dish water fountain that actually works. In both instances, Simparch reintroduces some of the most banal objects one could think of in a very clever and elevating way. Chris Vorhees also toys with the common lawn furniture form by reassembling old parts in very new ways. The result is far-reaching forms that demand contemplation and respect from the standpoint of architecture and design. Further down the Minimal/Conceptual road is the work of Emily Kennerk. She offers three small green felt and thread pieces that are collectively untitled. Here, we see reference to those subtle variations in the flatlands of the Midwest that are best seen from an airplane, creating a mild feeling of vertigo. Meredith Allen's melting ice pop photographs, and Pipo Nguyen-Duy's pictures of children at play, round out the field with childhood memories that reference unchanging realities.
Over at iMOCA I found numerous, round cornered black ceramic boxes, fragmented writings as portraits on large silkscreened canvases, and two small appropriated black and white images, also silkscreened, making up Adam Pendleton's exhibition titled "Rendered in Black + Events Are." The numerous ten inch black squares that look like blank dice is titled "Muse and Drudge (Rendered in Black)." This work has a very Pop 1960's look, as it defines the space in a very playful way, while the artist achieves a certain mathematical or geometric presence that looks something like furnishings in a futuristic waiting room. And if you can figure out where to sit, there is no need to see the psychiatrist. There is another emotional element here that probably has something to do with the fragility, one assumes, of the flat sided ceramic forms the artist employs which increases this work's subtle intensity. "Reading," the large paintings that appropriate previously unrelated bits of writings to create a portrait of the author reminded me of the video by Omer Fast who too, created a new, and more to the point representation of his subject.
The two smaller wall pieces, "Events Are," are also appropriated. But this time, they are images culled from old catalog-like text that refer to what was once current thinking. In one, we see a section of a Laszlo Moholy Nagy painting, and in the other, an absurdly designed leapfrogging train giving us a span of thinking that is quite compelling.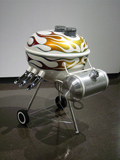 While in Indianapolis, I also made a few studio visits. I first went to Brian McCutcheon's studio, the artist who made the biker barbeque and the lawn photos at the Backyard exhibition. At his studio, the artist was working on a large-scale Tonka Toy-like sculpture that would eventually be installed nearby. Here, I was able to see the amount of work and expertise this dedicated artist puts into his art-making. From there, I visited Casey Roberts's studio, who shares his space with curator/artist Scott Grow from that same Backyard show. Roberts's compelling forest fantasies, which he makes with cyanotype chemicals, collage and paint, were quite effective and memorable. He has a great sense of unconventional composition, and a way of working, where he leaves numerous pins wholes in his heavily worked and and reworked paper. I found that refreshing and honest. I also found Grow's abstractions to be quite unique. His process of layering every and any type of liquid or spray paint yielded some fascinating textures and accidents, while the shapes he paints on, which are sometimes freestanding sculptures, are very different from the slick designs one often sees in galleries and museums. On the way out I ran into Dave Combs of Peel magazine, a streetwise publication that you culture hounds should definitely check out (PEELmagazine.com). It focuses a fair portion of its content on the growing pop culture phenomenon of sticker art.
The morning that I went back home, I took a quick peek into one long-standing local establishment, the Ruschman Art Gallery. There, I found an eclectic array of offerings punctuated by some fine works by Fred Stonehouse, who paints quirky mutants; Bruce Riley, who makes layered geometric abstractions; Bruce Campbell, who offered one curious assemblage; Christyl Boger, who had one life-size, white porcelain figure with tattoo-like markings more common to flowery dinner wear; and Betsy Stirratt, who exhibited a few small stylish abstractions.
Last but not least, I made one more foray to the studio of Brian Myers. He makes soft-focus paintings of images garnered from low res. photographs from the internet. And there is a soft focus in his politics too, yet the message is clear: The earth and its inhabitants are on shaky ground, and the promises made by those in power are vain and worthless. – D. Dominick Lombardi

Mr. Lombardi is an artist, writer and curator. Shows include The Post Apocalyptic Tattoo: A Ten Year Survey of the Art of D. Dominick Lombardi in San Antonio, TX; Deep Pop in New Rochelle, NY; Tattoos and Graffoos in Richmond, VA; and The Post Apocalyptic Tattoo: Works by D. Dominick Lombardi in Tokyo.